It's an interesting photograph: serious-looking men in hats and suits, with a couple of human skulls among them. Taken in 1895, the picture shows a mixed bag of students from the Yale School of Medicine in New Haven who would graduate in 1895, 1896, and 1897. Two of the 1895 graduates are seated in the front row with "95" painted on the soles of their shoes. In the back row are two African American medical students who would graduate in 1897. They are Arthur Leslie Howard and William Fletcher Penn.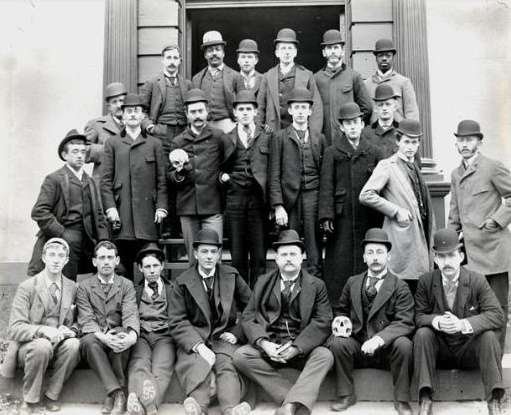 Howard and Penn
Howard was from St. Thomas in the Caribbean and went to school at Cooke College in Antigua. Penn was born in Virginia and attended the Virginia Normal and Collegiate Institute (now Virginia State University). Both men arrived at Yale in 1893 and shared an apartment on Chapel Street in New Haven.
Howard came from a wealthy West Indies family. Penn sometimes worked as a waiter, which likely contributed to his on-campus reputation as one of the "grouchiest and meanest men."
Howard wrote his medical school thesis on the treatment of tetanus, which, in the 1890s, involved the use of lockjaw forceps to pry open a patient's "locked" jaw and injections of antiserum to counter the lethal effects of the bacterial toxin. He graduated in 1897 and moved to the U.K. to practice and continue his medical education.
Unfortunately, Howard took ill there and died in 1904 at age 28. His Caribbean background made him an early advocate of Cuba's independence from Spain. Had he stayed in the U.S. he might have elected to participate in the 1898 Spanish-American War as a "contract surgeon." Many African American physicians and surgeons signed on to treat the Army's black regiments, then known as the Buffalo soldiers.
Penn also graduated in 1897 and then moved to Atlanta, Ga. He became well known in the city and had an excellent reputation as a physician. Yet, he was denied membership in the Georgia branch of the American Medical Association. Instead, he joined the Georgia State National Medical Association (NMA), which promoted the interests of African American physicians and patients.
In 1926, he moved to Alabama to become chief of surgery at the Veterans Administration Hospital in Tuskegee. He died of chronic myocarditis in 1934.
African American Medical Students at Yale
William F. Penn is often cited as the first African American medical graduate at Yale. He was not. As Daryl Daniels noted in his 1991 Yale School of Medicine thesis, "The first African-American known to have graduated from the School was Dr. Cortlandt Van Rensselaer Creed.
"Because of strong abolitionist sentiment at Yale and in New Haven during the 1850s and his family's prominence in New Haven, Dr. Creed was able to matriculate into the School of Medicine in 1854," wrote Daniels. "He graduated in 1857 and practiced in New Haven."
Almost a hundred years later, in 1948, Dr. Beatrix A. McCleary became the first African-American woman to graduate from the Yale School of Medicine.
From 1879 to 1896, Yale had a three-year medical program. A fourth year was added for the incoming class of 1896. Howard and Penn entered Yale in 1893 so one might have expected them to graduate three years later in 1896. But they stayed for four years; whether out of interest or necessity is unclear.
Today, all medical schools are four-year programs and open to everyone regardless of color or sex.
With thanks to A History of Yale's School of Medicine: Passing Torches to Others. 2008, Yale University Press, and Doctors Five: African-American Contract Surgeons in the Spanish-American War. Military Medicine, 1999;164(6):435-441.
The author of this story, Edward McSweegan is a Rhode Island microbiologist who writes about infectious diseases and history. This story updated in 2022.