Beginning in 1825, American middle-class families were seized by desire for the latest furniture fashion. They simply had to have a Hitchcock chair.
'Fancy chairs' made in a factory in northwest Connecticut were a must for the stylish parlor or dining room.
They were an affordable offspring of the gilt and lacquered chairs then being imported from Europe.
Hitchcock Chair
The Hitchcock chair has been made in the village of Riverton, Conn., since 1818, when the company was established by Lambert Hitchcock.
He was born in Cheshire, Conn., the son of a Revolutionary War veteran lost at sea.
He attended Cheshire Academy, then known as Episcopal Academy of Cheshire, and was apprenticed to Silas Cheney.  Cheney made high-style Federal Period furniture such hand-painted fancy chairs for wealthy customers, including the prominent Connecticut lawyer, Tapping Reeve.
Hitchcock moved to northwest Connecticut at 23 and found an ideal spot on the Farmington River in Barkhamsted. It had plenty of hardwood, a sawmill and water power. What it didn't have would later cost him: passable roads in winter and rail links.
He began making chair parts, but soon switched to the eponymous Hitchcock chair. Influenced by clockmaker Eli Terry, he started mass producing chairs with interchangeable parts. Instead of painting floral and fruit designs on the backs, he used the new British technique of stenciling. Men made the chairs, children put on the first coat of paint and woman women applied the stencils.
By the late 1820s, the Hitchcock chair company churned out 300 fancy chairs a week from a new three-story brick factory. By 1840, Lambert Hitchcock had made and sold 200,000 chairs.
The chairs sold for .49 to $1.50 and sold as far west as Chicago and as far south as Charleston, S.C.
Though his furniture was wildly popular, Hitchcock was not much of a businessman.
The Craze Revived
He moved the company to Unionville, Conn., in 1844, which didn't solve his problem of access to rail lines.
He went bankrupt multiple times, and died broke of brain fever in 1852.
In 1866, 'Hitchcocksville' changed its name to 'Riverton.'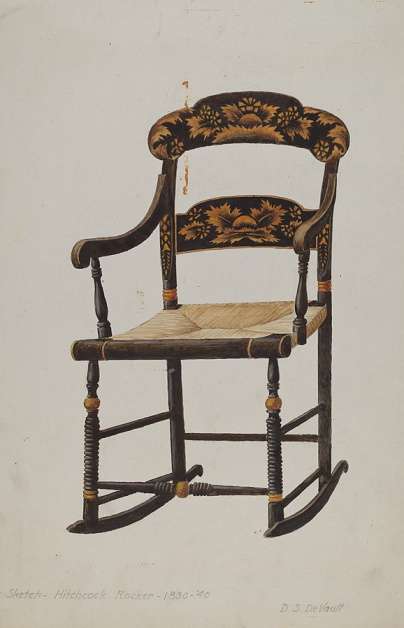 In 1946, nearly a century after Lambert Hitchcock moved his chair company, a West Hartford businessman named John Kenney went fishing in the Farmington River. He stumbled on the abandoned old factory. His family had once owned a Hitchcock chair. Kenney rented the factory for $25 a month and partnered with a friend who knew cabinetry. For two years they bought and studied old Hitchcock chairs. Finally in 1949 they began making 30 chairs a day.
The chairs, like the originals, had 20 parts. The factory made them out of Connecticut rock maple and, for the rush seats, cattails from the same swamp where Lambert cut his. But they had one difference. Airbrushes applied the characteristic stencil patterns characterize because they couldn't find people to apply the gilt paint by hand. In 1950, the chairs sold for $39.95 and $49.95, in slat back, turtle back, crown back, button back, eagle and cornucopia models.
The company couldn't compete with cheap imports, though, and closed in 2006. Four years later, Rick Swenson and Gary Hath bought the Hitchcock name, plans, and artwork. Today they are making Hitchcock chairs and tables.
Early Hitchcock chairs can be identified by a stenciled signature that says, "L. Hitchcock, Hitchcocks-ville, Conn. Warranted."
With thanks to ConnecticutHistory.org. This story was updated in 2023.