When Charles Dana Gibson sold his first drawing to Life magazine, a picture of a comical dog baying at the moon, he rushed across the street and celebrated with a 75-cent sandwich, bought from the proceeds of his $4 sale. Then he went on to create the perfect American woman: The Gibson Girl.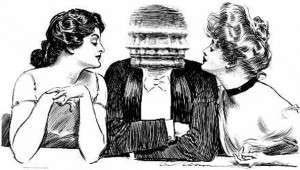 Charles Dana Gibson
Born in Roxbury, Mass., on Sept. 14,  1867, Gibson came from an old New England family. He was the great-grandson of James DeWolf, a wealthy slave trader and U.S. senator. He was the great-great-grandson of William Bradford, also a U.S. senator and the great-great-grandson of William Bradford, governor of Plymouth Colony.
Charles Dana Gibson had a talent for pen and ink spotted early by his parents. They entered his work in contests and paid for him to attend New York's Art Students League for two years. That first commercial sale to Life happened in 1886, when he was 19.
It didn't take long before his drawings were a mainstay of the magazine, appearing weekly. His style was gentle and humorous, poking fun at relationships, work, high society and leisure pursuits. And as Life magazine gained in popularity, so did Gibson. His work appeared in numerous magazines and his customary drink – a martini with an onion instead of an olive – was named for him, the 'Gibson.' But greater fame lay ahead. In the 1890s, he launched his Gibson Girl series, and the image became the ideal of American womanhood for women (and men).
Gibson Girl
Curvaceous, beautiful and sexy, but never bawdy or scantily clad, the Gibson Girl represented his ideal woman. She was depicted as a student, as a writer, as a working woman and as an athlete. Above all, she was depicted as the superior of the sexes. With her hair perched high atop her head and her full, stylish dresses, Gibson frequently posed her examining and toying with the clownish men who surrounded her.
Charles Dana Gibson never imagined the success the Gibson Girls would attain. They were just All-American women to him. But his drawings were so popular with women that when Gibson drew a girl with a new style of ribbon or new accessory, stores would immediately see demand for the item.
There were many Gibson Girls over the next 20 years. The young women who served as their models would come to Gibson's studio – always properly chaperoned – and pose for the artist. And he sold their likenesses on every imaginable product. Two of the most well-known models were the actress and model Evelyn Nesbit, whose image is captured in the drawing "Woman: the Eternal Question" and Irene Langhorne, who would become Irene Langhorne Gibson.
Irene
Irene was a Southern belle from a socially prominent Virginia family of five sisters, one of whom would become Lady Nancy Astor. Another sister, Nora Langhorne Flynn, married a movie actor; her friend F. Scott Fitzgerald wrote a short story about her.
Irene received 59 marriage proposals before she said 'yes' to Charles Dana Gibson. Her father was initially stupefied by her choice of a 'Yankee sign painter.' But he relented. Perhaps it was Charles' view of womanhood that carried the day.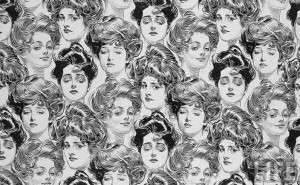 The Gibson Girl was no statue-like beauty perched on a pedestal. She was active, outgoing and vibrant – like Irene, who was active in progressive political causes, particularly those that focused on improving the lives of children. Charles Dana Gibson would say that Irene and her sisters, and hundreds of girls like them, were the inspiration for the Gibson Girl.
"The 'Gibson Girl' does not exist. She has been as the grains of sand in number," he would explain. Rather, he said, he simply recorded the beauty he found in the melting pot of America. "There isn't any 'Gibson Girl,' but there are many thousands of American girls, and for that let us all thank God."
Charles Dana Gibson Moves On
During the run-up to World War I, Charles Dana Gibson focused much of his attention on creating cartoons designed to build support for America joining the fight in Europe. But it was the Gibson Girls who made him famous, and rich.
In 1920, he and a group of artists and writers bought Life magazine and ran it until 1932 before selling it. Gibson had left his active role in the magazine long before that and retired to paint in oils. Gibson and his wife divided their time between New York City and Maine, where they owned an island off Islesboro and liked to entertain guests.
As fashions changed, the Gibson Girl gradually faded, too. Gibson's sophisticated world view and subtle humor gave way to coarser jokes and fashions. The full dresses and corsets of the Gibson Girl gave way to practical clothing and the ideal American woman moved on, just as Gibson predicted she would.
"The eventual American woman will be even more beautiful than the woman of to-day," he predicted in 1910. "Her claims to that distinction will result from a fine combination of the best points of all those many races which have helped to make our population."
Charles Dana Gibson died on Dec. 23, 1944. Irene died in 1956. The Gibson Girl lives on to this day.
This story about Charles Dana Gibson was updated in 2023.