When Timothy Leary famously turned on, tuned in, and dropped out, he took a lot of people with him.
One prominent name hovers tantalizingly close to the list: President John F. Kennedy. Kennedy had an affair with socialite Mary Pinchot Meyer, who was also close to Leary. She asked Leary for advice on how to conduct LSD sessions so she could turn on powerful men. She wanted to persuade them of the pointlessness of the Cold War. Whether Meyer ever did LSD with Kennedy remains a mystery. She was murdered in 1964.
Timothy Leary
Leary, the LSD guru of the '60s counterculture, was born into a well-to-do Springfield, Mass., family in 1920.  A great uncle, another Dr. Timothy Leary, was Boston's medical examiner. His grandfather was believed to be the richest man in western Massachusetts.
Leary's father, a dentist, abandoned his family in 1933. His own father had died and squandered his inheritance.
Leary was kicked out of high school, expelled from Holy Cross, silenced at West Point and expelled from the University of Alabama. He also fled to Europe — twice. But by his 40th year he had earned a PhD from the University of California at Berkeley and established a career as a psychologist. He moved to Newton Center after he won an appointment as a lecturer in clinical psychology at Harvard University in Cambridge. Leary was also affiliated with Harvard's Center for Research in Personality and oversaw the Harvard Psilocybin Project.
From 1960-62, he studied the effects of psychedelic drugs on personality, documenting the mystical and religious experiences they produced. Some of the experiments with grad students, professors and religious scholars were academically sound and above board; but Leary also used LSD, mushrooms and marijuana recreationally.
He was fired from Harvard after the Harvard Crimson printed stories expressing concerns about the safety and validity of his experiments. Reporter Andrew Weil – yes, that Andrew Weil — wrote the stories.
Leary went on to become a leader of the '60s counterculture movement, publishing books about spirituality and mysticism and partying with the rich and famous. He coined the phrase "tune in, turn on, drop out." Richard Nixon called him "the most dangerous man in America."
Arrests
The largesse of three Mellon heirs – Peggy, Tommy and Billy Hitchcock – allowed Leary to set up a commune in a Millbrook, N.Y., mansion. There the local assistant district attorney, G. Gordon Liddy, routinely raided but never managed to bust Leary.
Leary was arrested several times in the late '60s. He briefly ran for governor of California (John Lennon wrote his campaign song, "Come Together.") A 20-year prison sentence for drug possession in 1970 cut short his His political aspirations. As an incoming prisoner he was given psychological tests that he himself had designed, so he gamed the test and got committed to a low-security facility. Bernadine Dohrn and the Weather Underground helped him escape. Leary and his wife fled to Algeria, where they were granted asylum but were held hostage by Eldridge Cleaver and his "government in exile."
Leary returned to the U.S. and prison, where Gov. Jerry Brown set him free in 1976. He spent the next two decades proselytizing about space travel, cryogenics and the Internet. He died in 1996 of prostate cancer.
During his life, Leary turned on untold thousands of people, directly or indirectly.
Here, then, is our list of New Englanders who tuned in and turned on with Timothy Leary.
1. Jack Kerouac
Jack Kerouac, Lowell native and Beat writer, got high with Leary and Allen Ginsburg in the fall of 1960 in New York City. Leary described Kerouac as "one unhappy kid."
2. Walter Clark
He was professor of the psychology of religion at Andover Newton Theological School and dean of Hartford Seminary. He and Leary conducted the Good Friday (or Marsh Chapel) Experiment, in which 20 students from Andover Newton Theological Seminary took either psilocybin or placebos in a chapel on Good Friday.
3. Charles Olson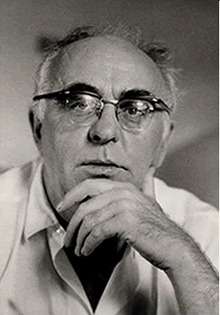 Charles Olson, an American modernist poet, was known as the Bard of Gloucester. After one session with Leary, Olson wrote on a questionnaire that psilocybin "creates the love feast" and "should be available to anyone."
4. Polish Bank Robber
The Worcester bank robber belonged to a group of six inmates at Concord State Prison. They participated in the first session of a study to determine whether psilocybin and psychotherapy could help reduce recidivism.
5. Walter Pahnke
Walter Pahnke: minister, physician and psychiatrist who worked with Leary and Clark on the Good Friday experiment with students from the Andover Newton Theological School.  He later conducted psychedelic therapy sessions with terminal cancer patients and alcoholics.
6. Robert Lowell
Called the last of the influential American public poets, Lowell suffered from manic depression. Leary gave him LSD in New York. Lowell told Leary, "Now I know what Blake and St. John of the Cross were talking about."
7. Duane Marvy
An engineer from Boston, Marvy took acid with Leary in Mexico in 1963 and failed to return to normal after 12 hours. It was Leary's first encounter with a bad trip. A Mexican psychiatrist met Marvy at a mental hospital; his wallet revealed he was a government agent. He recovered, lost his security clearance and later "claimed he was much happier as a well-paid engineer."
8. Abbie Hoffman
Abbie Hoffman: We're going to go out on a limb here and presume Leary got high with political dissident Hoffman, a Worcester, Mass., native. In early 1968, Leary met Hoffman to discuss a coalition of "his people," the hippies, with Hoffman's political activists, the "Yippies."
9. Nena von Schlebrugge
Nena von Schlebrügge:  We're counting Leary's third wife, nicknamed Nanette, as a New Englander because she lived in Massachusetts during the '70s and '80s. A high-fashion model when she married Leary in 1964, von Schlebrugge then divorced him after a year of marriage. In 1967, she  married Indo-Tibetan Buddhist scholar and ex-monk Robert Thurman. They had four children, including a daughter, Uma. Yes, the movie actress. And speaking of actresses, Winona Ryder, is Leary's goddaughter (her father, Michael Horowitz, is an archivist who founded the Fitz Hugh Ludlow Memorial Library, the world's largest collection of drug literature).
10. Ram Dass
Ram Dass was born Richard Alpert in Newton, Mass., the son of George Albert, president of the New York, New Haven and Hartford Railroad, one of the founders of Brandeis University and the Albert Einstein College of Medicine. He was Leary's close friend and partner in psychedelics at Harvard and for years thereafter, until he found his guru in India and became Ram Dass.
This story was updated in 2022. 
Images: Ram DassBy Joan Halifax (Santa Fe, New Mexico) – zalman, ramdass, CC BY 2.0, https://commons.wikimedia.org/w/index.php?curid=85194073. Robert Lowell By Elsa Dorfman – Own work, CC BY-SA 3.0, https://commons.wikimedia.org/w/index.php?curid=26201157.