In 1883, Newport cottages had yet to reach their grand peak. But the well-established cottagers at the Rhode Island resort presented many merchants with tremendous business opportunities.
In addition to the long-established shops and vendors, the summer swells had built the Newport Casino.  It was stuffed with businesses that catered to their needs. Inevitably the businesses needed a way to reach their clients, so an enterprising Boston publisher filled the bill. He printed The Newport Villa Owners' Summer Visitors' and Residents' Guide to the Reliable Business Interests of the City.
The publisher announced he'd produced the book, 'in response to many urgent appeals from a number of the most reliable firms doing business in Newport.'
The book provides an interesting glimpse into the outfitting of Newport cottages before they grew from expensive to obscenely expensive.
Ward McAllister Invents Newport Cottages
The Newport of the Gilded Age was largely a product of one New York socialite, Ward McAllister. McAllister, a charming southern lawyer, made a pile of money in San Francisco during the Gold Rush. He returned east to dominate the New York social scene. He bought Bayside Farm in Newport in the 1850s as a summer retreat. McAllister then made the place famous for his "picnics."
Gradually, McAllister's friends began buying properties in Newport. The city's history as a summer destination dates back centuries. However, it began growing dramatically in the early 1800s. Wealthy southern planters came to rent farms or stay in hotels to escape the southern heat and divert themselves at the beaches.
The city developed a literary reputation as well, visited by Henry Wadsworth Longfellow, Edith Wharton, Oliver Wendell Holmes and Bret Harte.
In the background, however, was McAllister — toiling away attracting the wealthiest of New York's wealthy. He dubbed them the nobs (old money) and swells (new money). He would cap off his efforts by designating them "the 400." The name was thought to be the number of New York socialites who could fit into the ballroom of his patroness, Mrs. Caroline Astor.
Though a social man by nature, McAllister also had practical motives. Part of his activities at Newport involved introducing his southern friends, left cash-strapped by the Civil War, to his wealthy northern friends.
McAllister eventually fell out of favor with many of his wealthy friends when he published a book about them, Society as I Have Found It, in 1892. But other social climbers would take over his role promoting Newport cottages as essential for a well-rounded, socially acceptable millionaire.
Newport Cottages as Showplaces
If one had a cottage, however, one had to find ways to spend money on it. One hostess, in setting the guest list for her parties, eliminated anyone whose cottage cost less then $1 million furnished. The businesses competing for the summer trade literally chased a fortune.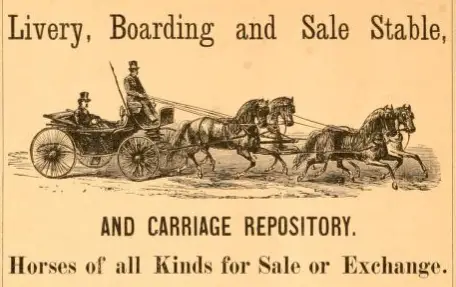 Many New York and Boston firms jumped into competition with Newport businesses to cater to the Newport cottagers. Some even established Newport outlets for their wares.
Charles R. Yandell & Co. of New York, for example, chased its patrons to their Newport cottages promoting printed leather upholstery and tapestries and hand-painted wallpapers.
Boston's new Portable Electric Light Company hawked its Portable Electric Light in competition with the local firm Cuzzens and Bell. The product used an early battery to provide light. It could be configured — for a price — to also power a burglar alarm that would sound an alarm if and when burglars ended Newport cottages.
C.F. Clark offered "the Admiral" — a breech-loading yacht cannon — in four sizes at prices up to $200.
Bicycles and Bon-Bons
The list of goods available included diamonds, watches and jewelry; European furnishings and dresses. Visitors to Newport cottages could be tempted with bon-bons, chocolates, cigars and liquor, available in a special "tasting room."
Tailors and costume makers offered their services to help their customers prepare for the full season of balls and costume parties. More pedestrian services included lawnmower repair, horse shoeing and carriage leasing and repair.
For the sporting set, Boston's Cunningham Company offered the relatively new fad to Newporters — a bicycle. "Having introduced the bicycle to this country we shall not willingly relinquish the reputation which our six years of successful business had brought us."
Other firms offered lawn pool, or improved croquet, sets. Dog collars, dog whips, bridles and saddles were available, as were horses — for sale or rent. Pianos, for example, could be had for the season. And the American Spiral Telephone Wire Co. offered "The Telephone Trumpet," a device that attached to a telephone to amplify the sound so that "even a whisper can be heard." The plastic tube was available for lease on a quarterly basis for a modest charge of $3.
Financial Collapse
The year 1883 was an interesting choice to begin publishing the guide for the owners of Newport Cottages. Though it wasn't completely clear early in that year, the country was in the early stages of a depression. But unlike depressions or recessions brought on by a financial collapse, the 1882-1885 contraction of the economy resulted from slow-moving changes in America.
Mechanization of factories promoted a surplus of production while salaries and buying power contracted. Too many goods and not enough customers resulted in a collapse of the economy. Business activity decreased by more than 30 percent. Five percent of the country's factories and mines closed completely in 1884, with many others operating on reduced capacity.
The Great Panic of 1884 then struck Wall Street when two over-extended financial firms collapsed and markets dropped. Investors then feared other companies might be equally shaky.
There was no edition of the Newport Villa Owner's Guide in 1884.
This story about Newport cottages was updated in 2023.
Images: Kingscote By Daniel Case, CC BY-SA 3.0, https://commons.wikimedia.org/w/index.php?curid=3956670. Beechwood By Bear Golden Retriever from auburn,ny, usa – Astors' Beechwood MansionUploaded by LongLiveRock, CC BY 2.0, https://commons.wikimedia.org/w/index.php?curid=103976902. The Breakers By xiquinhosilva – https://www.flickr.com/photos/7138083@N04/44918670122/, CC BY 2.0, https://commons.wikimedia.org/w/index.php?curid=90108256. The Breakers Music Room (featured image) By xiquinhosilva – https://www.flickr.com/photos/7138083@N04/44918670122/, CC BY 2.0, https://commons.wikimedia.org/w/index.php?curid=90108256.