Don Featherstone made landscape history in 1957 when he designed the plastic pink flamingo for a Leominster, Mass., plastics company.
Little did he know that the eye-catching lawn ornament would sell 20 million copies, inspire several films and become a cultural icon both loathed and revered.
The plastic pink flamingo wasn't the only widely used product to come out of Leominster's plastic factories (think Tupperware). But somehow the plastic pink flamingo caught people's attention in ways that nothing else did.
Marc Abrams, editor of the Annals of Improbable Research magazine, tried to explain their appeal.
"Part of the attraction of Don's flamingos is that it's hard to explain why they are fascinating or special," Abrams told the BBC.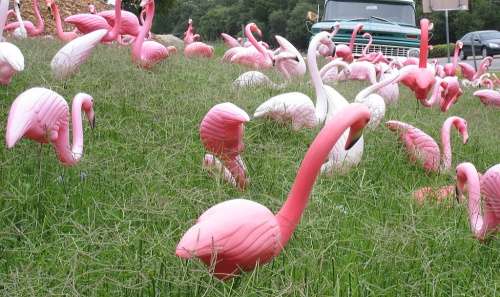 The First Plastic Pink Flamingo
Featherstone was born Jan. 25, 1936, in Worcester, Mass., which is also, by the way, the home of the smiley face.
He grew up in Berlin and graduated from the Worcester Art Museum's art school. He then anticipated the career advice immortalized in the 1967 film, The Graduate: Plastics.
Featherstone went to work for plastics manufacturer Union Products Co. in Leominster. His job: designing three-dimensional animals. His inaugural efforts included a boy with a dog and a girl with a watering can.
He designed the pink flamingo based on photographs in National Geographic Magazine. Sold in pairs, they went on sale in 1958 for $2.76. The Sears catalogue carried them, with the instructions, "Place in garden, lawn, to beautify landscape.
They sold. And sold. And sold.
Featherstone once said they appealed to people living in subdivisions with identical homes. "A woman could pick up a flamingo at the store and come home with a piece of tropical elegance under her arm to change her humdrum house," he said.
His wife, Nancy, added that people just thought they were pretty.
Plastic City
The year that Don Featherstone joined Union Products, Leominster had 60 plastics factories employing 5,500 people – 80 percent of the city's work force.
The city, about an hour northwest of Boston, had long been an important center of plastics manufacturing.
It started when the Fitchburg Railroad came through Leominster, allowing manufacturing to flourish. Leominster's small factories specialized in combs. By 1853, 146 people in 24 factories churned out combs.
It took time, though, to make a comb. A worker had to rough out the form from an animal hoof or horn, then cut the teeth individually. But in 1868, celluloid came along. Leominster really began cranking out combs, earning the nickname "Comb City."
Then in 1901, Leominster's largest plastic manufacturer, the Viscoloid Company, began making celluloid toys.
Injection Molding
Then in the 1930s another invention put Leominster on the path of birthing the plastic pink flamingo. A German-American named Samuel Foster started a company called Foster Grant. In 1931 he visited a New York factory and saw an injection molding machine. He immediately ordered several and had them shipped to Worcester. He then had a team of mechanics and engineers spend two years modifying them so they worked.
In 1937, Foster Grant churned out 20 million sunglasses. The next year, Tupperware started up in Leominster.
Don Featherstone
Featherstone continued to design products for Union Products, and by 1996 rose to part-owner and chief executive officer.
He may have been the only corporate CEO to have 57 pink flamingoes in his yard. Or to wear matching outfits with his wife, who made them by hand, from the late 1970s onward.
Imitation pink flamingoes began to challenge the primacy of Featherstone's bird. So in 1986 Featherstone inscribed his signature in the original plastic mold so people could tell the real from the knock-off. Today they're known as "Featherstones."
Avant Garde?
Not everyone embraced the plastic pink flamingo. Some people viewed them as tacky and tasteless. And some homeowner's associations banned them because they supposedly drove down property values.
But the same year that Featherstone became Union Products CEO, he won the Ig Nobel Art Prize for his design of the plastic pink flamingo. Hipsters had adopted the flamingo to poke fun at ideas of high art and tastefulness.
In 1979, for example, University of Wisconsin students had planted a thousand pink flamingoes on the lawn in front of the dean's office. Thirty years later, the town's common council designated the plastic pink flamingo as the city's official bird.
By 1994, the Gay Games featured an event dedicated to the pink flamingo. Plastic pink flamingoes began to appear in avant-garde art galleries.
In the late 1990s, Featherstone's plastic pink flamingo appeared in the gift shop of the Museum of Contemporary Art in Los Angeles. And Boston's Museum of Fine Arts also has a pair in its collection, though not on display.
An animated Disney feature, Gnomeo & Juliet, in 2011 featured a pink flamingo named Featherstone. Far less family-friendly was John Waters homage to the lawn ornament, the 1972 film, Pink Flamingos.
The Death and Rebirth of the Plastic Pink Flamingo
Don Featherstone retired in 2000, and Union Products quietly took his signature off the plastic pink flamingo mold.
But connoisseurs of the bauble of bad taste noticed.
A campaign to boycott non-Featherstone flamingos started, spurred on by the Museum of Bad Art and the Annals of Improbable Research. "How can you remove an artist's signature from the work he created? It may be legal, but it isn't right," said Parker McGurl, a Museum of Bad Art spokesman.
But Union Products would only last another six years before closing down for good – and stopping production of the plastic pink flamingo – in 2016.
A few years later the Cado Company of Fitchburg bought the rights to the Featherstone plastic pink flamingo and continues to manufacture them.
Don Featherstone died on June 22, 2015.
This story last updated in 2023.