Louisa May Alcott nicknamed her dilapidated family home in Concord, Mass., "Apple Slump," after a fruit dessert with dough that slumps onto the plate. But the house was – and still is – known as "Orchard House."
She probably called the house Apple Slump because it sagged so badly. Or maybe because of the old apple orchard on the property.
Louisa wrote Little Women on a small white desk her father built for her in her bedroom. She didn't really want to write it, but her publisher insisted. So she took her surroundings – the large, light-filled rooms, her sister's piano, the shabby furniture – and put them in a book.
Orchard House still stands as an homage to Louisa May Alcott. Most of the furnishings and artifacts transport visitors to a time when a poor, hardworking idealist made it rich.
Orchard House
The house is a 2-1/2 story farmhouse, probably built around 1650. Eighty percent of the furnishings belonged to the Alcott family. The parlor still looks as it did when Anna (Meg) got married in it. Abba (Marmee) sewed the quilts in the bedrooms and served meals on the china in the dining rooms. May (Amy) created much of the art, including pencil sketches on her bedroom wall.
Close by the house sits a plain, churchlike structure where her father taught his Concord Summer School of Philosophy and Literature.
Bronson Alcott, Louisa's idealistic but improvident father, bought the land partly because it had 40 apple trees on it. He considered the apple a perfect food. Louisa and her three sisters were brought up as vegetarians because it was moral, healthy and kind to animals.
Bronson got the house for free. It was considered fit only for firewood and thrown into the deal for the orchard.
No More Moving
The Alcotts had moved 23 times when Bronson bought Orchard House. They couldn't move in right away, though, because of its condition. Instead, they rented Nathaniel Hawthorne's house while he served as President Franklin Pierce's consul in Liverpool, England. Alcott's younger sister, Elizabeth, died of scarlet fever in the rented house. She was 22, not 16 as Louisa wrote her into Little Women, but she did catch scarlet fever after holding a poor baby with the disease.
Bronson spent a year fixing up the house, but he didn't paint it. He believed buildings should blend in with their environment, so he allowed Orchard House to weather.
He built Louisa a shelf desk in her bedroom. He repaired the back staircase, which the real March women descended to act in their plays. He moved the smaller tenant's house and attached it to the back of Orchard House for his study. Henry David Thoreau and Ralph Waldo Emerson used to visit him in it.  The books now in the study had belonged to him.
A rectangular pillow on the sofa belonged to Louisa May. She called it her mood pillow. if she was in a good mood, it was vertical. If she was in a bad mood, it was horizontal, and her family avoided her.
Louisa had a reason for her sour moods. As a Civil War nurse, she contracted typhoid fever, and doctors treated her with mercury. She lived with the effects of mercury poisoning her whole life. Nevertheless, she worked hard to earn money by writing, teaching and sewing in order to support her family. Her mother, really called Marmee, helped out too. Bronson viewed spiritual growth and self-denial as essential. Supporting his family, not so much.
The Sale of Orchard House
After 10 years of toil at her shelf desk, Louisa struck gold with Little Women in 1868. She and her family, though, continued to live in Orchard House. Despite her new wealth, the Alcotts didn't buy new furniture, and Orchard House kept its shabby chic décor.
Anna (Meg) had been widowed, and in 1877 Louisa bought her Henry David Thoreau's house. In November of that year Marmee died, so Louisa and Bronson moved in with Anna. May then lived in Paris.
Orchard House stood empty for a few years. "It is forlorn standing empty," wrote Louisa. "I never go by without looking up at Marmee's window, where the dear face used to be, and May's, with the picturesque vines around it."
Then in 1882, the Alcotts sold the house to a family friend. People lived in it as a home until 1911 when the Concord Woman's Club bought it as a memorial to Louisa May Alcott. It's open to visitors every day of the year but January 1-3, Easter, Thanksgiving, Christmas Eve, Christmas Day and New Year's Eve. Click here for information.
Louisa May Alcott wrote down the recipe below for apple slump.
Ingredients
6 apples

1 cup sugar

1 teaspoon cinnamon

1/2 cup water

1-1/2 cups flour

1/4 teaspoon salt

1-1/2 teaspoon baking powder

1/2 cup milk
Instructions
Pare, core and slice 6 apples and combine with 1 cup of sugar, 1 teaspoon cinnamon and 1/2 cup water in a saucepan. Cover and beat to boiling point.
Meanwhile sift together 1-1/2 cups flour, 1/4 teaspoon salt and 1-1/2 teaspoon baking powder. Add 1/2 cup milk to make a soft dough.
Drop pieces of the dough from a Tablespoon onto the apple mixture, cover and cook over low heat for 30 minutes. Serve with cream.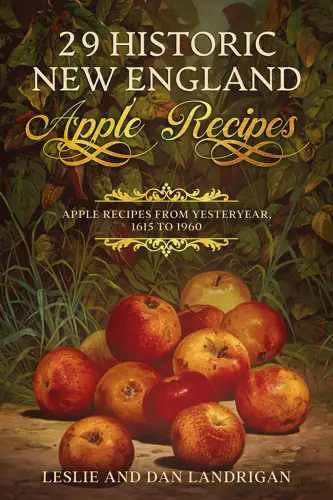 You can also find Louisa's recipe and more in the newly revised book, 29 Historic New England Apple Recipes. Now available in paperback and as an ebook through Amazon. Click here to order.
Images:
Orchard House: By User:victorgrigas – Own work, CC BY-SA 3.0, https://commons.wikimedia.org/w/index.php?curid=27754775. Hillside Chapel By User:Jaydec – I created this work entirely by myself., CC BY-SA 3.0, https://en.wikipedia.org/w/index.php?curid=23682270.