You can't have missed the catalog for the Vermont Country Store in your mailbox, and you may well have visited one of its two actual locations.
And even if you haven't set foot in the store, you know what it's like: the quintessential country store, with a pot-bellied stove, bolts of calico and glass jars filled with licorice whips and smarties.
The Vermont Country Store carries foods that have disappeared from modern store shelves, including Indian pudding, maple sugar, dandelion greens, balsam soap, yellow eye beans, dried apples and common crackers. The store also peddles a little retro nostalgia, selling Lifebuoy soap, Jubilee kitchen wax, Turkish taffy, Postum and Fuller Brush brooms.
But the history of the store and the people who founded it is probably not quite what you think.
The Vermont Country Store
For starters, the Vermont Country Store began as a mail order catalog, not as a general store. And the physical structure was originally an inn that founders Vrest and Mildred Orton restored as a replica of his father's country store in North Calais.
Vrest Orton had a long career as a writer, publisher and editor before founding his country store. About his career change he wrote, "I have done all I could to influence men's minds and nothing much came of it. Now I have decided to influence their stomachs."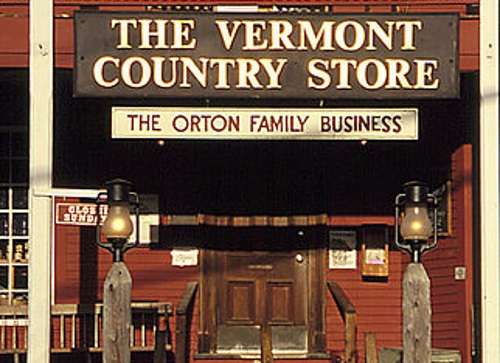 Here are nine other things you may not know about the Vermont Country Store and its founders:
1. A Chase & Sanborn Coffee ad inspired Vrest Orton to open the Vermont Country Store. During World War II, he worked as a speechwriter and propagandist for the Pentagon when he saw the ad:  Four old men sitting around a checkerboard on a barrel near a potbellied stove as a shopkeeper pouring sugar onto a scale. After seeing the ad, he vowed to go back to Vermont full-time and revive an old-fashioned, authentic country store.
2. Vrest, a proponent of enlightened rural living, wrote an article in 1929 arguing that Vermont should secede from the United States. It should also squash everything 'unVermontish,' including 'summer camps and hot dog stands,' 'tourists who patronize natives' and 'factories belching smoke.' He wanted to forbid foreigners to buy land in Vermont unless they grew food on it.
3. The Saturday Evening Post gave the Vermont Country Store a huge boost when it ran a story in 1952 called The Happy Storekeeper of the Green Mountains. It brought so much traffic they had to add to the back of the original building. And they eventually opened a second location in Rockingham, Vt.
4. Vrest maintained a warm friendship with Robert Frost for 25 years. He published a book of poems and remembrances after Frost died, called Vermont Afternoons with Robert Frost.
36 Items
5. Mildred's Christmas card list formed the basis for their first mail-order catalog in 1945, as soon as the war ended. They printed it on newsprint on the printing press in the garage and mailed it to about a thousand people. It had 12 pages and advertised 36 items. Mildred and Vrest wrapped products in brown paper and tied them with twine. Today 50 million store catalogs go out a year.
6. The Ortons were also friends with horror writer H.P. Lovecraft. Lovecraft came to visit the Ortons at their primitive farm near Brattleboro. Though a city boy who'd lived in Providence and New York, Lovecraft loved the experience. He learned to build a fire and round up cows. During his visit, the Brattleboro Reformer reported A Weird Writer Is In Our Midst.
7. As a young man, Vrest Orton worked for H.L. Mencken in New York City. He co-founded The Colophon, a book collector's magazine, as well as the Stephen Daye Press in Brattleboro, Vt. He also co-founded Vermont Life magazine.
8. Vrest and Mildred together wrote a pioneering cookbook about wholegrain cookery in 1947, well before healthy eating became fashionable. Cooking with Whole Grains, still in print, includes recipes for regional foods such as Southern Johnnycake and Vermont Indian Pudding.
9. The National Register of Historic Places lists the Vermont Country Store as the first restored and operational rural general store in America.
Store interior: By The Vermont Country Store – The Vermont Country Store, Public Domain, https://commons.wikimedia.org/w/index.php?curid=5372687. This story was updated in 2023.