When  a judge sentenced two Italian anarchists named Sacco and Vanzetti to die for a crime they said they didn't commit, an international furor erupted.
Many believed Sacco and Vanzetti guilty of only two things: foreign birth and radical beliefs. The eyes of the world then focused their home, Boston's North End, during their trial, conviction and appeals. Protesters demonstrated in major cities around the world. A petition demanding a new trial had 600,000 signatures and celebrities wrote letters begging for clemency.
One of those celebrities, muckraker Upton Sinclair, decided to write a novel about the case. But by the time he finished the book, called Boston, Sacco and Vanzetti had died. And Sinclair believed them guilty.
Sacco and Vanzetti
On April 15, 1920, two men shot and killed Alessandro Berardelli and Frederick Parmenter in cold blood. A paymaster and guard for the Slater and Morrill Shoe Co., they were carrying the company payroll through the streets of Braintree, Mass. The two armed robbers grabbed the loot, more than $15,000, and fled in a getaway car.
Several weeks later, police arrested Nicolo Sacco, a shoemaker, and Bartolomeo Vanzetti, a fishmonger, on a streetcar. They had no police record, but they did carry loaded guns. Their trial then began the next June.
Red Scare
The crime took place during the Red Scare, a time of heightened fears about foreign terrorists.
In the spring of 1919, Italian anarchists tried to bomb political and business leaders throughout the United States. In April and in June they delivered 45 bombs to such prominent men as John D. Rockefeller, J.P. Morgan, Jr., and U.S. Attorney General Mitchell Palmer. Only some of the bombs detonated, killing two and injuring two.
But one bomb nearly killed Palmer and it demolished his house. Palmer responded throughout 1919 and 1920 by having thousands of people arrested just on suspicion of radical activity. Some who got caught up in his dragnet had done nothing but talk with an accent.
But Palmer got hundreds deported.
Anarchists then retaliated with bombings at U.S. embassies and on Wall Street, which killed 38 people.
Death Sentence
In Boston, the judge handed down the death sentence to Sacco and Vanzetti. Many viewed the trial as tainted by prejudice against Italians. Felix Frankfurter, then a Harvard Law School professor, said the judge handled the case with 'misquotations, misrepresentations, suppressions and mutilations.'
Sacco and Vanzetti became a cause celebre around the world. For the next six years, newspapers carried stories of efforts to save their lives. Protesters demonstrated on their behalf in major cities on every continent but Antarctica.
Upton Sinclair
In 1927, Upton Sinclair had a reputation as a bestselling writer and a Socialist. His novel The Jungle had exposed conditions in the meatpacking industry and led to the federal Meat Inspection Act.
Sinclair joined in the chorus from to stay the execution of Sacco and Vanzetti.
He called their conviction, 'the most shocking crime that has been committed in American history since the assassination of Abraham Lincoln.'
Sinclair had worked undercover for seven weeks in a meatpacking plant to write The Jungle. In researching his novel about Sacco and Vanzetti, Sinclair spent six weeks in Boston gathering material. He interviewed Vanzetti, attended a funeral, got the court transcript, interviewed reporters and sent hundreds of letters to verify facts.
As he wrote the novel, his doubts grew about their innocence. Then on Aug. 23, 1927, Sacco and Vanzetti died in the electric chair in Charlestown State Prison.
Anthony Arthur, in his biography, Radical Innocent: Upton Sinclair, recounted how the author discovered that Sacco and Vanzetti had committed the murders.
One of their lawyers, Fred Moore, told him they had done it — but that the whole legal system was corrupt.
"Alone in a hotel room with Fred, I begged him to tell me the full truth," wrote Sinclair. "He then told me that the men were guilty and he told me in every detail how he had framed a set of alibis for them."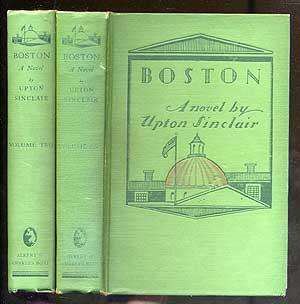 Wonder and Doubt
Knowing their lawyer believed in the guilt of Sacco and Vanzetti, Sinclair didn't know what to do. He called it the most difficult ethical problem of his life.
In the end, he left the reader of Boston uncertain – 'to wonder and doubt,' in his words — about their guilt or innocence. He believed that an unjust system condemned Sacco and Vanzetti as anarchists and foreigners from the start.
Sinclair hoped to win the Pulitzer Prize for fiction that year, 1929, but lost out to Julia Peterkin's Scarlet Sister Mary.
Boston, By Source, Fair use, https://en.wikipedia.org/w/index.php?curid=13436452. This story was updated in 2022.