The Edward Gorey House may not be what you think about when you think "Cape Cod house museum."
On the other hand, the Cape's appeal to free thinkers and quirky artists might mean the Edward Gorey House is exactly what you expect from a Cape Cod house museum.
You'll definitely find free thinking and quirky at 8 Strawberry Lane in Yarmouth Port. Two signs posted at the entrance give you an idea of what to expect. One says, "Please, no mayonnaise." The other says, "Please, No Henry James." Gorey hated the 19th century author, but reread his books to remind himself how much he hated him.
The Edward Gorey House
You have probably seen Edward Gorey's art — detailed ink drawings of Victorian and Edwardian characters in absurd or macabre settings. His books have titles like The Glorious Nosebleed, The Gashlycrumb Tinies and Always One Button Short.
He wrote and illustrated more than 100 of them. He also designed theatrical costumes, book covers and playbills, wrote plays and created the animated introduction to PBS's Masterpiece Theater's Mystery!
In 1978, Gorey won Tony Awards for his costume and set designs for the Broadway play, Dracula. With his royalties from the play he bought a 200-year-old sea captain's cottage on the Yarmouth Port Common. Gorey remodeled the house, leaving the wide pine floorboards and enlarging the rooms. He had cabinets built for his many, many collections.
On weekends he would fold his six-foot frame into a yellow Volkswagen Bug and drove it to yard sales, antique shops and used bookstores. Undoubtedly he visited Parnassus just down the street. He then brought his found treasures home, where he put them in his wunderkammers – cabinets of wonder. You could say without fear of contradiction that Edward Gorey had hoarding tendencies.
The Clutter
He found inspiration for his surrealistic and witty drawings in cheese graters, Japanese cinema, French surrealism, insects, old children's books, frogs and decorative rocks – to name a few. The curators have cleared out some of the clutter in the house and organized it.
In Gorey's large TV room at the back of the house you can watch the Mystery! Trailer on a large-screen television.  The TV probably didn't exist during his lifetime (1925-2000). He almost certainly would have bought a big one had he lived longer, as he loved television: Buffy the Vampire Slayer, Frasier, The Golden Girls and The Mary Tyler Moore Show.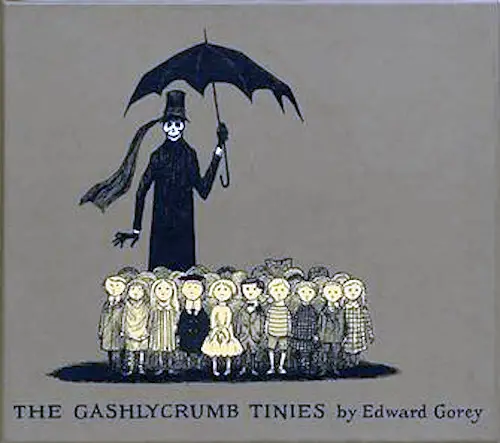 Along with a sample of his collections, the five-room museum brims with his work in the form of drawings, sketchbooks and 3-D manifestations, like the five-foot-tall stuffed creature standing at the kitchen sink.
You won't see the second floor, but you will see his downstairs bathroom (there's a skeleton in the shower). The Gorey House has no velvet ropes, no rooms blocked with Plexiglas. You're free to wander. And you can leaf through his sketchbooks for Mystery!, stroke his fur coats, touch his typewriter. You'll only see a tiny portion of the 26,000 books he collected, though.
Exhibits change every year, and the house is open to visitors from early April through December (check the website  for hours). Gorey loved animals (especially cats) and insects, and the Edward Gorey House has a mission raising awareness of animal welfare.
And yes, it has a gift shop.
Getting To the Edward Gorey House
One of the best things about the Gorey House is getting there. It stands just off the King's Highway – also known as Route 6A.
The highway runs east-west along the northern part of Cape Cod. Originally a Wampanoag path, it evolved into a colonial cart path and now a scenic byway. It comprises the largest contiguous historic district in the United States. You'll see stone walls, salt marshes, sea captain's houses, antique shops, cemeteries, tidal flats, general stores, cranberry bogs and restaurants. It runs from Bourne to Orleans, but the prettiest section stretches from East Sandwich through Barnstable and Yarmouth Port.
Gorey's favorite restaurant, Jack's Outback, is still in operation nearby, though it's located in a different building than it was during his lifetime. You can find it at 161 Main Street.
Five Things You'll Remember From Your Visit
Snapshots
Throughout the house, framed snapshots of Edward Gorey give a sense of the man. They show him at garden parties, on the beach and asleep on his sofa surrounded by cats.
Fur Coats
Gorey stood over six feet tall and wore full length fur coats, along with sneakers, jeans, heavy jewelry and a Harvard scarf. The museum displays a collection of his fur coats on a rack.
Stuffed Creature at Sink
As you might expect from Edward Gorey, a hodgepodge of random objects fills the kitchen, covers the counters and line the fireplace mantle. A five-foot-tall stuffed penguin-like bird – the fruit of Gorey's imagination – stands at the sink. Gorey's mismatched china fills the dish drainer on the kitchen counter.
The Framed Waffle
Among the many framed items on the wall is a waffle. Is it a real waffle or fake? Somehow in the Gorey house it doesn't matter.
The collections
Gorey stuffed the house with his collections. The curators have thinned them out, so what you see are countless ceramic frogs and rocks. He apparently inherited the collecting bug from his mother, who saved his childhood ephemera – on display in a Wunderkammer.
Images: Mannequin dressed in Gorey clothes By EgorovaSvetlana – Own work, CC BY-SA 4.0, https://commons.wikimedia.org/w/index.php?curid=135673887. Route 6A By John Phelan – Own work, CC BY 3.0, https://commons.wikimedia.org/w/index.php?curid=15491118/