African-Americans driving through New England from the 1930s to the 1960s carried the Green Book to guide them to friendly hotels, restaurants and service stations.
It was a time when they might find themselves in sundown towns, which banned minorities from within municipal limits after dark. The practice wasn't limited to the Jim Crow South — it happened in New England, too.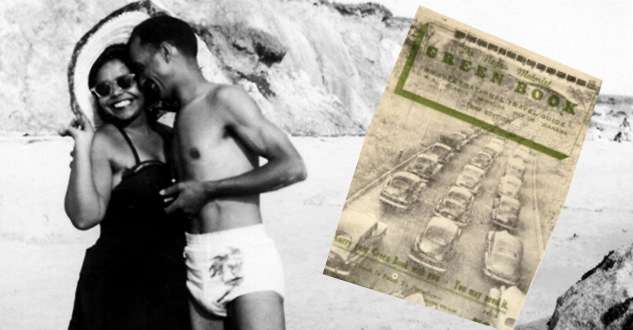 James Loewen, a historian who researches sundown towns, found evidence of a sign in Connecticut that said, "Whites Only Within City Limits After Dark."
Always alert to potential embarrassment or danger, African-Americans carried blankets, packed lunch and even toted cans of gasoline when they took to the road.
And they carried the Green Book.
The Green Book
Victor H. Green was an African-American letter carrier in New York City. Among his deliveries were Jewish guides that told Jewish readers what restaurants and hotels didn't admit them. He asked his colleagues in the postal service to help him by asking around on their routes about good places to stay. He then published the first Green Book in 1936, focusing on metropolitan New York City.
The 10-page book, which sold for 25 cents, included listings for restaurants, service stations, hotels, tourist homes, taverns, liquor stores, beauty parlors, nightclubs, drugstores and tailors.
It included a quotation from Mark Twain on its cover:
Travel is fatal to prejudice.
Expansion
The Green Book expanded over the years to include every U.S. state. It also included advertisements for lodgings, for Ford automobiles and for service stations. During World War II, Victor Green suspended publication, but by 1949 it ran to more than 80 pages.
Esso (now ExxonMobil) promoted the Green Book  because of the work of James 'Billboard' Jackson, the company's first black marketing specialist. Esso sponsored the guide, telling its black customers it allowed them to 'go further with less anxiety.' African-American drivers could buy the Green Book and get maps at Esso stations. Shell, on the other hand, had a reputation for turning away black customers.
Green's timing was good. African-Americans were buying cars as soon as they could afford them to avoid the indignities of traveling on trains or buses.  The interstate highway system was still in the future, so motorists had to drive through unfamiliar towns where they might not be welcome.
Journalist George Schuyler, a Rhode Island native, explained in 1930,
 …all Negroes who can do so purchase an automobile as soon as possible in order to be free of discomfort, discrimination, segregation and insult.
Obsolescence
Green looked forward to the day people wouldn't need the Green Book. In the 1949 edition he wrote,
There will be a day sometime in the near future when this guide will not have to be published. That is when we as a race will have equal opportunities and privileges in the United States. It will be a great day for us to suspend this publication for then we can go wherever we please, and without embarrassment. But until that time comes we shall continue to publish this information for your convenience each year.
The year the Civil Rights Act passed, 1964, was the Green Book's last. By then Civil Rights activists demanded equal access and discouraged voluntary segregation.
Jim Crow Bible
During the Jim Crow era, the Green Book was the Bible of black travel. Today it is a guide to a past that hasn't completely vanished.
In the 1949 Green Book, for example, listings for the African-American neighborhood in Boston's South End include eight hotels and guest houses, nine restaurants, a couple of barbers, the Savoy Nightclub (where Malcolm X once shined shoes) and a half-dozen tailors.
Charlie's, one of the restaurants listed on Columbus Avenue, was where Sammy Davis. Jr., used to tap dance for change as a young boy. Charlie's, now known as Charlie's Sandwich Shoppe, closed in 2014 but reopened under new ownership.
As New Haven revives the jazz that once made it a mecca for musicians, the 1949 Green Book limns the Dixwell neighborhood where Duke Ellington and Billie Holiday performed. There was the Phillis Wheatley Hotel, the Dr. M.F. Allen tourist home, the Belmont Restaurant, the Elks Nightclub and Lillian's Paradise.
The Monterey Café, where owner Rufus Greenlee danced with Josephine Baker, lasted long enough to foster New Haven's Hip Hop scene in the late '70s and early '80s.
Providence
Most of the accommodations listed in the Green Book in New England were small hotels and tourist homes owned by African Americans. In cities, they were usually found in marginal or minority neighborhoods.
One notable exception was the Providence Biltmore, an elegant 19-story hotel in the middle of downtown. It was built in 1922 after the Providence Chamber of Commerce campaigned for a signature hotel where people could gather for important civic and cultural events.
The hotel had an open occupancy policy, accepting both black and white guests. But it took a step further by actually paying for a listing in the Green Book. Beginning in 1941, it simply reads, "Biltmore" under the heading "Providence."
The Providence Biltmore closed in 1975, but reopened four years later after renovation and a landmark designation. It changed hands, underwent another renovation, changed hands again, and was renamed Graduate Providence.
Oak Bluffs
Today, the Town of Oak Bluffs on Martha's Vineyard is a resort community visited by such prominent African-Americans as Spike Lee, Charlayne Hunter-Gault and Dr. Henry Louis Gates, Jr. In 1956, it provided even more of a reprieve for upper-middle-class African-Americans like Martin Luther King, Jr., who wrote speeches on the porch of an Oak Bluffs cottage. 
In 1948, Dorothy West wrote a novel about the town's social life,  The Living Is Easy. That year the Green Book listed eight places where cottages could be rented in Oak Bluffs.  (You can watch an online documentary about Oak Bluffs for free here.)
The Shearer Cottage on Martha's Vineyard catered to black vacationers starting in 1912. Charles and Henrietta Shearer built their wooden tourist home in the Highlands area of Oak Bluffs. Charles had been born into slavery but graduated from Hampton Institute in Virginia, then worked as a teacher.
Shearer Cottage is still in business and still run by the Shearer family.
Ironically, the Green Book didn't list the Shearer Cottage until 1963, along with such establishments as Brownie's Cottage, Cinderella Cottage and Dunmere-By-The-Sea.
Rock Rest
One New England destination popular among African-Americans did not list in the Green Book: Rock Rest in Kittery, Maine. Clayton and Hazel Sinclair once owned the 2-1/2 story wooden Cape, running it as a guest house from 1946 to 1977. They advertised by sending postcards to their mailing list.
Clayton worked as a chauffeur in New York, Hazel as a ladies' maid to a family that summered in Maine. When Clayton and Hazel decided to relocate, Clayton found a dilapidated house on Route 103 and Kittery and promised to fix it up. He did, and Hazel's reputation as a cook drew enough guests to run Rock Rest as a business in the summer. Clayton Sinclair also worked in the Portsmouth Naval Shipyard and Hazel catered in the off season. Today the house is on the National Register of Historic Places. On June 4, 2022, two historic markers were scheduled to be unveiled commemorating Rock Rest.
For an interactive map showing places listed in a 1956 Negro Travelers' Green Book, click here. View the text of the 1949 Green Book, courtesy The Henry Ford, here.

Photos: Oak Bluffs by Elkman at Wikipedia, Charlie's Sandwich Shoppe by John Phelan at Wikipedia. Rock Rest By Robm154 – Own work, CC BY-SA 3.0, https://commons.wikimedia.org/w/index.php?curid=35858018.
This story was updated  in 2023. If you enjoyed it, you may also want to read about New England's sundown towns (which only allowed white people to stay after dark) here.