The New Hampshire legend of Ocean Born Mary has pirates, ghosts, a light green silk wedding dress – and some of it is even true.
Ocean Born Mary
Mary Wilson was born on a voyage from Ulster to Boston on July 28, 1720. Her Scottish parents, Elizabeth and James Wilson, were emigrating to New England to escape the violence in Northern Ireland.
That much is true.
Pirates boarded the ship intending to rob and kill the passengers. But then they heard a baby cry below decks. The captain went down to investigate, and he softened at the sight of the newborn. He said he would spare the passengers if Elizabeth would name the baby Mary after his beloved mother (or his wife). He gave her a bolt of light green silk cloth and asked that Mary wear it at her wedding.
That part might have some truth to it.  Pieces of Mary Wilson's green silk wedding dress are on display in Londonderry, Henniker and Concord.  And the Scottish emigrants' encounter with privateers actually did happen. That's according to reliable accounts published a few decades after Ocean Born Mary's death, according to Jeremy Entremont, in his book Ocean Born Mary: The Truth Behind a New Hampshire Legend.
That version has the pirates boarding the emigrants' ship and taking them aboard their own. The ordeal caused Elizabeth to give premature birth to her daughter, and the pirate captain, a father, took pity on her. He made her comfortable and allowed the captives to return to their ship and proceed on their voyage. And he did give Elizabeth presents, including the bolt of light green silk.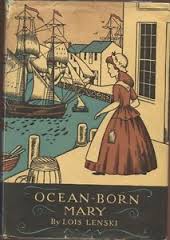 America
Mary's father then died soon after they arrived in America. Elizabeth soon remarried James Clark, another Scots-Irishman.
Many Scots-Irish were coming to America then with the uneasy blessing of the Massachusetts Puritans.  The Puritans viewed them as another persecuted religious minority. And they also thought the newcomers could settle on the frontier as useful buffers against the French and Indians.
The family settled in Londonderry, N.H., then on the western fringes of New England. The settlement celebrated Ocean Born Mary's birthday every year.
Mary grew up a tall, red-headed, well-loved woman. She married James Wallace wearing the light green silk dress at her wedding. The couple had four surviving sons and one daughter. Three of the sons married three sisters and emerged as local political leaders.
Ocean Born Mary outlived her husband (true) and moved to Henniker, N.H. (true). Here's where the New Hampshire legend of Ocean Born Mary gets nutty: The pirate captain came to Henniker in search of the grown-up infant Mary and married her (hardly) or made her his housekeeper (not true). He was also said to have been killed by another pirate (definitely not true).
A Nutty Legend
Here's why the New Hampshire legend of Ocean Mary got nutty. In 1917, Louis 'Gus' Roy of Wisconsin bought a house that Ocean Born Mary's son had owned. He then invented tales of buried gold and a tall, red-haired ghost that was probably Mary.  He also gave house tours and rented shovels to tourists to dig for gold in the back yard.
In 1939, children's book author Lois Lenski published a book of fiction about 10-year-old Ocean Born Mary and her adventures in Portsmouth, N.H. The author had help in her historical research from local historian Dorothy Vaughan, who for many of her 99 years was a reliable source of Portsmouth history.
When Mary died, she was buried in the cemetery behind the Henniker Town Hall.
There is a house in Londonderry called the old Wilson homestead. Some believe Ocean Born Mary lived there. David Ellis, a volunteer with the Londonderry Historical Society, has researched the town records and learned that a different Wilson family lived there.
Images: Henniker Town Hall By Jokermage at en.wikipedia, CC BY-SA 3.0, https://commons.wikimedia.org/w/index.php?curid=17982643. This story was updated in 2023.