The Phi Beta Kappa Society, established at the College of William and Mary in 1776, is America's oldest and most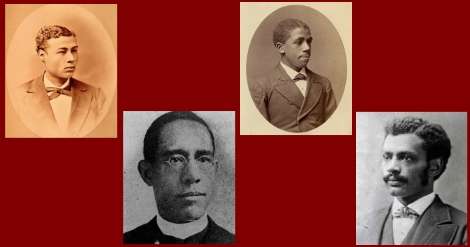 prestigious honor society. Its goal is promoting excellence in the liberal arts and sciences. Almost 100 years after its founding, after the Civil War, black Phi Beta Kappas began appearing in the society's ranks. The first five black Phi Beta Kappas came from New England colleges. Here are their stories.
George Washington Henderson, University of Vermont
Born in 1850, George Washington Henderson started out life as a slave. He was most likely befriended by Union soldiers during the Civil War and came to Vermont at the war's end. He was illiterate when arriving in Vermont but soon corrected that. By 1870 he was a student at the University of Vermont and graduated in 1877 at the head of his class.
Henderson's career included stints as a school principal in Vermont. He was ordained a minister, and his studies took him as far as Berlin, Germany. He became a college dean at Fisk University in Nashville, Tenn. He ended his career in Xenia, Ohio as a professor of foreign languages.
Winfield Scott Montgomery, Dartmouth College
Born in Mississippi in 1853, Winfield Scott Montgomery's family moved to New Orleans where he lived until he was 10 years old. A one-time slave, Montgomery was swept up by the spirit of the Civil War and followed Union troops north. The young run-away was befriended by Vermont troops who saw he attended Leland and Gray Seminary in Townsend, Vt. He taught school and attended college part time. He detoured to Washington, D.C. to teach school there before returning to Dartmouth College. He graduated in 1878 and became a professor of ancient and modern languages at Alcorn University in Rodney, Mississippi.
In 1882, however, Montgomery returned to Washington, D.C. to return to his calling as a progressive principal in the city's public schools. He never abandoned learning, however, earning a medical degree from Howard University.
Wiley Lane, Amherst College
Wiley Lane was born in North Carolina in 1852. His brilliance was apparent from a young age, and he attended Howard University's prep school program. After three years studying at Howard, Lane moved north to Amherst College, where he graduated in 1876 — with his second bachelor's degree — and he was admitted to the Phi Beta Kappa society.
Howard University lured Lane back as a tutor, and granted him a chair in the Greek studies department. To strengthen his Modern Greek, in which he needed further study, Lane enrolled in the American College of Modern Greek in Athens. He planned a tour of Europe following his course work. Lane's career was cut tragically short, however, when he contracted pneumonia and died before he could depart on his travels.
James Major Colson Jr., Dartmouth College
James Major Colson Jr. came from a free black family in Petersburg, Va. As a young man he assisted his father in his work as a shoemaker, but his mother's academic bent — she was a poet and opened a private school in Petersburg — showed the stronger pull on his future.
Colson traveled north at the age of 21 to be trained for college at the Middleboro, Mass. high school. He attended Dartmouth College and graduated in 1883. Returning to Virginia he became chair of science at the Virginia Normal and Collegiate Institute. He ended his career as principal of the Jon A. Dix Agricultural and Industrial School, and was an active member of his community. He helped establish a YMCA, was frequently published and took up the study of weather.
Edward Alexander Bouchet,Yale University
Edward Alexander Bouchet's journey to college required little travel. He was born in New Haven, Conn. in 1852. His father was a janitor at Yale University and his mother did laundry for students. They encouraged their son's studies from an early age, and Bouchet entered Yale in 1870. He graduated in 1874, Yale's first black graduate.
Bouchet's academic focus was physics and mathematics, and he spent the bulk of his career as a teacher at the Institute for Colored Youth in Pennsylvania. When the institute closed its college-prep programs in 1902, Bouchet's career took several twists and turns. He worked as a hospital administrator and customs agent before returning to teach at high schools in Lawrenceville, Va. and Gallipolis, Ohio. He ended his career on the faculty of Bishop College in Marshall, Texas. He returned to New Haven and died in 1918. Bouchet also might fairly claim to be the first black member of the Phi Beta Kappa Society. Yale's society had disbanded at the time he graduated in 1874, and he was admitted some 10 years later when the society was revived and began filling the roles from the years when it was dormant. So while he graduated in 1874, his admission didn't come until 1884.

Thanks to The Earliest Black Members of Phi Beta Kappa, by Caldwell Titcolm (Journal of African Americans in Higher Education).  This story updated in 2022.