The Old Town Canoe Company couldn't have started in a better place when it built its first canoe more than a hundred years ago. Old Town, Maine, is a small city located on the fringe of the Great North Woods and next to the Penobscot Indian Island Reservation. The Penobscot River runs right through Old Town.
The Penobscot people had been making birch bark canoes for hundreds of years. They provided the inspiration – and many employees – for the Old Town Canoe Company's original wood-and-canvas canoes.
For centuries, natives and non-natives in Northern Maine had used canoes as workboats. But then canoes evolved into recreational craft — wildly popular recreational craft. Decades later the canoe-like kayak became all the rage.
The Old Town Canoe Company has ridden those waves ever since 1898. Today it makes more kayaks than canoes. But it has, remarkably, survived as an American company that still makes something. Here's how they did it.
Penobscot
The Penobscot people built their community on and near the Penobscot River and Bay. For centuries they have lived and worked on the river as hunters, fishermen, log drivers, craftsmen, trappers, guides and stewards.
Their birchbark canoes are sometimes called "one of the greatest inventions in human history." It takes 500 hours to make one.
To do it, the Penobscot used one piece of birchbark from stem to stern. They used ash and cedar for the gunwales, spruce root and sap to plug the cracks and cedar strips for the thwarts. Then they'd sink the canoe in the fall and raise it in the spring to keep the bark pliable.
In 1857, Henry David Thoreau took a canoe trip with his Penobscot guide, Joseph Polis, from Bangor to the Allagash Lakes and back.
He recounted a discussion between Polis and a St. Francis native about the kind of spruce root to use in a birch bark canoe.
Our Indian said that he used black spruce roots to sew canoes with, obtaining it from high lands or mountains. The St. Francis Indians thought that white spruce roots might be best. But the former said, "No good, break, can't split 'em."

I told him I thought that I could make a canoe, but he expressed great doubt of it; at any rate he thought that my work would not be "neat" the first time.
Industrial Highway
Going without a boat in 19th century Maine would be like not having a car or a truck today.
When Thoreau took his canoe trip, the Penobscot River functioned as an industrial highway. Schooners hauled wood products from Bangor, the world's largest lumber port, to international destinations. River drivers used bateaux to maneuver along the logs they drove.
With strong demand for schooners, bateaux and canoes, boatbuilding thrived in the Bangor region.
Sometime after the Civil War, the birchbark canoe inspired canoe makers in and near Old Town. They began making wood and canvas canoes. Evan H. Gerrish may have been the first, selling them from his shop in Bangor, 12 miles from Old Town. Edwin M. White saw one of Gerrish's canoes and started making his own in Old Town. Alfred E. Wickett worked for him, and later for the Old Town Canoe Company. C.B. Thatcher of Bangor, B.N. Morris of Veazie and G.E. Carleton in Old Town also made canoes.
Old Town Canoe
By 1898, 15 factories reportedly made canoes in the Old Town area. That year, George Gray hired A.E. Wickett to build a wood-and-canvas canoe behind his hardware store. George and his brother Herbert didn't build boats, but they hired people who did. In 1901 they bought a former shoe factory on Middle Street and began making canoes out of it. Some of those survived for a hundred years.
Their wood-and-canvas canoe sold quickly, bolstered by a craze for canoeing. Young people especially liked courting canoes.  The young man would paddle from the back thwart. The young lady would face him, sitting on a pillow on the bottom and enjoying the ride.
The video below, by Thomas Edison, gives you an idea of just how popular canoeing had gotten by 1904.
By 1910, Old Town Canoe had 60 employees, many of whom were local Penobscot. The Grays bought one of the other Old Town canoe companies, Carleton, and began making bateaux as well. A Canadian canoe maker tried to lure the Old Town boat builders away, and the Old Town Canoe Company brought suit against its northern competitor.
Old Town Canoe Rebounds
In 1917 they introduced the motorized canoe with a square stern to which an outboard motor could be attached. In 1940, Old Town Canoe made its first kayak – a wood-and-canvas model. It was then the biggest canoe maker in the world. By the mid-1940s, the company ran five logging operations to get enough wood to meet demand.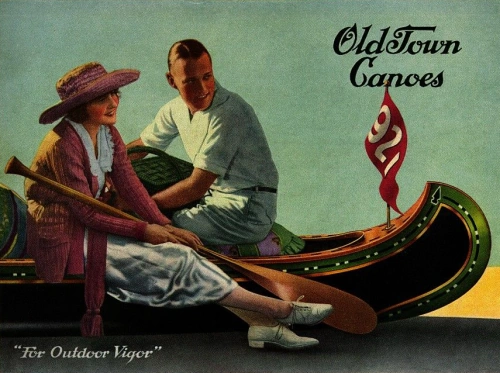 But after the war, Old Town Canoe faced increasing competition from aluminum and fiberglass canoes. The Grays' descendants, who still owned the company, thought aluminum kayaks were ugly and refused to make them. And Deane Gray, George's grandson, had a sign on his desk that said, ""If God wanted fiberglass boats, he would have made fiberglass trees!"
By the early 1960s, the company's sales dwindled to 200 canoes a year.
By then, the company also made motorboats and sailboats. In 1965, a Cleveland Plain Dealer copyeditor named Robert Manry sailed alone from Falmouth, Mass., to Falmouth, England. He did it in Tinkerbelle, a 13.5-foot Whitecap sailboat made by Old Town Canoe.
A Change of Heart
By then Old Town had finally begun experimenting with new materials, and in 1965 it built its first fiberglass canoe. Other innovations – especially the Discovery canoe – allowed it to return to profitability and regain its title as the world's largest canoe maker.
The 1972 film Deliverance used seven Old Town canoes.
Corporate cash also helped the company rebound. In late 1974, Johnson Diversified, a Racine, Wisc.-based conglomerate, bought Old Town Canoes in December 1974.
By 2000 it made more kayaks than canoes, and more of both than anybody. It still makes wood-and-canvas canoes, along with tens of thousands of kayaks, and it employs about 150 people.
In 2002, Steve Cayard, a non-native, self-taught birchbark canoe builder, led a canoe-building workshop on Indian Island.  Passamaquoddy, Maliseet and Penobscot attended. Barry Dana, then chief of the Penobscot Nation, had invited him in order to revive the craft of birchbark canoe building.
In 2016, Harvard's Peabody Museum staged an exhibition called "The Legacy of Penobscot Canoes: A View From the River."

Images: Group in canoe By Virginia State Parks staff – YR- Waiting for the rest of the groupUploaded by AlbertHerring, CC BY 2.0, https://commons.wikimedia.org/w/index.php?curid=29217331
1934 Old Town kayak By Squirrelwhisperer – Own work, CC BY-SA 4.0, https://commons.wikimedia.org/w/index.php?curid=43483254.
Birchbark canoe By Paul VanDerWerf from Brunswick, Maine, USA – Wabanaki Canoe, CC BY 2.0, https://commons.wikimedia.org/w/index.php?curid=70766856.
This story last updated in 2023.