New England high school football rivalries go back to the days when teams traveled by stagecoach to visit their opponents. When there were no field goals or forward passes and when no one was really all that sure about the rules. When schools held fundraisers to buy the ball – which, by the way, was round.
Many people associate high school football rivalries with the South. And yet New England, with 4.5 percent of the U.S. population, has about a third of the centuries-old high school football rivalries in the country. But considering that players originally called football 'the Boston Game,' perhaps it's not all that surprising.
Beginning in 1875, New England high schools have celebrated their football rivalries with bonfires, pep rallies, parades, snake dances, community dinners, alumni reunions … and fights, riots, bomb threats and eggings.
In no other region do so many high school football teams play on Thanksgiving Day every year. Many, but not all, of the Thanksgiving Day games involve ancient rivalries. Massachusetts has about 50 of them, Connecticut 15 and Rhode Island about 20.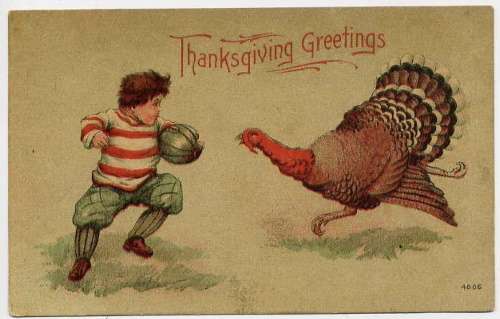 Northern New England has only two Thanksgiving games, probably due to the weather. Manchester, N.H., holds a Turkey Bowl to determine the league champions, and Portland, Maine, features a crosstown rivalry between the Deering High School Rams and Portland High School Bulldogs.
In 2020,the COVID-19 pandemic put all those rivalries on hold, as state and school officials canceled entire football seasons.
Boston Latin-Boston English. Classic.
Before the Civil War, football was more of an excuse for a brawl than an actual game. But then a more organized version evolved. Boys from East Coast prep schools began to play what they called the Boston Game, something of a cross between rugby and soccer.
Then a group of students from Boston schools, including Boston Latin and English High, formed the Oneida Football Club. They played pickup teams starting in 1862 on Boston Common. In 1925, surviving members dedicated a small monument on their old playing field. They bragged they'd not only never been beaten, they'd never allowed an opponent to score.
The Oneida Club disbanded after a few years. Then in 1887, Boston Latin played English High on Thanksgiving at Harvard Stadium. They did it again for 130 consecutive football games. It's the oldest continuous Thanksgiving high school rivalry in the country.
Latin tends to beat English (they're 80-38-13), and in 2011 the Wolfpack gave the Bulldogs a 50-0 drubbing. With Latin ahead 44-0, Latin let a woman player onto the field, senior Kathy Le. The crowd cheered.
Massachusetts has 11 other high school football rivalries that go back more than a hundred years.
Some Thanksgiving games between rivals attract thousands of fans, like the 100th annual Salem-Beverly contest in 1998. The game drew 11,000, a bigger crowd than struggling Major League Baseball teams can sometimes lure to their ballfields.
Needham-Wellesley
Five years before Latin and English went after each other on the gridiron, Needham and Wellesley high school athletes played their first game. The rivalry started when West Needham and East Needham split up in 1881 amidst a bitter controversy. They took their high schools with them, so West Needham became Wellesley.
On Thanksgiving Day in 1882, they started the oldest public high school football rivalry in New England.
As the two teams lined up on the crooked midfield line, the Wellesley captain realized he only had nine players. So he sent his brother into the stands to find two more.
The rivalry intensified over the next few years, and by the end of the century both teams used ringers – including 'out-of-town professionals.' Then in 1901, the schools limited ringers to town residents, which made for lousy football but good boxing. Several fistfights livened up the game, which featured frequent fumbles and ended in a 0-0 tie. Andrew Wyeth's uncle managed the first all-boys' team in 1906.
The Needham-Wellesley Thanksgiving rivalry had to take a break for the world wars because so many players enlisted. Officials also cancelled the games from 1950-52 because rioting broke out.
As recently as 1991, the game was called because of a bomb threat on the field. It turned out to be a prank by some Needham High School kids.
Fitchburg-Leominster
In 1898, the eighth Fitchburg and Leominster game went to a 0-0 score until the last two minutes. Then Fitchburg scored on a punt return — with the help of the hometown crowd, which kept any tacklers away from the ball carrier. The referee ruled the game a scoreless tie.
The next day the Fitchburg Sentinel had the audacity to report a win with the headline, "Fitchburg Wins 5-0." The score stayed in the record books that way until 2010, when a Leominster Sentinel and Enterprise reporter insisted on changing it to 0-0. At the end of 2019, the Leominster Blue Devils have played the Fitchburg Raiders on Thanksgiving 104 times. The COVID-19 pandemic forced the cancellation of the match-up in 2020.
Norwich Free Academy vs. New London
Six years after the first ever collegiate football game, two Connecticut high schools started the longest high school football rivalry in history: Norwich Free Academy and New London High School. Ulysses S. Grant was president.
It started on May 12, 1875, and it hasn't been continuous. But it has been fierce, with faculty sometimes playing as ringers. One year a Norwich-favoring referee let the clock wind down a little too slowly, time enough to let his Wildcats score the winning goal.
In 1898, the Wildcats were playing the Whalers in New London when a sudden snow squall enveloped the playing field. An NFA punter kicked the ball in the air, and it disappeared. The game ended since the teams had no more balls.
Another game ended early four years later, when Norwich Free Academy scored 130 points on New London in the first half. The game was called.
In NH, It Starts in Little League
On New Hampshire's Seacoast, boys start hearing about the epic rivalry between Dover High and Rochester's Spaulding High when they're in Little League.  In 2011, 30,000 fans watched the teams compete in a playoff match.
One long-tenured Rochester coach brought such intensity to the game that the Dover players believed he spied on their practices from the nearby woods. And whenever a small plane flew overhead, they'd stop their drills and mill around the field because they thought Spaulding wanted aerial photos of their practices.
In 1969, the Spaulding Red Raiders and the Dover Green Wave played their 63rd game to a 0-0 tie. A rainstorm reduced the field to a quagmire, the players so covered with mud it was hard to tell the teams apart. A Red Raider claimed he scored a last-second touchdown, but no one could tell for sure.
Weather conditions probably explain why the three Northern New England states have only two Thanksgiving Day games — the Manchester, N.H., Turkey Bowl and the game between Crosstown rivals Portland Bulldogs vs. Deering Rams at Fitzpatrick Stadium in Maine.
Cony, Gardiner and … Chizzle Wizzle?
"Chizzle Wizzle, Chizzle Wizzle, sis boom bah! Cony High, Cony High, rah, rah, rah!"
That cheer for Augusta's Cony High School Rams inspired students in 1892 to form the "Chizzle Wizzle Association" to raise money for the team. The Rams faced the Gardiner Tigers that year in their first of many games.
Miss Aldine Holmes kicked off the first Chizzle Wizzle in 1893 with a piano solo and Miss Cusick and Mr. Studley ended it with a duet. Ice cream and cake were served during intermission.
If that sounds decorous, the games were anything but. Ten years after the first game, the Gardiner Journal called the schools 'old time rivals' and complained of rowdyism.
Gardiner won by 2-0 in the 1910 game that involved quarreling and 'the mixing up of the crowd and the players after nearly every play.'
After losing the 1926 game, Cony students threw rotten eggs at the Gardiner fans. 'One girl's hat, stockings and coat were ruined,' reported the Gardiner Journal, which also noted Gardiner fans 'went home quietly with sad faces,' when they lost. Augusta, on the other hand, didn't feel the need to be 'sportingly generous.'
Augusta's Chizzle Wizzle now lasts four days and ends with a ball, not a brawl. Cony students claim it's the longest running high school variety show in the country. In 2020, the COVID-19 pandemic drove the variety show online.
Vermont's 'The Game'
In Vermont's Northeast Kingdom they just call it 'The Game' – the St. Johnsbury Academy Hilltoppers vs. the Lyndon Institute Vikings. In 2013, a USA Today survey of the country's greatest high school football rivalries. 'The Game' won the Vermont, New England and Eastern regions and finished fourth in the United States.
Sometimes thousands of fans attend the game between two towns that don't have 15,000 residents between them. Excitement mounts in the week before the contest, with bonfires, a parade, class floats, a pep chapel, an alumni dinner and, as the Caledonian Record put it, 'screaming teens.'
The rivalry dates to a game played on Oct. 27, 1894. Lyndon had never played an opponent before and lost 28-0. To commemorate the 100th anniversary of The Game, a state lawmaker (clearly a St. Johnsbury fan) sponsored a resolution that gloated over that first victory. Even though anyone who could even remember the game was probably long dead.
But on that 'auspicious and historic' fall day, the resolution went, the two teams 'met on the gridiron' to play the 'new and intriguing sport' evolving into one of Vermont's 'favorite autumnal activities.'
In that game, the two squads of 'interscholastic athletic pioneers' played a game in which St. Johnsbury 'demonstrated their strategic mastery' and 'handily defeated' Lyndon.
Three Miles Apart
No two high school football teams have played as many games against each other as Westerly High in Rhode Island and Stonington High in Connecticut. Though in different states, the schools are only about three miles apart. They've played against each other since 1911, and in 1913 they started playing on Thanksgiving as well as during the regular season.
The town Rotary Clubs take turns holding a dinner for both teams the night before the Thanksgiving game. The schools hold pep rallies in their auditoriums and the townspeople go to nighttime rallies on the commons.
By 2018, the Westerly Bulldogs and the Stonington Bears had played 98 games on Thanksgiving Day, with pretty even won-loss records. The 2018 game was a mismatch, though, with Westerly beating Stonington by 61-0. That, however, was only half as bad as the 1917 game, when Westerly beat Stonington by 122-0. In fairness, most of Stonington's first-string players had enlisted and left to fight World War I.
There's a terrific mural commemorating the rivalry behind C.C. O'Brien's Irish Sports Bar and Café at 8 Mechanic Street in Pawcatuck.
Andover vs. Exeter
Two of the greatest ever football coaches played in one of the greatest ever high school football rivalries.
Amos Alonzo Stagg suited up for Phillips Exeter's Big Red nearly a hundred years before Bill Belichick played center for Phillips Andover's Big Blue.
Stagg probably had to take a stagecoach for away games. Belichick was there in 1971 when some Andover students got caught trying to spray paint Exeter's field blue.
The oldest private high school football rivalry began on Nov. 2, 1878 when both schools had existed for about a century.
Stagg, a poor Irish student, attended Exeter with the intention of going to Yale as a divinity student. But as a standout athlete he felt sports calling to him, and he ended up playing key roles in the development of intercollegiate football and basketball.
Belichick, the son of an assistant coach at Annapolis, went to Andover as a postgraduate to improve his chances at college. He played center in a game against Exeter that left the team undefeated. Buzz Bissinger, who later won the Pulitzer Prize for Friday Night Lights, reported on the game for the Phillipian. They won 34-8.  Belichick, 37 years later, gave his daughter Amanda a felt pennant with the score of that game on it when she entered Andover.
He later said he learned about the science of football at Andover, and that he owed the school a lot. Patriots' fans should be forever grateful.
Massachusetts High School Football Rivalries
Phillips Andover Academy and Phillips Exeter Academy (New Hampshire) since 1878.
Wellesley High School and Needham High School since 1882.
Milton Academy and Noble and Greenough School (Dedham) since 1886.
Boston English High School and Boston Latin High School since 1887.
Malden High School and Medford High School since 1889.
Winchester High School and Woburn Memorial High School since 1891.
Beverly High School and Salem High School since 1891.
Newburyport High School and Amesbury High School since 1891.
B.M.C. Durfee High School (Fall River) and New Bedford High School since 1893.
Athol High School and Ralph C. Mahar Regional High School (Orange) since 1894.
Leominster High School and Fitchburg High School since 1894.
Newton North High School and Brookline High School since 1894.
Barnstable High School and Falmouth High School since 1895.
Reading Memorial High School and Stoneham High School since 1899.
Marlborough High School and Hudson High School since 1900.
Melrose High School and Wakefield High School since 1901.
Whitman-Hanson Regional High School and Abington High School since 1910.
Connecticut High School Football Rivalries
Norwich Free Academy and New London High School since 1875.
Ansonia High School and Naugatuck High School, since 1895.
Shelton High School and Derby High School since 1904.
Stonington High School and Westerly (Rhode Island) High School since 1911.
Maine High School Football Rivalries
Cony High School (Augusta) and Gardiner High School since 1892.
Thornton Academy (Saco) and Biddeford High School since 1893.
Hebron Academy and Kents Hill School since 1894.
Lewiston High School and Edward Little High School since 1897.
Portland High School and Deering High School (Portland) since 1911.
New Hampshire High School Football Rivalries
Phillips Exeter Academy and Phillips Andover Academy since 1878.
Spaulding High School (Rochester) and Dover High School since 1906.
Rhode Island High School Football Rivalry
Westerly High School and Stonington (Connecticut) High School since 1911.
Vermont High School Football Rivalry
St. Johnsbury Academy and Lyndon Institute since 1894.
Thanks to Wikipedia for the list of oldest high school football rivalries. This story was updated in 2022.