Once New Englanders decided to save the historic Old South Meeting House in 1876, they began to preserve other kinds of historic properties. They saved private homes, taverns, barns, bridges and dams. And then in 1978, New England began saving the historic gas station.
A look at the humble gas station reminds us of how our lives and our landscape changed with the automobile.
Historic gas stations reflect car culture, pop culture, corporate standardization and a kind of customer service that today seems quaint, according to a 2008 Preservation Brief of the National Park Service.
"Across the United States, however, gas stations are slowly being rediscovered for their historic significance," reported the Brief. "They have even been included on statewide endangered property lists."
The Historic Gas Station
The invention of the gas pump around the turn of the 20th century allowed small businesses to sell gas. Car dealers, hardware stores and grocery stores made contracts with refiners. They then installed the pumps and sold gas on the curbside.
Stand-alone gas stations started out as wood or metal shacks. Then they evolved with sturdier material, prefabricated metal sheds or brick. Perhaps they had steel windows and some decoration.
The A.C. Smith & Co. gas station in Quincy, Mass., built in 1926, got listed on the National Register of Historic Places in 1996 as an early functional gas station.
In the 1920s, gas stations began to pop up in residential neighborhoods. The neighbors complained about the way they looked, so gas stations began to look like houses. The English cottage or Tudor revival look was especially popular.
By then, the petroleum business had grown intensely competitive, and companies started to compete with unusual architecture. For example, Art's Auto in Pawtucket has square towers with roofs shaped like pyramids at the corner. A large round bay projects from the center with a conical roof. The historic gas station was listed on the National Register of Historic Places in 1978, but Anchor Financial now uses the building as an office.
Colonial Revival
The popularity of historic revival architecture extended to gas stations. Standard Oil especially liked the colonial revival style. So did Boston-based petroleum companies like the Beacon Oil Co., formed in 1919.
Beacon in 1922 hired the architectural firm of Coolidge and Carlson to design Beacon's prototype station, the "Watertown." The architects copied elements from Charles Bulfinch's Massachusetts Statehouse, including columns, balustrade, dome and lantern. Crowning the Watertown's dome: a globe with lines showing latitude and longitude, to symbolize Boston as the Hub.
The Beacon Gas station in Stoneham, Mass., was a Watertown. It stopped pumping gas after World War II. A series of retailers then moved in, converting it to a produce market, a florist and an ice cream parlor. They didn't change the building in any significant way, so the National Register of Historic Places listed the historic gas station in 1984.
In Bellows Falls, Vt., the small commercial building at Bridge and Island Streets offers a modest example of a colonial revival gas station. Built in 1935, the National Register of Historic Places listed it in 1990.
The Box
By the 1930s, oil companies wanted to give an impression of efficiency, cleanliness and standardization. They developed the rectangular box station with large symbols: Shell Oil's shell, Mobil's Pegasus and the Texaco star.
During the 1970s, a Connecticut photographer named John Margolies began taking slides of roadside attractions throughout the country. In 2016, the Library of Congress collected his work in the John Margolies Roadside America Photograph Archive.
Margolies' images convinced people that such buildings are worth saving. Below, the picture he took in 1981 of the Mobil station in North Stamford, Conn.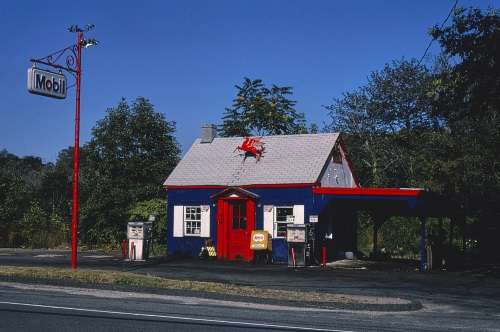 Revival of the Historic Gas Station
Today, many historic gas stations are deteriorating because commercial development moved away from downtown. In other cases, interstates routed traffic away from them.
But some start-up businesses find them ideal homes. In 1978, Ben & Jerry's opened its first Scoop Shop in a converted gas station in Burlington, Vt.
In Newport, R.I., a streamlined box-type station became an art gallery, which seems to work well. The service bays function as open exhibit space, and the sales office continues as is.
Some people think the historic gas station worth preserving intact. The National Register of Historic Places has listed at least 125 historic gas stations throughout the United States.
The National Park Service even offers guidelines on preserving historic gas stations. For example, preservationists should keep key features, like the V-shaped canopy on Phillips 66 gas stations. It's also important to keep the roofs the way they were. Tudor revival gas stations should have slate roofs, while the streamlined 1950s versions should have flat roofs.
In 1978, a scholar named John Jakle wrote a study, The American Gasoline Station, 1920 to 1970. In it, he wrote,
They deserve serious attention from historical geographers, architectural historians, and other scholars concerned with the built environment.
A Reader Writes From Boston…
I would like to notify NEHS about what is perhaps the last remnant of the old ESSO gas stations anywhere.
If one goes south (outbound) on Mass Ave to the intersection of Melnea Cass and  Southampton St, one can see a domed structure, blue, I think, directly ahead.  Though much altered, I am quite sure that it is an old gas station (to the right is the old brick gas storage building that is now a hotel).
A–can someone verify it as an old ESSO station?
and
B–is it worth saving in some way?
If you enjoyed this story, you may also want to read about the glory days of the Berlin Turnpike here.
Images: Colonial Beacon Gas station in Stoneham By User:Magicpiano – Own work, CC BY-SA 4.0, https://commons.wikimedia.org/w/index.php?curid=9812615. A.C. Smith By Jameslwoodward – Own work, CC BY-SA 3.0, https://commons.wikimedia.org/w/index.php?curid=8321089. Art's Auto By By John Phelan – Own work, CC BY-SA 3.0, https://commons.wikimedia.org/w/index.php?curid=25517406. bellow's falls By Beyond My Ken – Own work, CC BY-SA 4.0, https://commons.wikimedia.org/w/index.php?curid=60097838. All Library of Congress images from the John Margolies Roadside America photograph archive (1972-2008), Library of Congress, Prints and Photographs Division.
This story was updated in 2022.