In 1831, Prudence Crandall bought a large empty house in Canterbury, Conn., setting off a national controversy.
She had the effrontery to educate an African-American girl. And then she educated only African-American girls.
Prudence Crandall
Prudence Crandall was a well-educated Quaker, born 28 years earlier on Sept. 3 in Hopkinton, R.I. Her father moved the family to Canterbury when she was 17 and sent her to the Friends' Boarding School in Providence. She taught at a girls' school before returning to Canterbury.
Prudence and her sister Almira put $500 down and took out a $1,500 mortgage for the house on the town green.
That fall, they opened the Canterbury Female Boarding School in the home.
Things went smoothly until the next fall. A young woman named Sarah Harris, the daughter of a free African-American farmer nearby, asked to enroll so she could learn to teach other African Americans. Prudence Crandall admitted Sarah Harris.
White parents immediately protested and took their girls out of the school.
Prudence Crandall closed her doors — but then opened them immediately, admitting all African-American girls. She recruited students with an ad in William Lloyd Garrison's The Liberator on March 2, 1833. She called it 'Miss Crandall's School for Young Ladies and Little Misses of Color.'
By April 1, 20 African-American girls from Boston, Providence, New York, Philadelphia and Connecticut arrived at the school.
The Black Law
Prudence Crandall was excited by her mission to help young African-American girls, but not for long. Angry townspeople held meetings to figure out how to shut the school down.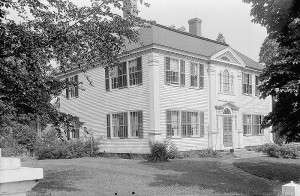 On May 24, 1833, the Connecticut Legislature passed the so-called 'Black Law,' which banned out-of-state African-Americans from receiving an education unless a town specifically allowed it.
Prudence Crandall ignored the law and kept her school going.
She was arrested and jailed for one night that summer. She fought legal challenges to her school with the help of wealthy abolitionist Arthur Tappan. The controversy became national news.
Townspeople ostracized Prudence Crandall and her students. They closed their shops and meetinghouses to them, and refused transportation and medical treatment. They also poisoned the school's well with animal feces and tried to prevent her from getting water elsewhere.
On July 22, 1834 she won a court ruling. The townspeople of Canterbury responded by breaking windows. Then on Sept. 9, 1834 a mob attacked the house and tried to burn it down. Crandall closed the school the next day.
Later Life and Legacy
That summer, Prudence Crandall married the Rev. Calvin Phileo. They moved to Massachusetts, Rhode Island, New York and Illinois. As a widow she moved to Elk Fall, Kans., where she died on Jan. 28, 1890 at the age of 86.
The Black Law was repealed in 1838. Four years before she died, the Connecticut Legislature at Mark Twain's urging awarded her a $400 yearly pension.
This story was updated in 2022.