More than 250 years ago, Robert Rogers wrote 28 rangers rules for guerilla warfare that are still being used by the U.S. Army Rangers.
He was a colonial frontiersman from New Hampshire who fought in the British Army during the fourth French and Indian War and the American Revolution.  He commanded the Queen's Rangers, a company of 600 men he selected himself. The British were shocked that he picked Indians and freed slaves.  His unconventional tactics (for the British, anyway) were so effective the Queen's Rangers became the chief scouting arm of the British Army in America.
And they became a legend known as Rogers' Rangers.
Rogers' Rangers
Robert Rogers was born Nov. 7, 1731 in Methuen, Mass., but grew up on the frontier in what is now Dunbarton, N.H.
As a teenager he fought in the third French and Indian War (also known as King George's War), guarding the frontier from Indian raids.
He served in the New Hampshire militia in Captain Daniel Ladd's Scouting Company and in Ebenezer Eastman's Scouting Company. As a private he learned the essentials of guerilla warfare.
In 1755, he arrived in Portsmouth, N.H., to muster men for a light infantry company. Indians were raiding the frontier border, and Rogers found willing recruits among the frightened and angry New Hampshire men.
They wore distinctive green uniforms. Most of the time they operated in the Lake George and Lake Champlain regions of New York.
When money ran short, Rogers paid for his men's provisions and equipment from his own pocket.
The British thought his tactics and equipment unconventional, but realized they worked. Rogers Rangers, for example, fought and won the Battle of Snowshoes – on snowshoes – in January 1757.
28 Rangers Rules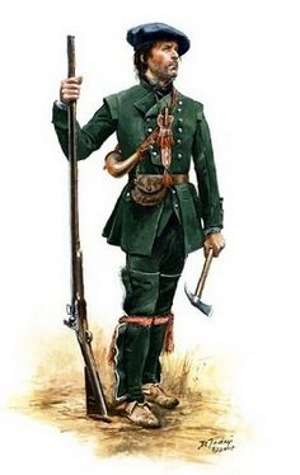 That year on Rogers Island (named after him) he wrote the Rules of Ranging, a manual for guerilla warfare. Rogers Island was a British fortress strategically located in the Hudson River. So many troops stayed there during the French and Indian War, the only larger North American communities were New York and Boston.
Rogers trained his men on the island. He gave his men live fire exercises, which the British thought a waste of ammunition.
And he taught them his rangers rules. For example, men should march single file, far enough apart so one shot couldn't go through two men.
If they reached marshy ground, they should spread out abreast so they would be hard to track.
The rangers rules dictated that men take a different route home so they wouldn't get ambushed. They shouldn't cross a river by a regular ford because the enemy watches them.
And they shouldn't pass lakes too close to the water or the enemy might trap them.
After the war  ended, Robert Rogers went to England to get paid for his services. He didn't. But while there he made some money publishing his journals, A Concise Account of North America and a stage play, Ponteach [Pontiac]: or the Savages of America (1766), which portrayed American Indians in a sympathetic way.
Fact Follows Fiction
In 1937, Kenneth Roberts wrote a novel about Rogers Rangers called Northwest Passage. In it, he made up Standing Orders from the 28 rangers rules. Roberts' version of Roger's rangers rules is now included in the U.S. Army Ranger Handbook.
"Have your musket clean as a whistle, hatchet scoured, sixty rounds powder and ball, and be ready to march at a minute's warning" is taken from:
"All Rangers are to be subject to the rules and articles of war; to appear at roll-call every evening, on their own parade, equipped, each with a Firelock, sixty rounds of powder and ball, and a hatchet, at which time an officer from each company is to inspect the same, to see they are in order, so as to be ready on any emergency to march at a minute's warning; and before they are dismissed, the necessary guards are to be draughted, and scouts for the next day appointed."
During World War II, Ranger commander Lt. Colonel William Darby read the 28 rangers rules to his troops. Today, the 75th Ranger Regiment follows an amended version of the rangers rules.

Photos: An artist in 1776 guessed what Robert Rogers looked like in his prime. It probably doesn't look like him. Rogers Rangers from a painting by Don Troiani, via Wikipedia. This story about Roberts Rangers rules was updated in 2023.