When a group of hoodlums decided to rent a cottage on Salisbury Beach for a Labor Day party in 1961, they set in motion a chain of events that left dozens of corpses strewn around eastern New England. The Boston Irish gang wars lasted for seven years, until the Italian godfather in Providence helped put an end to them.
The gang wars allowed corrupt FBI agents to recruit informers in a drama that would play out into the next century. The feds' most famous snitch, Whitey Bulger, spent most of the Boston Irish gang wars in prison and the rest on the sidelines. The gang wars, however, laid the groundwork for his rise to power. They also launched a movie career that began, fittingly, with a role in The Godfather.
Raymond Patriarca, the New England mob boss in Providence, viewed the Boston Irish gangs as useful muscle. His underboss, Jerry Angiulo, ran his gambling operations out of the North End and paid him a cut of his profit. The McLaughlin gang in Charlestown and the McLean gang in Somerville ran loansharking, numbers running, bookmaking and truck hijacking operations. They, too, paid Patriarca tribute.
The Irish gangsters were all friends, "peat from the same bog," as they liked to say. Until they weren't.
The Boston Irish Gang Wars Begin
As is always the case with gangster stories, it's hard to know exactly what happened. Hoodlums in the grip of the law usually have reason to shade the truth. So it's impossible to say exactly whose attractive wife or girlfriend got groped (or which part of her anatomy) in that Salisbury Beach cottage on Labor Day 1961.
It might have been the wife of Bill Hickey, an associate of the McLean gang. Or it might have been the girlfriend of Bobo Petricone, also mixed up with McLean.
On that fateful day, Georgie McLaughlin, 22, eschewed the clam shacks, penny arcades and carnival rides of Salisbury Beach. He spent all of the day and part of the night drinking, and then he disrespected a woman.
That enraged two of the young hoodlums at the party, either Bill Hickey or Bobo Petricone or maybe George "Red" Lloyd. They beat Georgie until he passed out.
The thugs checked if Georgie still had a pulse. He didn't. So they panicked, knowing Georgie's two brothers would come after them in revenge. One, Bernie, was a loan shark for the Angiulo gang, and the other, Punchy, was an ex-boxer with a penchant for violence.
The hoods put Georgie into the back seat of a car and drove around the North Shore looking for a place to dump his body. Suddenly Georgie woke up, dazed and disoriented. The gangsters then headed the car toward Anna Jaques Hospital in Newburyport, where they dumped Georgie on the sidewalk in front of the door. Or maybe they left him in an alleyway.
Georgie Remembers
Georgie recovered, and he remembered what happened to him. He told his two brothers, who then searched the neighborhoods of Somerville looking for Georgie's assailants.
Somerville in the 1960s was on the downward side of the curve. The Ford Motor plant in Assembly Square had shut down in 1958 and highway projects had gobbled up entire neighborhoods. The city was losing population, and its storefronts were growing tired and worn.
The first place the McLaughlin boys would have looked was Winter Hill, a working-class neighborhood of auto body shops, pizzerias, taverns, mom-and-pop food marts and triple deckers.
But the McLean associates who nearly killed George McLaughlin had made themselves scarce. So Georgie's brother Bernie went to see Buddy McLean at his operational headquarters, the Tap Royal Bar on Broadway.
Ironically, Buddy McLean considered himself Portuguese He'd lost his parents at a young age and a Portuguese immigrant family had adopted him. Blond, blue-eyed and big, people said Buddy had a face like an angel but fought like the devil.
Bernie McLaughlin demanded that Buddy McLean give up the two hoods who beat up his brother. Buddy refused, saying he didn't rat out his friends.
Retaliation
A few nights later, Buddy McLean was asleep at home with his wife and children when a barking dog outside woke them up. His wife went to the window and saw three men doing something to the family car. Buddy got out of bed, still in his boxer shorts, grabbed a loaded pistol and crept outside. Hiding behind a bush, he fired at the men, who fired back and then fled. McLean recognized Bernie McLaughlin as he ran under a streetlight. The three men jumped into a car and sped away.
Buddy McLean went back to his car to inspect it. He found five sticks of dynamite taped to the car's ignition switch.
At noon on Halloween Day, Buddy McLean caught up with Bernie McLaughlin on his home turf.
Charlestown, like Somerville, had its troubles. In the 1950s, it lost 40 percent of its population, helped by urban renewal and construction of the Tobin Bridge. L trains roared above the corner bars. Edward Logue, head of the Boston Redevelopment Authority, called Charlestown "a slum, as bad as any I have ever seen."
Charlestown was the home of the Bunker Hill Monument, the world's most prolific armored-car thieves and Townies who never saw or said anything.
Townie
On that Halloween Day, Buddy McLean, Bobo Petricone and an off-duty cop named Russ Nicholson drove a black Oldsmobile to Charlestown.
Wearing a "Townie" football jacket, Buddy McLean got out of the car near the Morning Glory Cafe. He walked up to Bernie McLaughlin standing under a Schlitz beer sign and shot him in the back of the head.  In front of 100 witnesses. Within sight of the police station.
But when it came time for the grand jury to bring charges, no one had seen anything.
McLean jumped into the Oldsmobile, which sped away. Police had a good idea who had shot Bernie McLaughlin. They arrested McLean, Nicholson and Petricone in a Somerville diner.
Charlestown's code of silence held, and no charges were brought against the threesome. But they had other troubles. They'd been arrested for attacking a Somerville diner owner after the Salisbury Beach Labor Day party. They'd also gotten caught up in a gambling sting in January. Petricone and McLean went to prison.
Early in 1962, the McLaughlin gang bombed Petricone's wife's car. His wife wasn't in it, but she divorced Petricone anyway. He left town.
The Boston Irish Gang Wars Get Started
The McLaughlin gang swore revenge on Buddy McLean for killing Bernie. But they'd have to bide their time, as Buddy was doing a two-year stint in prison. So they took their wrath out on a member of his gang, George "Ox" Joynt. He disappeared in the summer of 1961. A year later, a work crew discovered Joynt's bones while breaking ground for a shopping center in Medford, Mass.
Georgie recovered from his beating and continued his heavy boozing. On March 15, 1964, he got drunk at a party in Boston's Roxbury neighborhood and argued with another partygoer. He then left, returned with a gun and shot William Sheridan between the eyes. Sheridan, however, wasn't the person with whom he'd argued. Georgie would go to prison for the murder – the only leader of either outfit to survive the Boston Irish gang wars.
The body count climbed.
On May 12, 1964, Russ Nicholson paid the price for his role in killing Bernie McLaughlin. Punchy and Georgie McLaughlin bundled the big cop into a car, drove him to a woods in Wilmington, Mass., and shot him twice in the head.
The McLean boys retaliated. In August 1964, the bodies of two members of the McLaughlin gang, Harold Hannon and Willie Delaney, were fished out of Boston Harbor. McLean, now out of prison, had lured them to a South Boston apartment with the promise of sex with a pretty woman. Instead, Harold Hannon had a date with a blowtorch, used to burn his genitals before his merciful death. Delaney, who just happened to be a friend of Hannon's, was given Seconal and whiskey so he could pass out before they shot him. Or maybe they just threw him in the harbor unconscious and let him drown.
Love Triangle
Booze, bad judgment and women fueled the escalation of violence between the Irish gangs.
For example, one of McLaughlin's hoodlums, Ronald Dermody, shared a mistress with a member of the McLeans, a thug named Spike O'Toole. Dermody wanted to get rid of O'Toole. So he pitched an idea to Georgie McLaughlin, yet to go to trial for murder.
Dermody offered to kill Buddy McLean if Georgie would kill Spike O'Toole. The police wouldn't suspect either of them, he argued. It would be just like the Alfred Hitchcock movie, Strangers on a Train.  Perhaps Dermody didn't watch the movie until the end.
Dermody wasn't entirely sure what Buddy McLean looked like. He shot someone who looked like Buddy McLean.
Realizing his blunder, Dermody suspected correctly that Buddy McLean would try to kill him. So he decided to give himself up to an FBI agent, H. Paul Rico. The unfortunate Dermody picked the wrong FBI agent. Rico had recruited Buddy McLean as an informant.
Rico agreed to meet Dermody on a street corner at the border of Watertown and Belmont. He then called Buddy McLean to tell him where to go. McLean drove to the rendezvous spot and put three bullets in Dermody's head before he got out of his car.
Providence
More than a dozen bodies had piled up in Greater Boston by then, and down in Providence Raymond Patriarca started to worry. The killings had sent many a hood into hiding, making it hard to run their business enterprises. That meant less money for Raymond Patriarca.
"If the killings don't stop, I'll declare martial law," the FBI recorded Patriarca` saying on a wiretap that happened to be illegal.
Patriarca asked his right-hand man, Henry Tameleo, to call a peace conference. Tameleo called both sides to meet at the Ebb Tide Lounge in Revere in January 1965. Buddy McLean, willing to negotiate a truce, came with a few associates.
Punchy and Georgie showed up carrying small paper bags with loaded guns inside. Tameleo, furious, then yelled at them to get out and kill each other.
Returning to Providence, Tameleo told Patriarca he'd have to choose sides. Patriarca chose the McLean gang.
Hitmen
By 1965, McLean and the McLaughlins had both enlisted accomplished assassins in the escalating Boston Irish gang wars.
Buddy McLean had a special bond with Joe "The Animal" Barboza because of his Portuguese ancestry. Barboza, a hit man, hoped to be the first non-Italian "made" member of the Mafia. He had formed a close friendship with Jimmy "the Bear" Flemmi, who aimed to be the mob's No. 1 hit man. Jimmy's older brother, Stephen "the Rifleman" Flemmi, would later earn notoriety as an FBI informant along with Whitey Bulger. An associate, Kevin Weeks, said Stevie "always enjoyed a good murder."
So the McLean gang had the Italian mob and the FBI on its side. Punchy and Georgie McLaughlin had the Hughes brothers, Connie and Stevie. But since Buddy McLean had shot Bernie to death, the McLaughlins suffered from a deficit of brains and sense. "Punchy was just as crazy as George," wrote Vinnie Teresa in his mob tell-all, My Life in the Mafia. Punchy, a leg breaker for the longshoreman's union, "was a cuckoo and as hotheaded as they came."
On May 3, 1965, Stevie Hughes and Punchy McLaughlin shot Jimmy Flemmi as he walked out of his home in Roxbury. At least that's what Jimmy Flemmi said. He took eight bullets but survived. Stevie Hughes and Punchy McLaughlin disappeared.
Vengeance
It took a couple of tries, but Stevie Flemmi finally avenged the attack on his brother. In August, he and Cadillac Frank Salemme climbed a tree along a rural road. They expected Punchy to come into view. He did, and Flemmi shot Punchy in the hand. Doctors later amputated it.
Punchy had already survived one shooting the previous fall. Two men, possibly Stephen Flemmi and Frank Salemme, dressed as Hasidic Jews and lay in wait for Punchy in the parking lot of Beth Israel Hospital. One of them fired a shotgun at Punchy, ripping off part of his jaw, but witnesses showed up immediately and Punchy got away.
In the fall of 1965, Georgie McLaughlin went to trial for murder. Without the use of his hand, Punchy couldn't drive to the courthouse to support his brother. So on Oct. 20, 1965, he decided to take a bus to Suffolk Superior Court in Pemberton Square.
Punchy never made it. Salemme and Flemmi shot him to death as he stood on the pavement with six other commuters. He had carried a gun in a brown paper bag but never got to use it.
Buddy Meets His Maker
Buddy McLean had lived to see Punchy and Bernie McLaughlin dead and Georgie in jail. But he wouldn't live long.
On Oct. 30, 1965, Buddy McLean and two bodyguards left the Peppermint Lounge on Winter Hill. Or maybe it was the 318 Club.  They walked past an abandoned movie theater, where Stevie Hughes lay in wait. Hughes shot them with an automatic rifle. McLean tried to duck behind his car but Hughes shot him in the back of the head. Buddy McLean fell to the pavement, and Stevie ran to a getaway car driven by Connie. McLean died 30 hours later at Mass General Hospital. Three hundred people attended his funeral Mass.
The main antagonists of the Boston Irish gang wars were now all dead or behind bars. But as one police officer put it, punks kept turning up dead all over town.
Scared
Nov. 16, 1965, ranked as the bloodiest day yet in the Boston Irish gang war, according to the Associated Press.
McLean allies Barboza and Flemmi had killed Ray DiStasio, a McLaughlin associate, in cold blood. His body was discovered inside the Mickey Mouse Lounge on Revere Beach Boulevard, along with the body of John O'Neil, a shoe factory worker. O'Neill chanced to be in the bar with DiStasio.
That same day, police discovered the body of Robert Paladino under the elevated highway near Boston Garden. Palladino was murdered because he had seen Jimmy Flemmi commit another murder and Flemmi feared he'd talk. It was the first of Johnny Martorano's 19 hits.
By then, fearful Bostonians wouldn't go outside of their homes after dark, Life Magazine reported. The body count had reached 44, including McLean and the two McLaughlins. One body turned up headless in the trunk of a car. Another had been cut up and stuffed into three suitcases, then left in a vacant lot.
Adding to the panic, the Boston Strangler had killed 13 women in their homes from 1962 to 1965. He wouldn't stand trial until 1967.
"The recurrence of corpses sprawled on sidewalks and the everyday repetition of lesser acts of violence have changed the lives of a lot of Bostonians who are not in the least involved," wrote Richard B. Stolley for Life. "They are, quite bluntly, scared, and not seeing friends and not going to movies or plays is the price they feel they must pay for their own protection."
The Hughes' Turn
With the McLaughlins out of the picture, Stevie and Connie Hughes ran the Charlestown gang.
On May 25, 1966, the McLean gang got word that Connie was inside a Charlestown bar. Members of what was now known as the Winter Hill gang positioned two cars outside the tavern.
Past midnight, Connie Hughes got into his car and drove toward the Mystic River Bridge. He didn't notice his tail and paid the toll. The Winter Hill cars blew through the toll booth, drove up on both sides of Connie and fired 60 times at the car. Two bullets hit him in the head, fatally. Joe Barboza probably pulled at least one of the triggers.
Stevie Hughes knew he was outnumbered. So Stevie Hughes reached out to the gang to make peace. It was too late.
On a late September day in 1966, Stevie Hughes and a loan shark named Sammy Lindenbaum had just finished lunch after collecting money in Lawrence. They were driving along Route 114 two miles from Middleton when a black sedan suddenly appeared. The passenger side window slid down and a gun peeked out. The gunman — either Stevie Flemmi or Cadillac Frank Salemme — fired and hit Lindenbaum in the hand. He lost control of the car, which headed toward an embankment. Stevie Hughes reached for his gun, but a hail of bullets stopped him. The car slid down the embankment into a swamp. Hughes and Lindenbaum died, but Lindenbaum's two little dogs survived by hiding under a seat.
End of the Boston Irish Gang War
The death of Stevie Hughes didn't end the gang warfare. Patriarca's thugs would finish off other gangs that didn't pay tribute, and squabbles broke out among various young hoods. But the death of the Hughes brothers finished the McLaughlin gang
Howie Winter took over the McLean gang. When he died, Whitey Bulger succeeded him.
Bobo Petricone
After Buddy McLean killed Bernie McLaughlin, Bobo Petricone got out of town. He flipped a coin – heads Miami, tails California – and it came up tails.
He went to Hollywood, lost weight and took acting lessons from another Bostonian from a tough neighborhood — Leonard Nimoy. Nimoy taught him to get rid of his Boston accent. Petricone lost a lot of weight and changed his name to Alex Rocco. He then auditioned for the role of Moe Greene in The Godfather.
The Godfather's director, Francis Ford Coppola, liked what he saw. He said, "Great, I've found my Jew." Petricone – soon to be Alex Rocco — said, "But Mr. Coppola, I'm Italian."
He played Jews ever since, he once said. He died in 2015 of natural causes.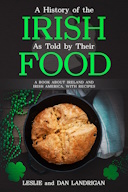 Discover the history of Irish people through the lens of food with this captivating book. Filled with recipes, stories, and traditions, readers will gain a deeper understanding of their heritage and culture. An Amazon #1 New Release, available in paperback and as an ebook.
This story last updated in 2023.
Moe Greene By https://godfather.fandom.com/wiki/Moe_Greene, Fair use, https://en.wikipedia.org/w/index.php?curid=60892600. Buddy McLean By https://www.flickr.com/photos/somervillepubliclibrary/44879116402/, Fair use, https://en.wikipedia.org/w/index.php?curid=65373904.
With thanks to Animal: The Bloody Rise and Fall of the Mob's Most Feared Assassin by Casey Sherman.