Like many New England folk tales, dates and specifics are sketchy. But the story of Dungeon Rock most certainly begins before the 1638 earthquake rocked New England.
Then, colonists saw a small bark anchoring near the mouth of the Saugus River in Lynn, Mass. Four pirates lowered a boat and rowed up the river, where it  entered deep woods. The men then landed the craft and made their way ashore carrying a chest.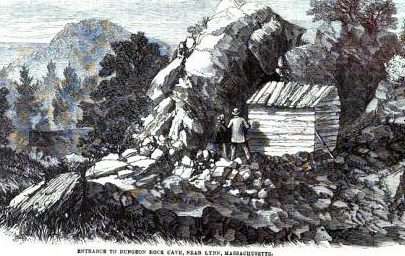 A crowd of locals witnessed the men, and the next day they went exploring to see if they could find them. Instead, they found a note. It said that if a quantity of manacles, digging tools, chains and other supplies were brought from the nearby Saugus Iron Works and left in the woods, the pirates would pay a quantity of silver for them.
The locals returned the following day and filled the order for the tools, and a day later they went and retrieved their silver. The area where the exchange took place became known as Pirates Glen. Later the four men returned. One came with his bride, and they built a small house and set up housekeeping.
In the coming months, the woman perished from fever and was buried on the land. Eventually, authorities found the pirate' hideout and raided them. They arrested three of the four and returned them to England for prosecution. The fourth disappeared deeper into the woods.
Dungeon Rock
That fourth pirate, named Thomas Veale, hid himself in the Lynn woods in a cave that he excavated further. Other than occasional trips to town for food, he lived in the cave. It was here that he was living when the earthquake struck in 1638. The foundation under the cave split open and Veale's cave tumbled in upon him, forever sealing him in what is now known as Dungeon Rock.
Despite efforts to uncover his grave (and, his excavators hoped, his treasure), he would rest in peace for about 200 years. Then in 1852 a man named Hiram Marble bought the land. Marble became obsessed with the treasure, and for 30 years he and his son excavated the rock, bit by bit, trying to find Veale's treasure.
To help support their efforts, they took tourists through the cave for a small fee. They sold bonds to investors, promising a share of the profits when they found the treasure.
The Marbles did not succeed, and when they left, the City of Lynn  purchased the woods to create Lynn Woods. There Dungeon Rock can still be seen today.
This story about Dungeon Rock was updated in 2023. Lynn Woods map: By http://maps.bpl.org – Lynn WoodsUploaded by tm, CC BY 2.0, https://commons.wikimedia.org/w/index.php?curid=27807418. Dungeon Rock By Ehkastning – Own work, CC BY-SA 3.0, https://commons.wikimedia.org/w/index.php?curid=35800507.