John Leslie Breck was a gifted artist on the verge of fame when he took his own life at the age of 39. His sunny Impressionist paintings give no hint of whatever might have caused him to commit suicide.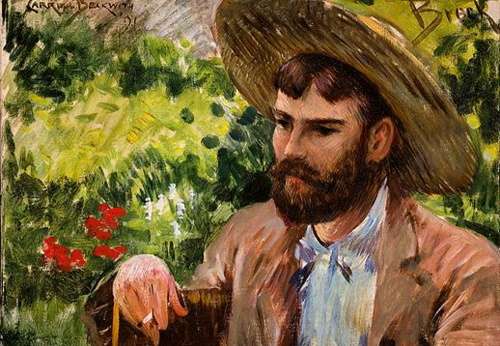 There are, however, his other pictures: the nocturnes. Those canvases painted by moonlight suggest dark nights of the soul.
Breck brought Impressionism to Boston, but he died before the style took firm hold in America.
His many unsold paintings, which passed through his family, reappeared in several American museums starting in 2021 – for the first time in 120 years.
John Leslie Breck
He was born on a clipper ship in the South Pacific on April 10, 1860, the son of Joseph Berry Breck, a shipmaster in the China trade, and his second wife,  Ellen Frances Newell.
John Leslie Breck was still a toddler when the Civil War broke out. His father volunteered for military service and advanced rapidly, ending his service as lieutenant commander. But shortly after the war ended, he came down with tuberculosis and died in San Francisco.
The couple had twin daughters who died in infancy and a younger son, Edward, born in San Francisco. Edward became a scholar, a journalist, a spy and a golf champion.
After the death of Joseph Breck, the family moved to Newton, Mass., and John Leslie attended Governor Dummer Academy for a while. In 1878, Ellen Breck brought her two sons to a gymnasium in Leipzig to study. John Leslie went on to study art at the Royal Academy of Fine Arts in Munich.
He returned to the United States in 1882. His mother remarried the next year at the age of 43. Her second husband, Frederic William Rice, was a native of Newton, Mass. He was 10 years younger than she and only 10 years older than John Leslie. Frederic, though, died two years after the marriage. She usually accompanied her son on his travels.
Move to Giverny
By 1886 John Leslie Breck was studying at the Academie Julian in Paris. In the spring of 1887, he and some of his fellow students were trying to find someplace new to go in the summer. They decided to try Pont del-Arche and off they went. They had to change trains at Vernon, but from there they spied a lovely little village with white houses and a Norman church — Giverny. They came back the next day.
Four years earlier, Claude Monet had moved to Giverny just as he started to find success as a painter. After a while, the artists who followed him there began to annoy him. He once said,
…When I first came to Giverny I was quite alone, the little village was unspoiled. Now, so many artists, students, flock here, I have often thought of moving away…
He had Breck to blame, for he promoted the village among his fellow American students.
It took just one summer for the nascent art colony to attract notice. That October, a critic for The Art Amateur recognized "quite an American colony has gathered, I am told, at Givernay [sic]." Along with John Leslie Breck, the anonymous critic mentioned Monet, Willard Metcalf and Theodore Robinson.
" A few pictures just received from these young men show that they have got the blue-green color of Monet's impressionism and 'got it bad.'"
More Monet
Unlike the others, Breck stayed the winter in Giverny, and Monet invited him to paint in his garden. Monet said to him,
I won't give you lessons….we'll wander about the fields and woods and paint together.
And just as Monet did, he painted a series of haystacks.
But then he had a falling out with the great artist because he fell in love with his step-daughter, Blanche Hoschede. Monet forbade the relationship and Breck left Giverny.
By 1889, he was living in Paris with his mother.
Back in the USA
He returned to Boston in 1890, where he was called the head of the Impressionists. He held a one-man show credited with bringing Impressionism to Boston, which gave the old guard a chance to make fun.
Breck and his friend Ross Turner set up a studio in Turner's home in Salem. A story in the 1890 Boston Transcript suggests the dim view the Boston establishment took of Impressionism. "Ross Turner and John Leslie Breck have returned to this country from foreign parts, and threaten to form a class for out-of-door work in painting at Salem during the month of June," reported the Transcript.
[W]e may as well be prepared for anything and everything when he lets loose a flock of sweet girl graduates, duly inoculated with the impressionistic visual virus, whose landscapes may blend the charms of amateurishness with those of other kinds of incoherence, "till all is blue."
That same year, he held a one-man show at the prestigious St. Botolph's Club show. He did it with help from his friend Lilla Cabot Perry, another expatriate who had lived in Giverny and who Monet actually liked.
He returned to France around 1890-91 and painted in England for a while. Then he resettled in the Auburndale village of Newton.
John Leslie Breck in Venice
In 1897, he visited Venice with his mother and his brother, first stopping in Germany to watch his brother compete in a fencing competition. He showed his work in Berlin in 1897, then went to Venice. His time in Venice resulted in more than 25 paintings.
After Venice, little is known about Breck until he took his own life on March 18, 1899. His obituary stated a show of his work was scheduled to open the next day. But Royal W. Leith, in The Magazine Antiques, doubts anyone ever planned such an exhibit.
[A]s Breck appeared to have taken his own life, his friends and family were at pains to dispel rumors of suicide by implying that he was looking forward to a bright future.
Some of those paintings were shown in the two memorial exhibitions after his death, the first at the St. Botolph Club in Boston and the second at the National Arts Club in New York.
A large-scale exhibition of Breck's work, the first in 120 years, was held at the Mint Museum in Charlotte, N.C., in 2021; then the Dixon Gallery and Gardens in Memphis from Jan. 22-March 27, 2022; and the Figge Art Museum, Davenport, Iowa, May 28-Aug. 21, 2022.
Thanks to Anonymous, "Boston Art and Artists," The Art Amateur, 17, no. 5, October 1887, p. 93, as quoted in R.H. Love, Theodore Earl Butler: Emergence from Monet's Shadow, Chicago, Illinois, 1985, p. 59. Thanks also to Streets of Salem.