The Newport Jazz Festival launched dozens of brilliant musical careers, brought modern music festivals to America and produced countless recordings on film, vinyl and in cyberspace.
Duke Ellington famously revived his career at the Newport Jazz Festival in 1956. Miles Davis' performance of "Round Midnight" got him a recording contract with Columbia Records. Verve Records released 12 –yes, 12 — albums from the 1957 festival alone.
It all began in 1954, when a wealthy couple met a jazz impresario and  agreed to underwrite an open-air, two-day show. Producer George Wein brought Ella Fitzgerald, Oscar Peterson, Gene Krupa, George Shearing and Billie Holiday to the Newport Casino. Thirteen thousand people came. Five years later, Wein got Pete Seeger to help him organize the Newport Folk Festival.
That first Newport Jazz Festival established the template for the next 70 years – not just for Newport, but for most major jazz festivals. Wein presented star attractions to sell tickets. But, as Wein explained, "it was the important unsung jazz heroes from the traditional to avant-garde that attracted the critics and gave the festival an artistic credibility."
In 2023, the Newport Jazz Festival followed that model, with such headliners as Diana Krall, Herbie Hancock and Branford Marsalis. But old heroes like 84-year-old saxophonist Charles McPherson, described as "an icon of hard bop," were there, as was newcomer Endea Owens, a bass player whose debut album hadn't been released yet.
Here are some more fun facts about the Newport Jazz Festival.
1. The Newport Jazz Festival began as the most ambitious jazz festival ever.
A group of jazz fans who called themselves the Hot Club de France had sponsored jazz fairs in Nice and Paris in 1949, 1952 and 1954, so the concept wasn't new. George Wein took it to a new level in Newport.
Before Newport, Wein had run Storyville, a Boston nightclub that featured jazz. Newport allowed him to go big.
"…there had been nothing as ambitious as the festival Mr. Wein staged that July on the grounds of the Newport Casino, an athletic complex near the historic mansions of Bellevue Avenue," the New York Times reported in Wein's obituary in September 2021.
Other festivals followed Wein's lead: the Monterey Jazz Festival in California began in 1958, and the Montreux Jazz Festival in Switzerland began in 1967. However, noted the Times, "for half a century, if there was a significant jazz festival anywhere in the world, there was a better than even chance it was a George Wein production."
2. Fifteen minutes brought Duke Ellington fame.
In 1956, Ellington's career was on the downward side of the curve when he and his orchestra appeared at Newport. They played ""Diminuendo and Crescendo in Blue," for 15 minutes. Saxophonist Paul Gonsalves stirred the crowd into a frenzy with 27 choruses. A wealthy socialite named Elaine Anderson stood up and began dancing provocatively, which inspired the audience to dance in the aisles and rush at the stage. Ellington had been around for a while and knew how to calm the crowd with a slower song.
Ellington released a recording of the concert, "Ellington at Newport," his biggest hit.
Later, when a reporter asked him his age, he replied, "I was born in 1956 at the Newport Festival."
3. The first Newport Jazz Festival made $142.50.
An estimated 13,000 people came to the two-day festival on July 17-18, 1954, but it barely broke even. Wein said it made as much as it did because he waived his $5,000 producer's fee. Tickets cost $3. A rare ticket stub from that festival in 2023 was offered on eBay for $1,299.
4. The film High Society was partly based on Newport Jazz Festival founder Elaine Lorillard.
Elaine Guthrie married tobacco heir Louis Lorillard during World War II. Both loved jazz, and frequented Storytown, Wein's Boston jazz club. They met Wein and offered to underwrite an outdoor jazz festival in Newport, R.I.
They gave Wein a grant of $20,000. The Lorillards sponsored the festival until 1961. Their Newport neighbor, Doris Duke, also supported the festival. (Her foundation still does.)
The Lorillards had a family friend, Cleveland Amory, who rewrote the screenplay The Philadelphia Story to include elements of Elaine's life. Renamed High Society, it starred Grace Kelley, ostensibly chosen for her resemblance to Elaine. The Lorillard's home, Quatrel, appeared in the film, as did the Lorillard's daughter sitting on a piano stool with Louis Armstrong.
5. Bill Clinton played the saxophone for the Jazz Festival's 40th Anniversary.
He didn't go to Newport, though. He played with some jazz greats in June 1993 on the South Lawn of the White House.  (Clinton was president then.)  Herbie Hancock, Grover Washington Jr., Wynton Marsalis, Joe Williams and a dozen others performed an outdoor concert before 500 invited guests. A sweaty Clinton joined them with his saxophone for a jam session.
6. Both festivals moved around – a lot.
The jazz festival started outside the Newport Casino, an athletic complex, in 1954.
When the neighbors complained about the crowds, the Lorillards bought a mansion, Belcourt, hoping to hold the festival there. The neighbors wouldn't have it. So the festival moved to Freebody Park in 1955. Then a riot in 1960 forced its cancellation in 1961. From 1962 to 1964 it continued at Freebody Park, but that proved unsatisfactory so it moved again to an open field named Festival Field. For the next eight years it continued there, but then in 1971 more than 10,000 fans crashed the gate as Dionne Warwick sang "What the World Needs Now is Love."
The festival then moved to New York City in 1972, expanding it to Saratoga in 1977 and Madarao, Japan, from 1982 to 2004. Wein returned to Newport in 1981, where for the next 22 years the festival took place at Fort Adams State Park. The COVID pandemic caused another hiatus in 2020, but the festival returned in 2021.
The folk festival also moved around. It started at Freebody Park in 1959, five years after the first jazz festival. Wein canceled it in 1970 for the next 15 years. His producer, Bob Jones, persuaded him to bring it back. With the exception of the 2020 COVID hiatus, the folk festival has gone on ever since.
7. One of the greatest documentaries in history was filmed at the Newport Jazz Festival.
Bert Stern, who photographed Marilyn Monroe, and film editor Aram Avakian filmed highlights of the 1958 concert and released it as the documentary Jazz on a Summer's Day the next year. It featured Louis Armstrong playing a duet with Jack Teagarden on "Rocking Chair." Anita O'Day, in an enormous hat and white gloves, sang "Sweet Georgia Brown."
Dinah Washington played the xylophone and sang "All of Me." It ended with Mahalia Jackson singing the Lord's Prayer.
The film also showed the water, the town, the crowds and the musicians at leisure.
Armstrong appeared on film saying, "I was at a little Italian trumpet player's house, and his mother was a Countess, well they was makin' that spaghetti and we was wailin', you know. In this big ol' dinin' room they had this table and up in the ceilin' they had Mark Anthony and Cleo and all the cats that they painted. Lookin' down on you as if to say, "Man, you shore can eat"?"
The US Library of Congress selected the film for preservation at the United States National Film Registry as "culturally, historically, or aesthetically significant".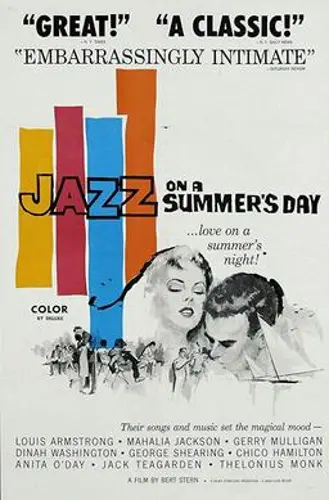 Images: Ellington at Newport By May be found at the following website: http://static.rateyourmusic.com/album_images/s11659.jpg Rate Your Music.com, Fair use, https://en.wikipedia.org/w/index.php?curid=12235692. Jazz on a Summer's Day By https://m.media-amazon.com/images/M/MV5BNWRjMTcyOGUtZjU5NC00Y2U5LTk4NWYtNjRkYTEyMTYzZTgyXkEyXkFqcGdeQXVyMjI4MjA5MzA@._V1_SY1000_CR0,0,657,1000_AL_.jpg, Fair use, https://en.wikipedia.org/w/index.php?curid=60720012. Louis Armstrong By Michael Williams – originally posted to Flickr as 1958 Newport Jazz Festival, CC BY 2.0, https://commons.wikimedia.org/w/index.php?curid=10108881. George Wein By digboston – George Wein, CC BY 2.0, https://commons.wikimedia.org/w/index.php?curid=110026155. Jimmy Driftwood Fair use, https://en.wikipedia.org/w/index.php?curid=24761685. Belcourt By Kenneth C. Zirkel – Own work, CC BY-SA 4.0, https://commons.wikimedia.org/w/index.php?curid=117808390. Anita O'Day by A Continuous Lean via Flickr, CC BY 2.0,. Audience at 1958 Newport Jazz Festival by A Continuous Lean via Flickr, CC BY 2.0, Spectators at Fort Adams Park 2013 by Vernaccia via Flickr , CC BY 2.0.  Elaine Lorillard By Boston Globe [2], Fair use, https://en.wikipedia.org/w/index.php?curid=14670031.