In September of 1893, Rhode Island's Dr. T. Thatcher Graves poisoned himself with morphine. He said he was driven to it by persecution at the hands of his enemies. Others said it was his conscience that drove him to it . . because he was a murderer.
The story of of his death capped more than two years of newspaper headlines, trials and tragedy that exposed the seamy side of one of Providence's wealthiest families. And as it dragged on, the entire nation was riveted by a New England scandal playing out in a courtroom in the wild west of Denver, Colo.
T. Thatcher Graves Meets a Widow
Born in Thompson, Conn., in 1841, Dr. T. Thatcher Graves trained in medicine at Harvard College. Before entering medicine, he served in the Civil War. By 1886 he had established himself in Providence  following several years practicing medicine in Lynn, Mass. In addition to treating patients at his office, Graves also maintained a mail-order business for his patent medications. As his practice grew, he began specializing in nervous disorders.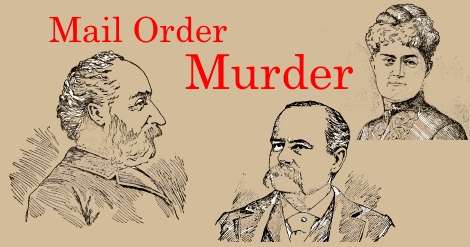 One of Graves' well-heeled patients was Josephine Barnaby, wife of Jerothmul (J.B.) Barnaby, a wealthy clothing store owner. Josephine suffered from partial paralysis and began seeing Dr. Graves as a patient in 1887. He was treating her when, in 1889, J.B. Barnaby died.
The Will
J.B.'s will left Josephine a stipend of $2,500 a year. While more than enough to maintain her, the bequest was a small one when considering J.B's estate was worth more $1.7 million. His reasoning, he said, was that Josephine was flighty and ignorant about handling money. The bulk of J.B.'s money was left to the couple's two daughters, Mabel and Maud, and placed under the control of executors.
Josephine challenged the will, with the encouragement of Dr. Graves and the aid of an attorney friend.
The challenge hinted at the scandal to come, with the suggestion that while J.B. had been stingy with Josephine, he had left $100,000 to his mistress. Another rumor was that Josephine might challenge Maud's inheritance because she wasn't actually J.B.'s daughter.
Mabel and Maud were horrified at the prospect of a mudslinging fight with Josephine and they quickly agreed to give up $105,000 to her.
After the settlement, Josephine gave power of attorney to Dr. Graves, still treating her. She also agreed to give him an annual stipend of $2,500 for managing her affairs. He would be her go-between with the estate's executors.
Travels With Josephine
Throughout J.B. And Josephine's marriage, she had frequently traveled to fashionable springs at resorts at Saratoga, Michigan and elsewhere – at J.B.'s encouragement. Nothing changed after his death.
In the summer of 1890, Josephine traveled to the Adirondacks. There she stayed at a hotel owned by Mr. and Mrs. Edward Bennett. The relationship between Edward and Josephine would be controversial. Some accounts said they were lovers. In any case, Josephine and Edward discussed her buying a cabin from him and paying him to renovate it.
That winter, Josephine went west to tour California health spas with her friend Florence Worrell. By April they had come to Denver to stay with Florence's son Edward. There, a package arrived for Josephine. It contained a bottle and the note: "Wish you a happy New Year. Please accept this fine old whiskey from your friends in the woods."
Josephine guessed the bottle was from Edward Bennett. On the evening of April 13, 1891 both Josephine and Florence had a drink of the whiskey. Florence swore the whiskey was bad. She took ill and immediately threw up.
Josephine, meanwhile, thought the whiskey was fine. But within the hour she, too, began to feel sick. For the next five days she was in agony until she passed away on April 19. An autopsy showed the whiskey laced with arsenic.
Trial and Error
Law and order in the old west was a hit or miss thing. But Josephine's son-in-law John Conrad had the will and resources to pursue Josephine's killer. He was a millionaire cattle rancher and mine owner in Billings, Montana. He had met Mabel, J.B. and Josephine's daughter, at the Democratic National Convention in 1884. Mabel was attending with her father, as delegate, and John was an aspiring politician with his sights on Montana's governorship.
John, 29, and Mabel, 19, had married and moved to Montana. John hired the Pinkerton Detective Agency to pursue the murder, and they quickly settled on Dr. Graves as the prime suspect. Then at his trial details of the crime began emerging.
The use of the mails to deliver the murder weapon pushed the trial onto the front page of newspapers across America.
The Case Against Graves
The case against Graves was fairly straightforward: John Conrad and the Pinkerton detective charged Dr. Graves had planned to steal Josephine's fortune. Josephine had included him in her will, with a bequest of $50,000. But Dr. Graves and Josephine's relationship had turned sour when he cautioned her that if she spent wildly she could be placed under a guardianship.
He pushed her to back out of buying the Adirondacks property from the Bennetts. Angry, Josephine contemplated writing Dr. Graves out of her will. She also considered replacing him as the adviser in charge of her money. To forestall this, John Conrad posited, Dr. Graves had mailed her the poisoned whiskey and killed her.
The trial hinged on a number of small points. The whiskey had been mailed from Boston at a time when Dr. Graves was in Boston, for example, and Dr. Graves knew Josephine liked whiskey. But most compelling was testimony from John Conrad and one of the Pinkerton detectives that, unlikely as it seemed, T. Thatcher Graves had admitted mailing the whiskey to Josephine.
This admission, if true, came in a private meeting between the men. Dr. Graves denied ever having anything to do with the whiskey.
The Unhappy Ending
As the investigation and trial developed, a rather scandalous picture of Josephine also began emerging – one that suggested alternative theories of the crime.
The Boston Globe and Boston Herald reported that J.B. had frequently sent Josephine to resort spas over the previous 28 years for treatment of her partial paralysis. There, her behavior was anything but ladylike.
The source for these stories, they would later testify, was Dr. Graves. He had told them that Josephine was probably being blackmailed and the whiskey sent to her was most likely meant as a threat.
Henry Trickey of the Boston Globe then testified about a conversation he had with Dr. Graves.
He said he heard impeachments about Mrs. Barnaby's character and that experiences of his in the Adirondacks convinced him that she was not of good moral character. She had been a vile woman and had had vile lovers; knew of the strained relations between husband and wife. He was sorry he ever met her and that she was not a woman he would admit into his family circle.
Revolting Transaction
Charles Lincoln, reporter for the Boston Herald, said Dr. Graves had told of witnessing Josephine and Edward Bennett drunk and naked.
He told us he and his wife had been guests of Mrs. Barnaby in the Adirondacks the previous summer. After they arrived he said Mr. Bennett and Mrs. Barnaby drank a good deal, and, looking through a crack in an old ice house he saw the two lying drunk on the floor with all the indications of a previous revolting transaction.
At trial Graves denied giving information to the reporters. Their testimony suggested he was trying to frame someone else for the murder. Nevertheless, he acknowledged Josephine's involvement with men caused him a lot of headaches.
But Graves denied any mishandling of Josephine's money. Rather, he said, he was being persecuted by John Conrad, who had threatened that he could easily pay to have him convicted by a western jury. And Conrad did, in fact, pay the costs of the witnesses and the trial.
In addition, Conrad had received an anonymous warning that his wife's relatives were willing to ruin her reputation, as well as Josephine's, out of spite.
Conviction
Weeks of testimony came to end on January 1, 1892, and after an hour-and-a-half of discussion, the jury returned with its finding. They found T. Thatcher Graves guilty of murder by mail.
Graves then appealed the conviction, and a higher court threw it out because of errors by the trial judge. But the state did not give up. In September of 1893, learning he would be retried, Dr. Graves poisoned himself with morphine.
In a suicide note he wrote: Please don't hold any autopsy on my remains. The cause of death may be rendered as follows: Died of persecution; worn out; exhausted.
Graves maintained his innocence and blamed John Conrad and the corrupt western justice system of hounding him into the grave.
In the aftermath of the trial of T. Thaxter Graves, his widow retained the $25,000 bequest from Josephine Barnaby still in her will at the time of her death.
Postscript
The trial would prove just a footnote to the career of Boston Globe reporter Henry Trickey. Shortly after the Barnaby case, he was assigned to cover the gruesome murder of two people, thought to be at the hands of their daughter: Lizzie Borden.
In the Lizzie Borden case, Trickey would disgrace himself and prove himself a liar. He and a detective manufactured a false story about Lizzie Borden that claimed she had taken a lover, become pregnant and been disowned by her father, which gave her a motive for killing him.
The problem with the story was it was fabricated. And in the Borden case Trickey wasn't a paid witness in a courthouse far away in the wild west. His false reports were quickly discovered, and he fled to Canada under an alias. There he "fell" under the wheels of a train and died.
As for John Conrad, his marriage to Mabel disintegrated into a he-said/she-said battle with accusations of adultery all around. By 1895 they were divorced. John was then well on to his way to concluding his life as a drunken reprobate.
The Barnaby murder has been chronicled in many books, including Death in the Mail by Martin Day and American State Trials: A Collection of the Important and Interesting Criminal Trials. This story last updated in 2022.