In 1718, five ships from Ulster arrived in Boston Harbor. Their passengers, Scots-Irish immigrants, came at the invitation of the Puritan leaders of Massachusetts. The Puritans sympathized with their plight, fellow Protestants who suffered from Anglican intolerance.
But the Puritans didn't exactly welcome them with open arms. And they weren't the first Irish immigrants to New England.
Their story usually begins with the Great Hunger of the mid-19th century, but it started well before that—and lasted long after.
The First Irish Immigrants
Before England destroyed Ireland's merchant marine, Irish merchants traded with the American colonies as early as the 1630s. Irish fishermen from Galway and Waterford settled the Isles of Shoals, an archipelago of tiny islands nine miles from the Maine and New Hampshire coast. At first seasonal residents, several hundred Irish and other European fishermen had a permanent settlement on the islands by 1653.
The archipelago developed into a thriving entrepot where they caught fish, salted it and sold it on the world market. Fishermen named Kelley, Haley and McKenna lived on the islands with their families. They abandoned the Isles of Shoals during the American Revolution.
The Puritans in Boston looked down on the Shoalers, a hard-drinking, Maypole-erecting lot. They also viewed the Protestant Irish who arrived in 1718 with a measure of dismay.
Protestant Irish
The Scots who settled in Ulster beginning more than a century earlier were called the Ulster Scots-Irish, or the Ulster Presbyterians. Squeezed between hostile Irish Catholics and the Anglican Church, they had to pay tithes, but couldn't hold official positions. Parliament passed the Test Act in 1704, which required them to take Holy Communion in the Anglican Church — otherwise they couldn't hold civil or military office and their marriages weren't recognized.
The impoverished Scots-Irish immigrants who arrived in Boston in 1718 created a problem: How to support them? The Rev. Cotton Mather wrote,
But what shall be done for the great number of people that are transporting themselves thither from ye North of Ireland?
Massachusetts Gov. Samuel Shute envisioned Irish pioneers settling on the frontiers of Maine and New Hampshire, buffering the colony from French and Indians. So in 1720, an ordinance passed in Boston ordering 'certain families arriving from Ireland to move off.'
Some settled in Nutfield, N.H., now called Londonderry. Some went north to Casco Bay, where they had a land grant. Fifty families moved to Worcester. From those settlements they spread out, and they kept arriving from Ulster. According to one estimate, the Scots-Irish made up 10 percent of New Hampshire's population in the 18th century.
In 1730, Massachusetts Gov. Jonathan Belcher tried to annex New Hampshire. But enough Londonderry Scots-Irish lived along the border to make sure it didn't happen.
Today, many place names in Maine and New Hampshire reflect their Scots-Irish roots: Derry, Antrim and Londonderry, N.H.; Belfast and Limerick, Maine; Colrain, Mass.; and Londonderry, Vt.
Early Irish Immigrants
By 1650, a steady stream of Boston-bound ships began to leave Ireland filled with redemptioners, many of them Irish Catholic. They were indentured servants who agreed to near-slavery for seven years in exchange for passage, food, shelter and clothing.
They sailed from Dublin, Cork and Waterford to Marblehead, Boston, Providence and Piscataquis County, Maine. Some came from Galway via Newfoundland, where they fished.
Some came by way of Barbados, where Oliver Cromwell had deported 50,000 Irish Catholic peasants as indentured servants in the mid-17th century. Ann Glover was one. She was living in Boston by 1680 and hanged on Nov. 16, 1688 as a witch. The proof: she could only say the Lord's Prayer in Gaelic.
The Puritans treated Irish-Catholic newcomers even worse than they treated the Protestant-Irish immigrants. They wouldn't let people own property or carry on a business in Boston unless they took the Oath of Allegiance to some Protestant faith.
The Catholics kept out of the Puritans' way and they stayed out of the historical record. Historian Michael O'Brien argues that many Irish Catholics abandoned their faith and became Baptists and Methodists. "There was no alternative for them," he concluded.
One Irish immigrant who came to Rhode Island left his mark. The Irish-Anglo philosopher George Berkeley arrived in Newport in 1729, hoping to found a college. He stayed for a little less than three years, but helped found the Redwood Library and donated his library to Yale College.
American Revolution
The Irish may have avoided the Puritans, but they had no love for the English. So when the American Revolution broke out, Irish immigrants and their descendants played major roles in achieving American independence.
Hibernian names fill the muster rolls of the Continental Army. The name "Kelly" alone appears 695 times. So many fought, in fact, that one British general testified at the House of Commons that "half the rebel Continental Army were from Ireland."
Some of the best fighters and leaders on both sides of the American Revolution were Irish immigrants or sons of Irish immigrants. Continental Army generals Henry Knox and John Stark were Scots-Irish, and Gen. John Sullivan's parents had emigrated from County Cork. American general Richard Montgomery and his friend Guy Carleton, a British general, both grew up in Ireland.
Eight of the 56 signers of the Declaration of Independence had Irish birth or ancestry as did seven of the 54 framers of the Constitution.
Great Hunger
Between 1815 and 1845, as many as 1 million Irish immigrants came to "Amerikay," looking for opportunity. They found a measure of it, building canals and railroads and factories.
But it wasn't until the potato crop began to fail in 1845 that the enormous influx of Irish immigrants sailed into New England. Hunger and poverty had pushed them out of Ireland, but the promise of work pulled them to the region's industrial powerhouses. They flooded into Boston, Pawtucket, Lowell, Portland and Burlington, and to the manufacturing cities in the Merrimack and Connecticut river valleys.
From 1845 to 1855, the so-called famine ships brought 2 million Irish immigrants to ports in Boston, New York and Canada. Many came to Canada first because of the cheaper fare, then made their way to New England. Those immigrants had a nickname: Two Boaters.
Many Irish immigrants died aboard the famine ships, also known as coffin ships. A Boston priest wrote a survival guide for those who dared make the journey. Father John O'Hanlon began it with a caution: "Change of location does not always bring better fortune to the emigrant."
Suffering and Discrimination
The Irish immigrants often lived in crowded, unsanitary housing. Some dwellings had 100 people living in them with one sink and one toilet. In 1849, a cholera epidemic struck Boston. Of the 611 people who died of it, 500 were Irish.
"No Irish Need Apply" signs appeared in many a shop window and classified advertisement. The Irish endured frequent mockery as drunken, slovenly, ape-like creatures. They also suffered outright persecution.
In Rhode Island, a man named John Gordon was hanged in 1845 for the murder of a prominent industrialist. His real crime was being Irish.
Neal Dow, the mayor of Portland, Maine, waged a war against booze in 1855. The city's Irish community thought he was waging war against them. They had a point. When a riot over rum broke out, Dow called out the militia. A fisherman was shot to death in the melee.
When the Civil War started, many Irish immigrants fought in the Union Army, not always willingly. Some viewed it as practice for their military campaign to free Ireland from England. In 1870, a fanatical Irish-American army decided to conquer Canada to win Irish freedom. They invaded Canada from a Vermont farm, but their effort failed.
Another Wave
Even after the famine subsided, they still came. From 1855 to 1921, large numbers of Irish immigrants left their farms for jobs in the industrial cities of the Northeast. They came to Portland, Maine, Burlington, Vt., and the New Hampshire cities of Manchester and Dover. They came to Pawtucket, Providence and Cranston in Rhode Island, to Hartford and New Haven in Connecticut. And they especially came to Massachusetts, to Boston and its North and South Shores, to the Merrimack River Valley and to Holyoke and Worcester.
Then, in 1922, quotas restricted the number of immigrants into the United States, including the Irish.
Triumph
When John F. Kennedy won the presidency of the United States in 1960, people viewed it as a triumph over a century of discrimination. But his family had already succeeded. His father, Joseph P. Kennedy, had amassed a fortune and served as U.S. ambassador to the Court of St. James's. Many other Irish immigrants and their descendants had thrived in politics, people like Boston Mayor James Michael Curley and Speaker of the U.S. House Tip O'Neill.
Today, more than one in five residents of Massachusetts and New Hampshire claims Irish ancestry. And about 18 percent of people living in Rhode Island, Maine and Vermont have Irish forbears. Connecticut may be the least Irish state in New England, with only 16.6 percent of its people claiming Irish blood. But still, it's in the top 10, with only Delaware claiming slightly more.
Boston, the most Irish city in the country, has retained much of its Irish culture and still attracts Irish immigrants. Mayor Marty Walsh's parents were born in Ireland. Boston has the Celtics, Boston College, many churches and pubs, as well as the legacy of Whitey Bulger. Boston's South Shore, known as the Irish Riviera, gave us the Dropkick Murphys.
Many Bostonians take off from work on March 17, a holiday in Suffolk County. To appease Yankee sensibilities, though, it's called Evacuation Day. Though it commemorates the British departure from Boston, there's no Evacuation Day parade.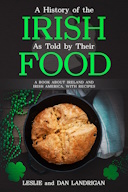 Explore the history of the Irish by learning about their food, from the ancient Celts who hid their butter in peat bogs to Irish Americans who celebrate St. Patrick with corned beef and cabbage. Available now in paperback and as an ebook on Amazon. Click here to order your copy today.
Largest Irish flags By John Hoey from Framingham, MA, United States – World's Largest Irish Flag (1), CC BY 2.0, https://commons.wikimedia.org/w/index.php?curid=47411665 and https://commons.wikimedia.org/w/index.php?curid=47411658.
This story last updated in 2023.