If you love lobster, it's not a Mainer you need to thank. Or even a Bay Stater. It's Vermont's Francis Hobart Herrick.
Born in Woodstock, Vt., in 1858, Herrick earned a Ph.D. in biology, and the subject of his studies was the lobster, especially how lobsters reproduced. Over the course of his career, he authored books on birds and a critical biography of John James Audubon, but it was his work for the United States Fish Commission that had its most lasting impact.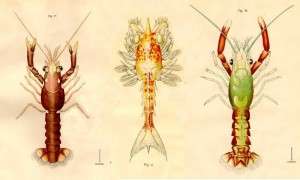 The commission was concerned about the boom and bust cycle of lobstering. Lobstering would be at a lull, the interest in them would increase and the number of fishermen would increase. Then the population of lobsters would crash, prices would increase and the market would disappear.
When the population of lobsters increased again, the cycle would restart. To fishermen it seemed to make no sense. Each female lobster could have thousands of eggs. How was it possible that overfishing was the problem?
The Findings of Francis Herrick
Herrick made a long and careful study of the subject, and he publicized two key findings in his study:
Yes, lobsters produced a lot of eggs. But their reproductive cycle is extremely complex. A female must carry the eggs inside her body for up to a year before they emerge. Then they have to cling to her underside for up to another year. At that point they hatch, and the larvae, at the earliest stages of their lives, drift in the currents – a tasty meal for whatever stumbles across them before they drop to the bottom of the ocean. Lobsters weren't producing a lot of eggs to produce a lot of lobsters. They were doing it because so few survived.
While a one-pound lobster lays 8,000 eggs or so, a 10-pound lobster might produce as many as 100,000 eggs. By always taking the largest lobsters, the fishermen were dooming the lobster population to collapse.
Herrick's lavishly illustrated 1893 report was not put to use overnight. But eventually, as regulators and fishermen began to better understand the lobster, they realized that they were not like other fish. You had to protect both the very youngest lobsters, so they could develop to the point where they were capable of reproducing. And you had to protect the very oldest lobsters, because they produce the most eggs.
The result is our modern system of regulating lobster fishing, where small and large female lobsters are off limits, while the middle-aged variety wind up on our plates.
This story last updated in 2021.