Town Meeting dates to the European settlement of New England, and it persists today in town halls, schools and auditoriums.
Not to be confused with Town Hall meetings, it's a form of direct democracy in which a community gathers and votes on budgets and policies.
Town Meeting Misery
A fan of Town Meeting once called them 'a little primitive nursery of republican truth.' Others have called them 'misery.'
Exeter, N.H., Judge Henry Shute did not enjoy Town Meeting. In 1898, he complained about Town Meeting, writing,
The hall is full of smoke, there are not seats enough, and the people walk restlessly to and fro, talk gossip, laugh and pay but little attention to the speakers, unless the discussion waxes warm, when there is a rush forward, and the speakers are loudly applauded or roundly hooted, as their opinions find favor or otherwise with the audience. Small boys and some not so small chase each other and wrestle, and the occasional attempt of some inebriated gentlemen to harangue the crowd in the back part of the hall meets with great favor.
The New England Historical Society tried to find the oldest continuously run Town Meeting in each state. We searched records to find the oldest town (or city, in the case of Vermont), when it held its first Town Meeting and whether it's still held.  We did our best. If, however, you know of an older town with a continuous Town Meeting, please include it in the comment section below the story.
Windsor, Conn.
Puritans settled Windsor, the oldest English town in Connecticut, in 1633.  In the early days, every man deemed a 'freeman' had a duty to attend Town Meeting. The town fined men for failing to attend without excuse.
The town convened meetings as often as needed. Sometimes they published orders and laws from the General Court, sometimes after Lecture Day or on Training Day when all the men would attend.
Windsor originally held Town Meeting in a thatched hut surrounded by a stockade. Eventually it moved to the First Church of Windsor
To be an inhabitant, you had to have a good character, a blameless life and honest conversation. Women weren't allowed to be inhabitants, nor were vicious and abandoned persons, idlers, vagabonds and paupers.
In 1637, Connecticut's General Court decreed that unmarried young men couldn't live by themselves or with a family unless the town allowed it. Disobeying the law brought a fine of 20 shillings a week. In Windsor, Town Meeting decided who should stay and who should go.
Berwick, Maine
On June 9, 1713, Berwick became Maine's ninth town. Since Maine's older towns no longer have town meeting – or, like Castine, didn't hold Town Meeting until later — we're going with Berwick as having the oldest Town Meeting in Maine.
Berwick got its start in 1630, the first settlement in Maine to survive. Two others, Saint Croix Island and the Popham Colony didn't last long. For nearly a century Berwick was a parish of Kittery, considered 'too poor and low' to ever form a town. Among its early settlers were indentured royalist soldiers from Scotland. The Roundheads captured them at the Battle of Dunbar during the English Civil War and sold them as slave labor.
Berwick held its first Town Meeting in the meeting house built in 1706.
Today, Berwick offers a handy guide for newcomers to Town Meeting with questions and answers such as, "Won't I seem like an idiot if I ask questions?"
Plymouth, Mass.
Dorchester, Mass., claims its early selectmen established the New England Town Meeting. On Oct. 8, 1633, Dorchester passed an order establishing that form of town government. Dorchester, however, has since become part of Boston — and the Pilgrims held a town meeting (then called court day) in 1622.  So the distinction of having the first goes to Plymouth, Mass.
Gov. William Bradford ran the first town meeting of Plimoth Plantation in 1622 in order to divide land among the families.
The other fledgling towns followed the Pilgrim example and held annual meetings as well.
In Massachusetts, the General Court in 1635 enacted the New Towne Ordinance. It authorized each town to dispose of common property, order its civil affairs and to choose its 'own particular officers.'
The meetings tended to get raucous, though, and in 1715 the Massachusetts General Court passed another law requiring Town Meeting to elect a moderator.
The disorderly carriage of some persons in the meetings….the affairs and business thereof is very much retarded and obstructed…at every such meeting a moderator shall be first chosen by a majority of votes, who shall thereby be empowered to manage and regulate the business of that meeting.
Only freemen had the right to vote in colonial government elections. They were shareholders in the Massachusetts Bay Colony and male property owners. But all adult taxpayers could vote in town government.
A special mention goes to Pelham, Mass., which has the oldest town hall in continuous use for town meetings. It was built in 1743.
Exeter, N.H.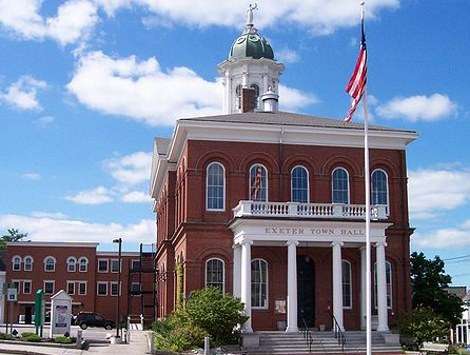 Settlers founded Exeter in 1638, one of the first four townships in New Hampshire. It's the only one of the four to still hold Town Meeting.
During the earliest days, the men of Exeter came to the town center and voted on how to divide up land. Then they had refreshments, perhaps an Election Cake, rum or hard cider. They brought their African-American servants or slaves. The black servants elected their own shadow government, called the 'Negro Court,' as they did throughout New England.
In addition to dividing land, electing officers and setting budgets, Exeter Town Meeting resolved controversies. According to the Exeter Historical Society, in 1641 a goodman with an illegible name let his pig run wild through the fields. The pig spoiled some corn planted by the Squamscott Indians. The town had guaranteed them the right to plant and harvest their own crops. Exeter Town Meeting consequently voted the goodman had to give the Indians a bushel of corn.
Exeter usually held its meeting in March. Starting in 1855, the town held it at the Exeter Town Hall. Sawdust was spread on the floor to sop up the mud on meeting-goers' feet.
New Hampshire allowed towns to adopt a ballot vote in 1996, and two years later Exeter did just that.
In 2019, Exeter already held its first Town Meeting, called a Deliberative Session, in February, but it scheduled an election for March 12 at the Talbot Gym.
New Shoreham, R.I.
Town Meeting has disappeared from nearly half of Rhode Island's towns. Since Rhode Island adopted the Home Rule Amendment to its Constitution in 1951, 15 of the state's 31 towns abandoned the Financial Town Meeting as the final step in adopting a budget.
New Shoreham — Block Island – is one of the 16 towns that still hold Financial Town Meeting.  It's also one of the oldest towns in Rhode Island. And according to our research, its Town Meeting is the earliest recorded in Rhode Island, dating to 1672.
New Shoreham's annual Financial Town Meeting is held at the Block Island School on the first Monday in May. The town has held the longest Town Meeting in recent memory: 4-1/2 days in 1991. It also holds the distinction of being the smallest town in the smallest state in the country.
Vergennes, Vt.
Most towns are bigger than Vergennes, Vt., which incorporated as a city in 1788 without first incorporating as a town or a village. Though its annual meeting is called a City Meeting, we'll grant it the honor of 'oldest town meeting.'
Vergennes was settled in 1766 along the Otter Creek Falls. The settlement had big ambitions to develop as an industrial center.
For a while it succeeded. The Monkton Ironworks Co. became the biggest iron foundry in the United States by the War of 1812, when it made the fittings for the fleet that defeated the British on Lake Champlain. Commerce boomed until the latter half of the 19th century, when the railroads made Vergennes' location on waterways irrelevant. Today it's the smallest of Vermont's nine cities, with a population of 2,588 in 2010.
Vergennes still has an annual meeting, called a City Meeting, that dates to 1789, the year after it incorporated.
The annual City Meeting is held at the Vergennes Opera House, a restored 1897 building that houses City Hall on the first floor.
Photos: Plimoth Plantation Meetinghouse By Swampyank at en.wikipedia, CC BY-SA 3.0, https://commons.wikimedia.org/w/index.php?curid=18002716; Block Island By Billy Hathorn at en.wikipedia, CC BY-SA 3.0, https://commons.wikimedia.org/w/index.php?curid=17667939. This story was updated in 2021.