Sometimes when you hear a place name, you're pretty sure it's somewhere in New England. The region's distinct history left it with some pretty distinct naming patterns.
Many of the earliest towns settled by English Puritans take their names from their homes England, especially East Anglia. Since the French tried to claim New England, too, especially near the Canadian border, they managed to give some settlements French names — along with a state and an enormous lake. The Scots-Irish who settled New England's frontiers also named their new towns after their homes in Ireland.
Indigenous people, of course, had plenty of names for New England places before it became New England. So if a town doesn't sound English, French or Irish, it's a good bet it's Native American.
Unless it's Warren. New England has six towns called Warren, one in each state, but the reason for those place names is more complicated than you might think.
English Place Names
Massachusetts has at least 104 English names for cities, towns and counties, starting with Amesbury and ending with Yarmouth. (Click here for a complete list of U.S. places named after places in England.)
Rhode Island has the fewest — 15 of them, from Bradford to Wickford. Maine has 32, Vermont 36. Connecticut 31, including Hartford, an archaic spelling of Hertford (the birthplace of one of Thomas Hooker's assistants, the Rev. Samuel Stone).
New Hampshire was named after Hampshire, England, by John Mason, the colony's first proprietor (though he never set foot in New England). New Hampshire has 47 cities, towns and counties named after English places.
Puritan Place Names
Many Puritans who arrived in Massachusetts Bay during the Great Migration of 1620 to 1640 left from East Anglia, a wealthy center of cloth manufacturing. It had thriving ports named Boston, Great Yarmouth, King's Lynn, Colchester and Harwich.
Other Puritans came from Norfolk, the county of the North Folk, or the Northern Angles, while others came from  Suffolk of the South Folk. Essex, between Suffolk and London, was the home of the East Saxons; Middlesex of the Middle Saxons.
The Puritans even named groups of towns in New England after groups of towns in England: Boston and Lynn, for example, were next to each other in East Anglia as they were in Massachusetts. So were Worcester and Leominster, and Amesbury, Salisbury, Newbury and Andover.
In Rhode Island, the geography of England was mimicked in Warwick and Coventry and in Bristol and Newport. In New Hampshire, Sandown and South Hampton are next to each other as they were in England. And, as in England, there was once a Gosport on the Isles of Shoals next to Portsmouth in New Hampshire.
Scots-Irish Place Names
Some place names reflect the Scots-Irish origins of their first settlers. Derry, N.H., counts as the first.
The Massachusetts Puritans, led by Cotton Mather, encouraged the Scots-Irish to settle in places where they would serve as buffers against the Indians. Those frontier settlements to the west, north and east became Vermont, New Hampshire and Maine. And so New Hampshire has a Derry, a Londonderry and a Derryfield. It also has an Antrim, Colebrook, Dublin, Hillsborough, Kilkenny and Stewartstown.
Vermont has a Londonderry, named after Londonderry, N.H.
In Maine you'll find a Belfast, Bangor, Limerick and Newry.
French Place Names
Northern New England — not Louisiana — has the highest percentage of people who claim French ancestry. And New France, or Acadia, once stretched into Maine. That explains at least some of New England's French place names.
Castine, Maine, which dates to 1613, takes its name from the French Baron de Saint-Castin. A military officer, he established a fort and trading post there in the late 17th century. Other French place names in Maine include Tremont, Presque Isle, Montville, Minot, Lamoine, Lagrange, Isle au Haut and Frenchboro.
Vermont also has several towns with French names: Vermont, a corruption of the French for "Green Mountain," has a Belmont, an Orleans and a Vergennes.
Some towns took French names because of enthusiasm for France after it helped win the Revolutionary War. Thus, Rhode Island has a Lafayette and Maine has a  Paris and a Calais. Vermont also named Calais and its capital, Montpelier, in a burst of Francophilia.
Four New England towns took the French name Orange. In 1689, much to the joy and relief of New England's Puritans, William of Orange deposed the Catholic King James II. Towns in Connecticut, Massachusetts, New Hampshire and Vermont named themselves after him.
Vermont
Generally, towns only named themselves for individuals after the American Revolution, New Hampshire Gov. Benning Wentworth proved an exception.
Wentworth, colonial governor from 1741 to 1766, sold 138 tracts of land for town charters and named some of them after people he wanted to flatter. He named Clarendon, for example, for the earl of the same name and Monkton for British Gen. Robert Monckton. Wentworth named tiny Ferdinand after Prince Karl Wilhelm Ferdinand of Brunswick-Luneburg, related to England's royal family.
Wentworth named Bennington after himself.
Many Vermont towns were settled after the Revolution. Hence, Wolcott named itself after Revolutionary general Oliver Wolcott, who also signed the Declaration of Independence.
Barton, Vt., named itself after Maj. William Barton, who captured British general Richard Prescott in Newport, R.I., during the Revolutionary War. He founded the town and then went to jail for selling the same piece of land to two people. Barton was born in Warren, R.I.
Then There's Maine
Much of Maine came late to the naming party, mostly because Europeans didn't settle the interior until the French and Indian Wars ended.
The coastal south, established earlier than central Maine, has the Puritan-sounding towns of York, a Falmouth, a Berwick and a Yarmouth.But When settlers put down roots in Maine in the late 18th and early 19th centuries, many people in foreign countries fought for independence. And so they named their towns after the freedom fighters they admired.
The residents of a town previously known as Holmanston incorporated in 1818, they chose "Mexico" to honor the Mexicans who won independence in 1815.
In 1821, people in Maine's western interior decided to name their town Peru after the South American country that had just declared its independence from Spain.
Denmark, incorporated in 1807, was named in solidarity with the people of Copenhagen. The British Royal Navy attacked the Danish city in 1801 and 1807, much as it had attacked Falmouth in 1775. (Read more about Maine names here.)
Indigenous Names
Two New England states, Connecticut and Massachusetts, take their names from Native Americans. The Massachusetts tribe from the Great Blue Hill region near the bay gave the colony, then the state, its name. Other towns and villages named after tribes include Niantic, Conn., Penacook, N.H., Natick, Mass., and Penobscot and Norridgewock, Maine.
Quite a few Maine place names come from Native Americans, including Machias ("bad little falls") and Ogunquit ("beautiful place by the sea"). Indigenous people also named Caribou, Damariscotta, Kennebunk, Millinocket, Orono, Penobscot, Saco and Skowhegan.
Connecticut in particular has an abundance of towns and villages with indigenous names. They start alphabetically with Aspetuck in Fairfield County and end with Yantic in Norwich. They also include Cos Cob, Mianus, Mystic, Niantic, Norwalk, Willimantic and, appropriately, Uncasville, home of the Mohegan Sun casino.
Elsewhere in New England, some of the better-known towns with Native American names include Pawtucket, R.I., where the Red Sox farm team used to play and Nantucket, where whaling families used to live.
The Bush family still has a summer home in  Kennebunkport, Maine, while the Kennedys have theirs in Hyannis, Mass.
Many geographical features, from Narragansett Bay to Mount Katahdin, also have Native American names, but that story is for another day.
Two Warrens, Six Towns
Each New England state has a town named Warren, though two different heroes of distinctly different eras inspired the place names.
Warren in Rhode Island, with colonial roots back to 1621, and Warren, N.H., which welcomed its first English settlers in 1767, were named for Vice-Admiral Sir Peter Warren. Admiral Warren was an Irish officer in the British Royal Navy. He, along with American troops, captured the French fort at Louisbourg on Nova Scotia's Cape Bretton Island in 1745.
The action established trading agreements between the New England colonies and Canadians. The victory not only made Warren very wealthy, it made him a celebrated figure throughout New England.
The Warrens in Massachusetts, Connecticut, Vermont and Maine trace their name to a more well-known figure in U.S. history: Dr. Joseph Warren. Warren led the American struggle for independence in the run up to the war. A major general in the Continental Army, he died fighting with the militia at the Battle of Bunker Hill. The British army knew him well and celebrated his death.
To Americans, however, Joseph Warren died a martyr to the cause of freedom. They have affixed his celebrated name to schools, monuments and towns throughout America since shortly after his death.
* **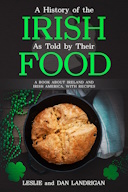 Gain a deeper understanding of the Irish who came to New England by learning about their food.  In This fascinating new book, you'll discover the many ways Irish food is woven into the history of Ireland and Irish America. the Click here to order your copy today. An Amazon No. 1 Release in Irish History.
This story about New England place names was updated in 2021. 
Images: Nantucket By The original uploader was Bobak at English Wikipedia. – Transferred from en.wikipedia to Commons., CC BY-SA 2.5, https://commons.wikimedia.org/w/index.php?curid=2776843. First Parish Church of East Derry By John Phelan – Own work, CC BY-SA 3.0, https://commons.wikimedia.org/w/index.php?curid=24513489; Norwich in East Anglia By Pedro Fernandez Photo from Alicante, Spain – #streetphotography #Norwich #norfolk #visitnorwich #enjoynorwich #walk #places #downtown #HDR, CC BY-SA 2.0, https://commons.wikimedia.org/w/index.php?curid=34614607.