Mark Twain liked a good meal, a good cigar and a good cocktail. During a trip to Europe in the 1880s, he had a hard time finding a good meal, or at least one to his liking. The hotel food he reluctantly ate in European hotels inspired the Mark Twain fantasy menu.
Twain was actually known in his day as a travel writer rather than a novelist. He spent 12 years outside of the United States, traveling to the Nevada Territory, Canada, Hawaii, Europe, India, the Holy Land and Australia. Twain experienced different cultures and customs through his taste buds as much as through his eyes and ears.
Today he could pass for a food writer.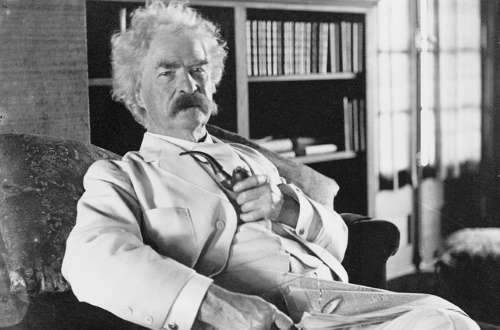 The Secret of Success
"Part of the secret of success in life is to eat what you like and let the food fight it out inside," Twain once wrote.
But during his trip to Europe in the 1880s, he had a hard time finding what he liked. Twain later wrote withering descriptions of European hotel food in his book about the journey, A Tramp Abroad.
Most European hotels offered pretty much the same thing, he noted: characterless soup, a tasteless roast and some of last year's potatoes. He complained of insipid lentils, indifferent asparagus, decayed strawberries and roast chicken 'as tasteless as paper.'
He singled out the Hotel de Ville in Milan, where the meals would 'create an insurrection in a poorhouse.'
And he especially hated European breakfasts. "In Europe, coffee is an unknown beverage," he wrote, "feeble, characterless, uninspiring…the milk used for it is what the French call "Christian" milk — milk which has been baptized."
After he dined for months in European hotels, The Mark Twain fantasy menu came to fruition. He made the outrageous claim that he would eat it all when he got home.
"It has now been many months, at the present writing, since I have had a nourishing meal, but I shall soon have one—a modest, private affair, all to myself," he wrote. "I have selected a few dishes, and made out a little bill of fare, which will go home in the steamer that precedes me, and be hot when I arrive."
The Mark Twain Fantasy Menu
Radishes. Baked apples, with cream
Fried oysters; stewed oysters. Frogs.
American coffee, with real cream.
American butter.
Fried chicken, Southern style.
Porter-house steak.
Saratoga potatoes.
Broiled chicken, American style.
Hot biscuits, Southern style,
Hot wheat-bread, Southern style,
Hot buckwheat cakes.
American toast. Clear maple syrup.
Virginia bacon, broiled.
Blue points, on the half shell.
Cherry-stone clams.
San Francisco mussels, steamed.
Oyster soup. Clam Soup.
Philadelphia Terrapin soup.
Oysters roasted in shell-Northern style.
Soft-shell crabs. Connecticut shad.
Baltimore perch.
Brook trout, from Sierra Nevadas.
Lake trout, from Tahoe.
Sheep-head and croakers, from New Orleans.
Black bass from the Mississippi.
American roast beef.
Roast turkey, Thanksgiving style.
Cranberry sauce. Celery.
Roast wild turkey. Woodcock.
Canvas-back-duck, from Baltimore.
Prairie liens, from Illinois.
Missouri partridges, broiled.
'Possum. Coon.
Boston bacon and beans.
Bacon and greens, Southern style.
Hominy. Boiled onions. Turnips.
Pumpkin. Squash. Asparagus.
Butter beans. Sweet potatoes.
Lettuce. Succotash. String beans.
Mashed potatoes. Catsup.
Boiled potatoes, in their skins.
New potatoes, minus the skins.
Early rose potatoes, roasted in the ashes, Southern style, served hot.
Sliced tomatoes, with sugar or vinegar. Stewed tomatoes.
Green corn, cut from the ear and served with butter and pepper.
Green corn, on the ear.
Hot corn-pone, with chitlings, Southern style,
Hot hoe-cake, Southern style,
Hot egg-bread, Southern style,
Hot light-bread, Southern style.
Buttermilk. Iced sweet milk.
Apple dumplings, with real cream.
Apple pie, Apple fritters,
Apple puffs, Southern style.
Peach cobbler, Southern style
Peach pie. American mince pie.
Pumpkin pie. Squash pie.
All sorts of American pastry.
Fresh American fruits of all sorts, including strawberries which are not to be doled out as if they were jewelry, but in a more liberal way.
Ice-water—not prepared in the ineffectual goblet, but in the sincere and capable refrigerator.
The Squalid Table d' Hôte
Americans intending to spend a year or so in European hotels will do well to copy this bill and carry it along. They will find it an excellent thing to get up an appetite with, in the dispiriting presence of the squalid table d'hôte."

– Mark Twain, A Tramp Abroad, 1880
Twain occasionally found something in Europe he enjoyed putting in his mouth. During an earlier trip to England, for example, he discovered a cocktail recipe he liked. He then wrote to his wife Olivia in January 1874.
Livy my darling, I want you to be sure & remember to have, in the bathroom, when I arrive, a bottle of Scotch whisky, a lemon, some crushed sugar, & a bottle of Angostura bitters. Ever since I have been in London I have taken in a wine glass what is called a cock-tail (made with those ingredients) before breakfast, before dinner, & just before going to bed.
In case you wondered, Mark Twain died at 74 of a heart attack at his home in Redding, Conn.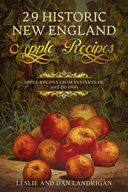 Revised and in paperback. Order your copy of "29 Historic New England Apple Recipes" from Amazon today!
This story was updated in 2023.
Image of Mark Twain: CC0 1.0 Universal (CC0 1.0)