If something called a black cake sounds like a perfect Christmas sweet from a famously reclusive poet prone to black moods – well, it is.
Emily Dickinson not only wrote stunning poetry, she was a terrific baker. She baked for her family, and often sent cakes and breads to her friends along with odd little notes.
Critic R.P. Blackmur wrote in 1937 "[S]he was a private poet who wrote as indefatigably as some women cook or knit."
You can turn that around: She was a private cook who baked as indefatigably as she wrote. And one of the things she baked was a black cake.
Emily Dickinson
Emily Dickinson was born into a prominent Amherst, Mass., family on Dec. 10, 1830. Her father, Edward Dickinson, was a trustee of Amherst College; her mother, Emily Norcross, was a homebody who spent decades of her life bedridden with chronic illnesses.
Emily had two siblings, brother Austin and sister Lavinia. They grew up in a large home in Amherst, where she lived all her life. When Austin married one of Emily's friends, Edward Dickinson built a house for them next to the family homestead.
Emily attended the Amherst Academy for seven years, and went to Mount Holyoke (then Mary Lyon's Mount Holyoke Female Seminary). Whether troubled by depression, ill health or homesickness, she only lasted there for 10 months. Austin brought her home.
She then helped managed the household, handling the kitchen chores and caring for her mother while Lavinia did the marketing and housekeeping. Neither sister married, and Emily became more and more reclusive.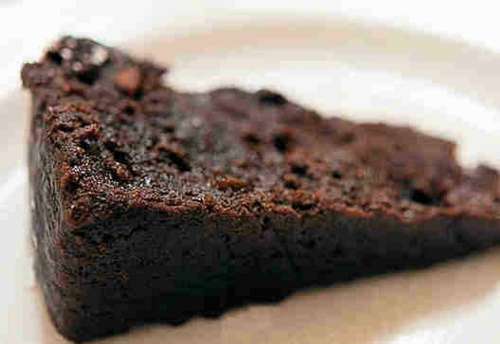 When she reached her 30s, she pretty much stayed in the house all the time. Lavinia later said their mother needed constant attention, which Emily provided.
That doesn't explain why she gave some neighborhood children gingerbread by lowering a basket of it out a second-floor window. Or spoke to visitors through doors. Maybe she developed agoraphobia. Or maybe she just wanted to write her poems without the distraction of the outside world.
The Black Cake
One of the delicacies Emily Dickinson baked was a black cake. It started out in England as a fruitcake or plum cake, cakes made with dried or fresh fruit. As Bruce Kraig explains in The Oxford Encyclopedia of Food and Drink in America, English women in the early 1800s began to make their plum cakes darker. They did it with treacle, a syrup made during the refining of sugar.
The so-called black cake spread to the British colony of Jamaica, where it got darker and boozier.
American women began to make it too. In 1832, Lydia Maria Child wrote a cookbook recommending using molasses (also made from the sugar-refining process, but whether treacle is molasses is a debate we won't enter here).
"A little molasses makes it dark colored, which is desirable," wrote Child. (Click here for the recipe.) She didn't call it black cake, though. She called it wedding cake and iced it. Princess Diana and Prince Charles served a tiered fruitcake at their wedding that lasted quite a long time. An auction house put a piece up for sale in 2018 for $1,200.
In the Caribbean, black cake has more to do with Christmas than weddings. For some, Christmas wouldn't be Christmas without a slice of black cake. It takes a year, say some, to make a proper black cake, and burnt sugar creates the distinctive black color.
It has rum in it, too. According to Wikipedia, "It is possible to become intoxicated from consumption of an excessive amount of rum cake."
Baking the Black Cake
Emily Dickinson learned to bake bread at the age of 14. She wrote to a friend, "I am going to learn to make bread to-morrow. So you may imagine me with my sleeves rolled up, mixing flour, milk, salaratus, etc., with a great deal of grace. I advise you if you don't know how to make the staff of life to learn with dispatch."
She developed into an accomplished baker as well as a poet. She wrote some of her poems on kitchen paper and even wrote one on the back of a recipe for coconut cake.
And she loved to do it. Her kitchen in Amherst was her favorite room, with pale green walls illuminated by the sunlight that streamed through the yellow windowsills.
Her father would only eat bread she baked, which she did every day. Emily's rye-and-Indian bread took second prize at the 1856 Amherst Agricultural Fair.
In 1883, when she had reached her early fifties, she sent her recipe for black cake with a bouquet of flowers to Nellie Sweetser.
In June of 1884, she collapsed in the kitchen with an apparent nervous breakdown.
"I was making a loaf of cake…when I saw a great darkness coming and knew no more until late at night," she wrote. Her health continued to suffer, and she died on May 15, 1886 of Bright's disease.
The Belle of Amherst
In 1976, William Luce's play about Emily Dickinson, The Belle of Amherst, opened on Broadway. Julie Harris, who starred in it, won a Tony for her performance.
In the play, "Emily Dickinson" recites the actual recipe for a black cake: "two pounds of flour, two pounds of sugar, two pounds of butter, nineteen eggs, five pounds of raisins, one and a half pounds of currants, one and a half pounds of citron, one half pint of brandy — I never use Father's best — one half-pint of molasses, two nutmegs, five teaspoons of cloves, mace and cinnamon, and — oh, yes, two teaspoons of soda, and one and a half teaspoons of salt."
Remember, 19th-century bakers used to do a lot of baking all at once.
Then "Emily" goes on to tell the audience to beat the butter and sugar together, add the 19 eggs one at a time without beating. Beat again, adding the brandy alternately with the flour, soda, spices and salt, which have all been sifted together. Then add molasses. Take the raisins and citrons and gently sprinkle into the batter. Bake for three hours if you use cake pans, six or seven if you use a milk pan.
You can get a more modern (smaller) version of the recipe here, but don't plan to serve it until next Christmas.
 *  *  *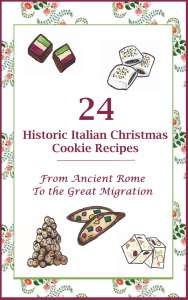 The Christmas holiday actually began in ancient Rome — and so did Italian cookies. The New England Historical Society's new book, 24 Historic Italian Christmas Cookie Recipes, tells you how to make those delicious treats. It also bring you the history of the Italian immigrants who brought them to New England. Available now on Amazon; just click here.
With thanks to Carol Dommermuth-Costa · Emily Dickinson Singular Poet. This story was updated in 2021.