When Fannie Farmer approached Little, Brown & Co., to publish her cookbook in 1896, the company made her pay for printing the first 3,000 copies.  They didn't think the cookbook would sell.
Little, Brown's skepticism about the enormously popular Boston Cooking-School Cookbook made Fannie Farmer rich, because she kept  the copyright.
The Boston Cooking-School Cookbook succeeded because its recipes were easy to follow with standard, precise measurements – 'half cups' and 'teaspoons' instead of 'handfuls' and 'pinches.' It also covered a lot of ground with more than 1,200 clearly written, dependable recipes. Good old Yankee favorites like Boston Brown Bread and Fish Chowder were included, along with exotic-sounding continental dishes like Turkish Pilaf and Halibut a la Poulette.
During Fannie Farmer's lifetime, 21 editions and 360,000 copies of the book were sold. By 1990, four million copies sold, making The Boston Cooking-School Cookbook one of the best-selling cookbooks ever.
What made Fannie Farmer's achievement extraordinary was that she had contracted polio at 16, dropped out of high school and struggled for years to learn to walk again. She never lost her limp. Later in life, she suffered a stroke. Ten days before her death, she gave a lecture from a wheelchair.
But could she cook?
Fannie Farmer
Fannie Farmer was born on March 23, 1857 in Boston. Her father, a printer whose business didn't do too well, moved the family to Medford, Mass. Fannie was attending Medford High School when she contracted polio. She spent years in bed. While she slowly recovered, she took up cooking and turned her family's home into a boardinghouse.
At 31, she entered the Boston Cooking School. After graduating a year later she stayed on as assistant principal. Five years later she was running the school and publishing the Boston Cooking-School Cookbook
By her own admission, she was more of a promoter and a businesswoman than a great cook.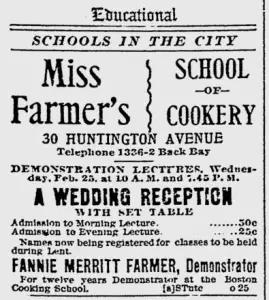 She transformed the Boston Cooking School from a struggling philanthropic venture teaching poor women to cook into a popular cooking school for middle- and upper-class housewives.
Fannie Farmer also became a popular lecturer. She developed a program of diet and nutrition for convalescents, and the Harvard Medical School invited her to speak to medical students. In 1902, she left the Boston Cooking School to start Miss Farmer's School of Cookery, which would operate until the 1940s.
A Prim Girl
Marjorie Mills, the Boston Herald's longtime food editor, described Fannie Farmer as 'limping briskly about her platform kitchen, teaching some 200 students. She was a prim girl with vibrant enthusiasm who arrived early at school laden with market supplies and was the last to leave at night.'
"Her bright blue eyes, red hair and vivacious personality made people overlook her plain face and the pince-nez she always wore," said Elizabeth Schlesinger. "She was plump and had no interest in dress, but a maid who accompanied her on lecture trips saw that she always looked well. "
It was the maid who did much of the cooking. Fannie herself was 'a great executive food detective, and gourmet, rather than a great cook herself,' said her niece, Wilma Lord Perkins.
Christopher Kimball, of 'America's Test Kitchen' Fame, told the Chicago Tribune that Fannie Farmer admitted she wasn't the best cook. "She was a promoter, a businesswoman, a force of nature," he said.
Or as one critic said 'She was too apt to let the pots burn as she ran enthusiastically from one recipe to another.'
The Cookbook
Another little secret about Fannie Farmer: Her cookbook wasn't entirely her own. Kimball writes that she certainly updated and rewrote a cookbook by her predecessor at the Boston Cooking School, Mary Lincoln, called Mrs. Lincoln's Boston Cook Book: What to Do and What Not to Do in Cooking.
But there's no doubt the Boston Cooking-School Cookbook was an important book – reliable, comprehensive and easy to follow. Michael Field, in the New York Review of Books in 1965, wrote that 'her procedures and recipes, tested over and over again in her classes and demonstrations, really worked.'
After her death in 1915, though, some of the newer editions strayed from Fannie's original formula — and even included questionable recipes.
H.L. Mencken reviewed a later edition and called it, 'middle-class British notions of cookery.' He was horrified by her recipe for soft-shell crabs, calling it 'an obscenity almost beyond belief.'
Fiasco
Michael Field gave a scathing review of the 1965 edition, calling out recipes that wouldn't work. The crabmeat Mornay recipe would end up a doughy mass, the cheese fondue inedible and the coquilles St. Jacques didn't even include scallops!
Marion Cunningham revised the 1979 and 1990 editions of the Fannie Farmer Cookbook, and received much praise for her efforts.
Fannie Farmer herself described her  goals for her cookbook on  Jan. 7, 1896, the day the Boston Cooking-School Cookbook was published. In the preface, she  wrote,
It is my wish that it may not only be looked upon as a compilation of tried and tested recipes, but that it may awaken an interest through its condensed scientific knowledge which will lead to deeper thought and broader study of what to eat.
At that, she most certainly succeeded.
Biscuits
Here is a comfort-food recipe from an early edition of Fannie Farmer's cookbook:
Baking Powder Biscuits, adapted from The Boston Cooking-School Cookbook (1896)

Ingredients:
2 cups flour
4 teaspoons baking soda
1 teaspoon salt
1 tablespoon lard
3/4 cup milk and water in equal parts
1 tablespoon butter
Directions:
Mix dry ingredients and sift twice.
Work in butter and lard with tips of fingers; add the liquid gradually, mixing with a knife to a soft dough. It is impossible to determine the exact amount of liquid, owing to differences in flour. Toss on a floured board, pat, and roll lightly to one-half inch in thickness. Shape with a biscuit cutter. Place on a buttered pan, and bake in a hot oven (425 degrees) 12 to 15 minutes. If baked in too slow an oven, the gas will escape before it has done its work.
Mac and Cheese
This Baked Macaroni and Cheese recipe is adapted from the 1946 edition of Fannie Farmer's Boston Cooking -School Cook Book.
Ingredients:
1 (8 ounce) package macaroni
4 tablespoons butter
4 tablespoons flour
1 cup milk
1 cup cream
1/2 teaspoon salt
fresh ground black pepper, to taste
2 cups cheddar cheese, shredded good quality
1/2 cup buttered breadcrumbs
Directions:
Preheat oven to 400°F. Cook and drain macaroni according to package directions; set aside. In a large saucepan melt butter. Add flour mixed with salt and pepper, using a whisk to stir until well blended. Pour milk and cream in gradually; stirring constantly. Bring to boiling point and boil 2 minutes (stirring constantly). Reduce heat and cook, stirring constantly, 10 minutes. Add shredded cheddar little by little and simmer another 5 minutes, or until cheese melts. Take off heat. Add macaroni to the saucepan and toss to coat with the cheese sauce. Transfer macaroni to a buttered baking dish. Sprinkle with breadcrumbs. Bake 20 minutes until the top is golden brown.
With thanks to Fannie's Last Supper: Re-creating One Amazing Meal from Fannie Farmer's 1896 Cookbook by Christopher Kimball. This story about Fannie Farmer was updated in 2022.
Image: Macaroni and cheese with breadcrumbs By Luigi Novi, CC BY 3.0, https://commons.wikimedia.org/w/index.php?curid=20984140. Macaroni and cheese plain By Pink Sherbet Photography from USA – Childhood Favorite Boxed Mac & Cheese, CC BY 2.0, https://commons.wikimedia.org/w/index.php?curid=37312383.