As a young man, William Hull redeemed his friend Nathan Hale's image. As an old man, Hull desperately tried to repair his own.
He was born June 24, 1753, in Derby, Conn., to a wealthy landowner Joseph Hull III and Eliza Clark Hull, a descendant of the Mayflower's mate.
William Hull graduated from Yale College in 1772, where he befriended Nathan Hale.
William Hull and Nathan Hale
After graduation, they parted ways, both to teach school for a year. Hull studied law in Litchfield, Conn., with Tapping Reeve. His legal career was cut short when the American Revolution broke out and he was elected captain of a company from Derby. During the war, Hull revived his friendship with Hale, also a captain. They marched together from New London, Conn., to the Siege of Boston, and then to New York City.
There, Hale volunteered to spy on the British positions for George Washington.
Hull tried to talk him out of it. He asked Hale, Who respects the character of a spy? "Should you undertake the enterprise, your short, bright career, would close with an ignonimous death," Hull said.
Hale, of course, was discovered with drawings and maps of key British fortifications (by Robert Rogers, no less). The British questioned him and hanged him the next morning.
He went to his death with dignity and composure. Before he was hanged, he said,
I am so satisfied with the cause in which I have engaged that my only regret is that I have not more lives than one to offer in its service.
Or he said,
I only regret that I have but one life to lose for my country.
A British engineer named John Montresor witnessed Hale's execution. Later that day he carried a message under a white flag to Washington's headquarters. Montresor told Hull about Hale's impressive behavior and quoted his words on the gallows as: "I only regret that I have but one life to lose for my country."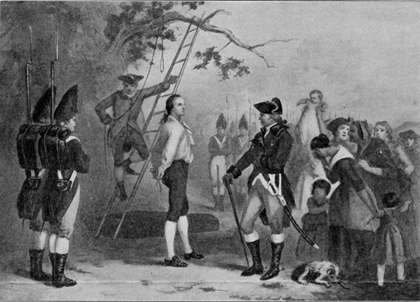 Making a Hero
William Hull publicized those words and transformed Nathan Hale into a national hero rather than an obscure 21-year-old schoolteacher who failed in a disgraceful mission.
William Hull then rose to lieutenant colonel, having fought in eight key battles during the war, including White Plains, Saratoga and Stony Point.
He married a wealthy woman, Sarah Fuller, and moved to Newton, Mass. Hull raised a family, including a nephew, Isaac Hull, who he adopted as a son. He had a distinguished legal career as judge, lawmaker and member of the Ancient and Honorable Artillery Company of Massachusetts.
Michigan Governor
In 1805, President Thomas Jefferson appointed William Hull governor of the new territory of Michigan. Seven years later, with the War of 1812 looming, President James Madison wanted to appoint him brigadier general of the newly created Army of the Northwest to defend the territory from British and Indian attacks. Hull was nearly 60 years old and declined. Another man accepted the post, but he fell ill and Hull reluctantly took his place.
Hull's army was undisciplined and communication was poor. He made an early blunder because he didn't know war had been declared. He sent a schooner full of supplies and plans for an attack up the river to Detroit, where the British, who did know war was declared, captured it.
Believing his Army vastly outnumbered, Hull then committed a near-fatal blunder. He surrendered Fort Detroit, fearing an Indian massacre of women and children. He took the blame for the ignominious retreat.
Hull's grandson, theologian James Freeman Clarke, described what happened:
He probably foresaw that he must face a terrible ordeal. The whole country appeared to be roused against him, and Hull at once became the best-hated man in America. A court-martial was appointed.
William Hull, Vindicated?
Hull, found guilty of cowardice and neglect of duty, was ordered shot. Madison, however, pardoned him because of his Revolutionary service. He lived the rest of his life in Newton, Mass., trying to restore his good name.
He wrote two memoirs explaining his side of the story, which helped sway public opinion to his side. His supporters held a dinner in his honor in Boston in May 1825, shortly before he died. In June, the Marquis de Lafayette, touring the United States, visited Hull. He told him,
We both have suffered contumely and reproach; but our characters are vindicated; let us forgive our enemies and die in Christian love and peace with all mankind.
Some historians have argued Hull was unfairly made a scapegoat for the humiliating loss of Detroit.
William Hull died Nov. 29, 1825.
This story last updated in 2022.
.