Bar Harbor in its Gilded Age heyday was a place where the moneyed class could fool around without the prying eyes of New York or Washington, D.C. In 1893, William Whitney and J.P. Morgan took full advantage of the summer resort's freewheeling atmosphere.
Bar Harbor
They weren't the first, by any means. Willie K. Vanderbilt sulked in his yacht off the coast of Bar Harbor after his divorce made front page news. Joseph Pulitzer hid in a soundproof tower at his Bar Harbor estate, unable to bear the slightest noise. And J.P. Morgan stashed his mistresses on Bar Harbor's High Street in between his pious visits to St. Saviour's Episcopal Churcch.
J.P. Morgan was the most powerful financier of his day, and probably would have been the richest if he hadn't spent all his money on his spectacular art collection. He had a nose that looked like a purple cauliflower due to rosacea, which exacerbated his social awkwardness. That didn't hurt him with the ladies, who he liked – a lot.
They like him too, and were more than willing to look past his facial deformity. Mrs. Morgan by and large tolerated her husband's infidelities. He made it easier for her by keeping a continent between them. When he went to Europe, she stayed in the United States, and vice versa.
But one woman she couldn't tolerate: Edith May Randolph.
A newspaper described Edith May Randolph as 'one of the leaders in the smart set' and 'a great favorite among the diplomatic circles.' A beautiful widow in her 30s, she had family connections to The 400, New York's social elite.
Mrs. Morgan told Morgan, who she called Pierpont, to drop the widow. "Spoke to P about Mrs. R," she wrote in her diary in 1894.
William Whitney
Edith May Randolph had already attracted the attention of someone else in her social set, the smart, charming and very married William Whitney.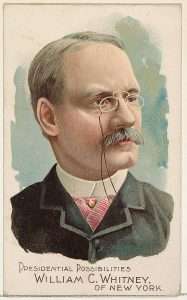 Whitney's career got a boost from his best friend, Oliver Hazard Payne. They roomed together at Yale and joined Skull and Bones. Whitney had money, but Payne had real money. When William Whitney married Oliver Payne's beloved sister Flora, Payne bought them a New York City mansion as a wedding present.
William Whitney's charm, brains and brother-in-law propelled him to a successful career as a lawyer, financier and politician. When President Grover Cleveland named him Secretary of the Navy in 1885, rumor had it that Oliver Payne paid a bribe to get his brother-in-law the job.
During his four years as Secretary of the Navy, Flora and William Whitney dominated Washington's social scene with an estimated 60,000 guests visiting their home. And when he sailed into Bar Harbor, crowds came out to greet him. Newspapers touted him as a potential candidate for president of the United States.
But William Whitney had a roving eye, and in 1890 his eye roved toward Edith May Randolph. Oliver Payne got wind that his brother-in-law was straying from Flora. He told Bill Whitney in no uncertain terms to stay away from the widow.
Whitney complied. Then in 1893, Flora Payne Whitney died suddenly at the age of 51. William Whitney went into mourning for two years.
Yachting
Then one August day in 1895, William Whitney sailed his yacht Columbia to Bar Harbor, where both Edith May Randolph and J. P. Morgan were summering. Morgan invited Whitney and the widow onto his yacht, Corsair.  Mrs. Morgan had already kicked up a fuss about Edith May Randolph, so by the end of the summer idyll William Whitney and Edith May Randolph were an item.
Edith May boarded as Morgan's mistress; she disembarked as Whitney's paramour. A year later, they married in St. Saviour's; none of the four Whitney children attended the wedding.
Nor did Oliver Hazard Payne. William Whitney so infuriated his former brother-in-law that Payne threatened to ruin him. He also went to Whitney's children and demanded they choose between him and their father.
Two – Harry and Dorothy — chose their father. Two — William and Pauline — chose Uncle Oliver.
Harry and Dorothy didn't suffer from want. Harry inherited $24 million from his father and $12 million from Uncle Oliver. But William, who started going by his middle name, Payne, did much better. He inherited $63 million from his uncle and $25 million from his father. When he died, he bequeathed part of his $100 million-plus fortune to the world-famous Payne Whitney Psychiatric Clinic.
Endings
William Whitney and Edith May Randolph may have had a happy marriage, but it didn't last long. Both were avid equestrians, and William Whitney invested heavily in thoroughbred horse racing.
One day in 1898, Edith May Randolph Whitney was horseback riding in Aiken, S.C., when she misjudged the height of a low stone bridge. When her horse galloped the bridge, she struck her head and fell from the horse.  The accident left her paralyzed below the neck. After a 15-month struggle, she died on May 6, 1899, aged 41.
William Whitney died less than five years later at the age of 61. Rumors circulated that Oliver Payne had killed him.

This story was updated in 2022.