The Desert of Maine is a 40-acre swathe of land covered by glacial silt near Freeport. Scientists believe the silt, finer grained than sand, was a glacial lakebed covered by topsoil over thousands of years.
In 1797, a farmer named William Tuttle bought 300 acres on the site. He built a large barn, grew potatoes and raised sheep. But the Tuttles didn't rotate their crops and let their sheep overgraze the pasture. One day, a small round patch of silt was exposed. Then it grew. And grew. And grew, until the family grew alarmed.
Over time, the silt took over the farm, covering pasture and buildings. The Tuttles struggled to save their farm, and even tried to make bricks from the sand. The mica content was too high, though, and the bricks crumbled.
Finally in the early 20th century the Tuttles abandoned the farm. Henry Goldrup bought it in 1919 for $300 and opened it as a tourist attraction six years later. In the 1950s, the Desert of Maine featured a camel named Sarah. She despised tourists, however, biting and spitting at them. So she ended up in a zoo.
How the Desert of Maine Started
Even a kitschy tourist attraction can offer a teachable moment. The Desert of Maine provides a lesson in geology.
The Desert of Maine formed at the end of the last Ice Age, when the two-mile-thick Laurentide Ice Sheet covered New England. The heavy ice pushed coastal Maine below sea level.
Then the glacier retreated and Maine slowly bounded back toward sea level, then above it. The melting ice formed a lake about 13,500 years ago, and then a thousand years later the lake disappeared and the Desert of Maine emerged. At first it acted as a sink for wind-blown sand. But then plants began to encroach on the sand, forming topsoil and stabilizing it. Eventually a forest grew over the sand, hiding it until the Tuttles came along.
The photo above was taken in March 1930 by Paul Carter as a photographer for the U.S. Resettlement Administration. His caption reads "Top branches of apple tree showing above sand. It is reported that three twigs blossom in the spring." The U.S. Resettlement Administration was a New Deal agency that resettled struggling rural and urban families to government-planned communities between 1935 and 1936.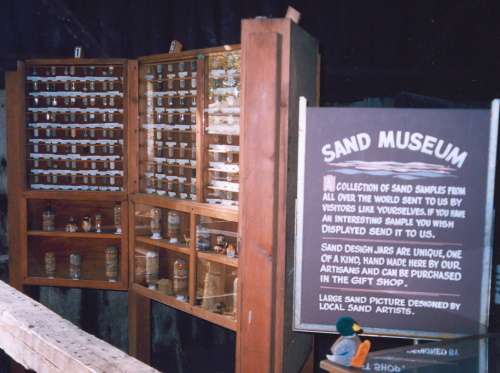 It's still a tourist attraction where you can camp, picnic, take a tram and play golf. It also has a gift shop, a sand museum and a farm museum.. 
This story was updated in 2022.
Color  photo of Desert of Maine By Daderot – Own work, Public Domain, https://commons.wikimedia.org/w/index.php?curid=10414394. Sand museum photo CC BY-SA 3.0, https://en.wikipedia.org/w/index.php?curid=12042755.