Amid all the credit-wrecking, hangover-inducing holiday celebrations this year, we hope you manage to set aside a moment or two to enjoy a favorite historical site or look for something you haven't discovered. New England is certainly the right place for that.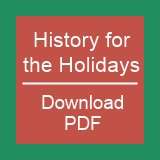 To make the task simpler, we've had a look around and pulled together 69 events that will teach, inspire or simply make you think a little bit about where we all come from. What we've found is an enjoyable collection of events that evoke everything from simple country charms of years past to the high elegance of Gilded Age mansions.
Some of our favorites:
The Chester Greenwood Day in Farmington, Maine, is a great excuse to poke around western Maine before ski season fills it with visitors. Along the way you can enjoy a local event that honors the man who gave the world earmuffs.
In Newport, R.I., a holiday lantern tour will give you a look at how the early Americans really celebrated Christmas (or didn't celebrate it).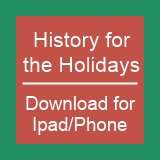 In Marblehead, Mass., Glover's Regiment will put on its annual reenactment of Washington crossing the Delaware.
In New Hampshire, the Dinner Theatre's G.I. Holiday Jukebox in Manchester brings back the sounds of the big band and swing era for Christmas.
In Montpelier, Vt., you can take in an art gallery in the street at the city's annual art walk and visit the historical society museum for free.
In Connecticut, Christmas offers the perfect time to visit the Connecticut Historical Society for a talk about G. Fox, for those who love department store
history.
These are just a sampling of the events on offer this holiday season, so whatever your taste we hope you find time to get out and enjoy. And we hope this collection makes it a little easier to make plans. We've provided it in pdf format, Mobi format (for Kindle Fire readers) and Epub for phone and Apple users.
Please download one (or all), but you must be logged in as a member to do so. If you haven't yet signed up for free membership, please visit here. If you are a member, but need to login, visit here. And if you've forgotten your password, visit here.