Search any New England attic and you're likely to find a version of Parker Brothers' Monopoly. The beloved board game can trace its existence to 1883, when 16-year-old George Parker decided to liven up a dull game called Everlasting.
Everlasting was designed to teach moral lessons to young people. George thought games should be fun, not preachy. He added lettered cards, changed the rules and called the game Banking.
George Parker and his brothers enjoyed playing Banking so much he had 500 copies printed up and sold them to Boston-area retailers. In the end he cleared a profit of $80. That first taste of success led to the creation of Parker Brothers.
For a century, Parker Brothers was a mainstay employer in Salem, Mass., and the publisher of 1,800 games.
George Parker
George Parker was born in Salem on Dec. 12, 1866. His father, a sea captain turned merchant, lost most of his money in the panic of 1873. He died in 1877, when George was 10. His widowed mother and two brothers, along with an aunt and an uncle, lived in an 18-room house in Medford, Mass.
One of those rooms had shelves full of board games, relatively new in Puritan Massachusetts.
Liberal Puritans tolerated one early board game called The Mansion of Happiness: An Instructive Moral and Entertainment Amusement. It was first printed in the United States in Salem in 1843. Parker Brothers would later buy the rights to the game and republish it in 1894.
But before starting Parker Brothers, George tried his hand at making and selling a few more games. Those didn't do too well. He then tried journalism, but gave it up. He went off on his own, selling his games along with toys and games from the J.H. Singer Company in New York.
Parker Brothers Born
By 1887, George Parker had hired his first employee and rented a store in Salem for $12.50 a month (where the Hawthorne Hotel now stands). He realized he was good at selling and developing games. He was not so good at production and finance, though his older brother Charles was.
George in 1888 invited Charles to join him as a partner and Parker Brothers was born. Another brother, Edward, would join them 10 years later.
Charles soon persuaded George to manufacture Parker Brothers games under their own roof. They leased an old laundry on Bridge Street and went to work.
The company's earliest games were designed to appeal to a regional audience, with names like Ye Yankee Peddler, Billy Bumps Goes to Boston and the Yale-Harvard Game. They realized they needed to branch out with games that had national appeal. The solution: Create a game called Office Boy, based on the popular Horatio Alger rags-to-riches books.
The company innovated and grew, adhering to its pledge to make games that "look well, play well and sell well." Parker Brothers started publishing games with tie-ins to current events, such as Klondike, based on the Alaska gold rush, and War in Cuba, based on the Spanish-American War. The company was the first to advertise games in newspapers.
Hits Keep On Coming
George traveled to Europe, spotted ping-pong, and brought it back to the U.S., where it became a best seller.
The hits kept on coming: Tiddledy-winks, Rook, Pit, Flinch. Parker Brothers kept expanding, turning the old laundry building into an integrated manufacturing complex. There the company invented, produced, packaged and shipped toys and games. George continued to test the games with family and friends.
Then came the Great Depression, which nearly put Parker Brothers out of business. Monopoly saved the company.
Parker Brothers bought the rights to Monopoly in 1935 from a laid-off heater salesman named Charles Darrow. The game, though, had already been patented in 1903 by a woman named Elizabeth Magie.
Parker Brothers sorted it all out and began selling the game in 1935. It was wildly successful. In 1936, Parker Brothers licensed Monopoly for sale outside the United States. British intelligence had special versions made for prisoners of war held by Nazis. The games had maps, compasses and real money to aid escapes.
George Parker retired from Parker Brothers' day-to-day operations as Monopoly started to take off. The company would go on to sell iconic games such as Clue, Sorry!, Risk, Trivial Pursuit and Ouija, and it would introduce the Nerf ball. It would remain family-owned until 1968, when it was sold to General Mills. After a series of mergers, the Salem plant on Bridge Street closed in 1991.
George Parker died on Sept. 26, 1952.
Game Rules
George Parker believed business was like a game, that if you followed the rules you could win.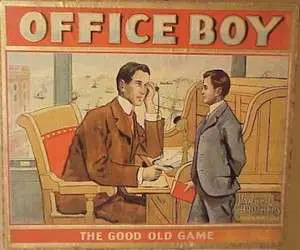 He developed 12 rules that he followed all his life.
Know your goal and reach for it.
Find "winning moves."
Play by the rules but capitalize on them.
Learn from failure; build upon success.
When faced with a choice, make the move with the most potential benefit versus risk.
When luck runs against you, hold emotion in check and set up for your next advance.
Never hesitate and give your opponents a second chance.
Seek help if the game threatens to overwhelm you.
Bet heavily when the odds are long in your favor.
If opportunity narrows, focus on your strengths.
Be a gracious winner or loser. Don't be petty. Share what you learn.
Ignore principles 1 to 11 at your peril!
Monopoly shoe by William Warby via Flickr, CC BY 2.0. Parker Brothers image: By Edward – http://parkerbrothersfamilyhistory.blogspot.com/2009/05/george-swinnerton-charles-and-edward.html, CC BY-SA 4.0, https://commons.wikimedia.org/w/index.php?curid=57931761. Risk By © Jorge Royan / http://www.royan.com.ar, CC BY-SA 3.0, https://commons.wikimedia.org/w/index.php?curid=50453387. This story was updated in 2022.