As America started to throw off its Victorian propriety and embrace the Roaring Twenties, the bold, sexy Eva Tanguay showed them the way from the vaudeville stage.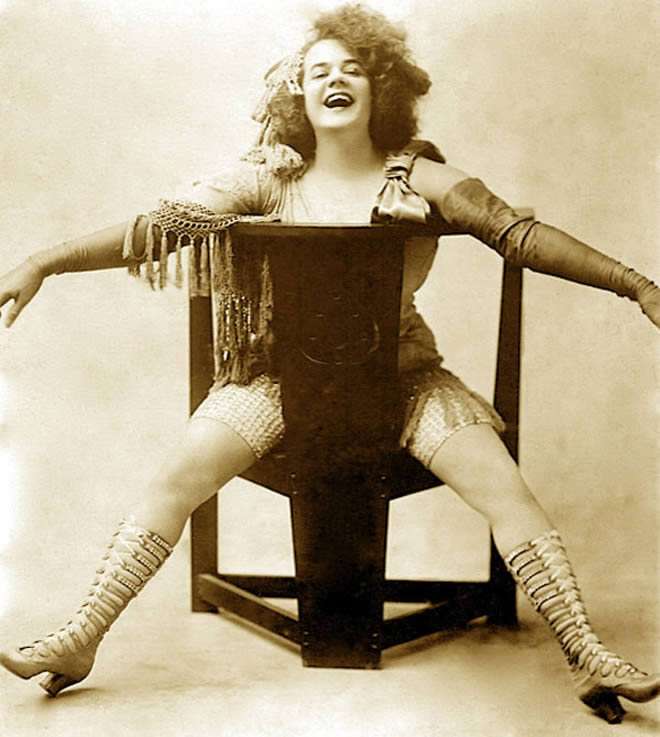 She called herself "the girl who made vaudeville famous," and she was right. Her outrageous exploits on and off the stage made her a media star, and she was the first singer to tour nationally on her (or his) own.
Newspapers reported scenes of fan frenzy akin to Beatlemania. At her height, she achieved enormous celebrity in America, a model for female stars from Mae West and Sophie Tucker to Madonna and Lady Gaga.
Her celebrity was no accident, but a well-planned assault on stuffy Victorian convention. She provoked reaction, singing songs with titles like Go As Far As You Like and wearing bizarre costumes like a dress made out of pennies.  The tabloids ate up stories about her love life, which included a romance with the African-American vaudeville star George Walker.
You couldn't escape her from 1904 to the early 1920s. But then she disappeared into obscurity, living out her life in a Hollywood bungalow.
Eva Tanguay, Rising Star
She was born Aug. 1, 1878 in Marbleton, Quebec, to a doctor and his wife. The family moved to Holyoke, Mass., when she was six.
Her father died when she was young and she started performing at a Holyoke amateur show at eight. Two years later she toured professionally in a production of Little Lord Fauntleroy.
By 1901 she had made it to Broadway, appearing in a musical called My Lady. By 1905 she was performing solo in vaudeville. And by 1910, she earned $3,500 a week – more than $80,000 in today's currency.
It was not so much her looks or her voice that drew record crowds, but her abandon on stage. She had a pudgy face and wild reddish hair. Sometimes she poured champagne over it on stage.
While dancing maniacally, she sang songs like It's All Been Done Before But Not the Way I Do It, I Want Someone to Go Wild With Me, Go As Far As You Like, Kid and That's Why They Call Me Tabasco. Her delivery was unconventional, as she used comic effects like squeaking, screeching, yawping, drawling and talking.
I Don't Care
Eva Tanguay was known as the "Wild Girl" and the "I Don't Care Girl" after her signature song, I Don't Care, performed in 1909 for the Ziegfield Follies and recorded in 1922.

They say I'm crazy, got no sense,
But I don't care,
They may or may not mean offense,
But I don't care,
You see I'm sort of independent,
Of a clever race descendent,
My star is on the ascendant,
That's why I don't care.
Tanguay changed costume as often as 10 times in one 30-minute performance – and what costumes! She designed them herself: a dress and headdress of feathers, a dress of dollar bills, a dress covered with coral, a Dance of the Seven Veils outfit so skimpy she said she could hold it in her fist.  She once performed La Marseillaise in a revealing outfit made of French tricolor flags.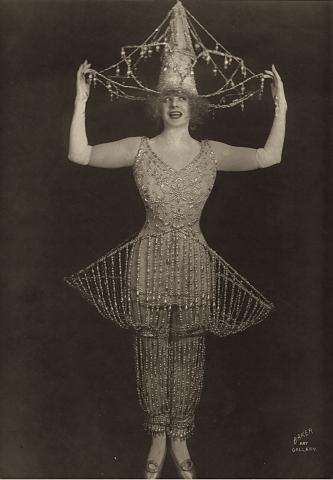 Her performances didn't end on stage. She got very publicly engaged to cross-dressing performer Julian Eltinge. During their courtship she dressed as a man in formal attire, and he dressed as a woman. She didn't marry him, but she did marry a dancer named Tom Ford and divorced him after four stormy years.
She had an affair with a vaudeville dancer named Roscoe Ails and was rumored to have had one with George Walker.
The backstage squabbles of Eva Tanguay made news, too. Police arrested her once for sticking a hatpin in a stagehand who got in her way. She had to pay a $50 for throwing another one down a flight of stairs.
Tanguay made sure the newspapers reported on her marriages, affairs, divorces, fights, feuds and arrests. She bought full-page ads at her own expense, on one occasion spending twice her salary on a publicity campaign.
Eva Tanguay, Faded Star
In 1927 at the age of 49, she married her 23-year-old piano accompanist as a publicity ploy. By then her star had begun to fade, and she didn't get much publicity. The marriage was annulled after two weeks.
She was said to have lost $2 million in the stock market crash of 1929. But Eva Tanguay's troubles resulted from her inability, or refusal, to adapt to the new media of radio and film. She retired from show business in the 1930s and lost her sight from cataracts. Her friend Sophie Tucker paid for the surgery to restore her vision. In 1934 she wrote to Henry Ford asking for a free car.
I live off a sort of an alley in a small house which is set in back of a big one, there is no view other than the backyards of other houses. … It is very sad to have had so much and be cut down to poverty, but my illness prevents me from doing any work… I'm no tramp, having lived the very best, my home consisted of gold glasses silver plates and everything that meant refinement, now I'm alone and cut off entirely from my world I so loved. If I had a car I could go out afternoons and might connect some way with managers, agents—and find something to do.
He declined.
For the rest of her life, she survived on her savings and the sale of her costumes from a storefront on Hollywood Boulevard. Shortly before her death she gave an interview to Life magazine, complaining that the public had forgotten her artistry.
Eva Tanguay died on Jan. 11, 1947.
The Henry Ford has more great photos of Eva Tanguay. Click here. This story was updated in 2023.